Award Winning Fatboy Slim and Carl Cox's Mobile Disco set to perform at Ulu Cliffhouse this April/May!
Fatboy Slim ( 14 April 2019)
On Sunday 14 April, Ulu Cliffhouse welcomes the ten-time MTV Video Music Award and two time Brit Award winning and critically acclaimed UK Producer and Musician Norman Quentin Cook, known universally as the legendary FATBOY SLIM!
With a career spanning over 4 decades as one of the original godfathers of dance music, Fatboy Slim was a key pioneer of the big beat genre of the nineties, with certified hits "Right Here, Right Now", "The Rockafeller Skank", "Praise You" and "Weapon of Choice". Cook's success lies in his ability to blend funky breakbeats with the most catchy melodies and riffs, and he has reached a wider audience than many DJs by combining elements of rock and dance music. After playing to 250,000+ people on Brighton Beach, headlining festivals and arena shows around the world, don't miss Cook's re-appearance on the Island of The Gods since 2015.
For tickets or more information please visit: http://ulucliffhouse.com/ulu-cliffhouse-presents-fatboy-slim/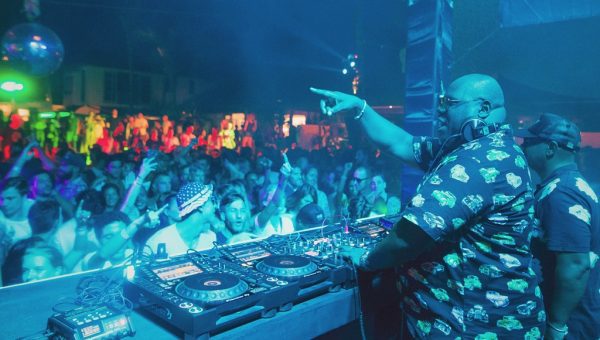 Carl Cox's Mobile Disco (19 May 2019)
After one hell of a show in 2018, Ulu Cliffhouse is set to welcome the return of Carl Cox and Eric Powell's mobile disco on Saturday 19th May 2019. Ulu Cliffhouse is putting on another incredible show for the second year running, as Carl & Eric go back to back playing a non-stop, 10 hour set against the stunning backdrop of the clifftops in Uluwatu. With a capacity of 2,000 people, and some of Bali's most awe inspiring views, Ulu promises to provide the ultimate space for the king of house to do what he does best!
Digging deep through their extensive record collections and picking out their favourite soul, funk and house tracks – disco fans can expect to dance the day and night away to music that has influenced both Carl & Eric over the years.
This will be Carl & Eric's second time playing in Bali, bringing their funk infused 'Mobile Disco' exclusively to Ulu Cliffhouse – which has proved to be the perfect spot for their disco lovers, with its picture perfect setting and effortless, intimate vibe.
Both Carl & Eric will be entertaining the crowd from the start of the day 'til the end with, so get ready Bali, Carl & Eric are coming for you!
Ulu Cliffhouse is located at: Jalan Labuan sait, Jl. Uluwatu No.315, Pecatu, Kuta Sel., Kabupaten Badung, Bali 80361, Indonesia