Exciting Music, Food and Experience Lineup Awaits at ZoukOut 2017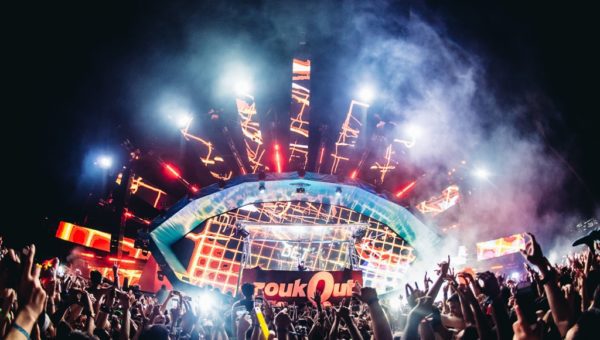 ZoukOut, Asia's largest beachfront music festival and only dusk-to-dawn dance festival is coming up quickly from 8-9 December 2017, Asia's longest running dance music festival is now on its 17th edition and has now announced their food vendor lineup for those interested in eating delicious meals while enjoying incredible music. Vendors on-site will include Keisuke Ramen, Three Buns, The Lime Truck, Udders Ice Cream, and Red Tail Grill by Zouk.
ZoukOut is also unveiling an ultimate VIP experience for interested attendees this year. This will include the convenience of toilets, sheltered areas, priority VIP entrance, private bar, VIP tent equipped with air-coolers, food available and served to tables from Red Tail Bar by Zouk, and the best view of the stage in the venue. Tickets for VIP and other options can be purchased via https://ticketing.zoukclub.com. For VIP table bookings, please contact clarateo@zoukclub.com or benyap@zoukclub.com.
ZoukOut's headliner lineup has also now been finalized, which will bring world-renowned electronic acts including Marshmello, Flume, Axwell /\ Ingrosso, R3HAB, Yellow Claw, Robin Schulz, Claptone, Gui Boratto, DJ Snake, Amelie Lens, and MaRLo to Singapore. There will also be a takeover from online collective 88rising that will include live performances from Rich Chigga, Higher Brothers and Joji.
Another special live performance will come courtesy of the Grammy Award winning Stockholm production duo Vargas & Lagola, who have worked on music with artists like Swedish House Mafia, Katy Perry, and Avicii. There will also be regional and local performances from Zouk resident DJ Jeremy Boon, Kuala Lumpur DJ duo Bate, South Korean songwriter and producer IMLAY, and much more, along with energetic performances from the Tokyo-based dance collective CYBERJAPAN DANCERS.
ZoukOut will be the only December pit-stop in the region for Swedish House Mafia founding members Axwell /\ Ingrosso, Amsterdam-based electronic duo Yellow Claw, Belgium based techno aficionado Amelie Lens, and Dutch trance phenom MaRLo, so don't miss your chance to jump on tickets.
*Note that VIP tickets and Standing Packages are extremely limited this year, so get yours soon before they run out to enjoy an exclusive area to dance and hangout with your friends.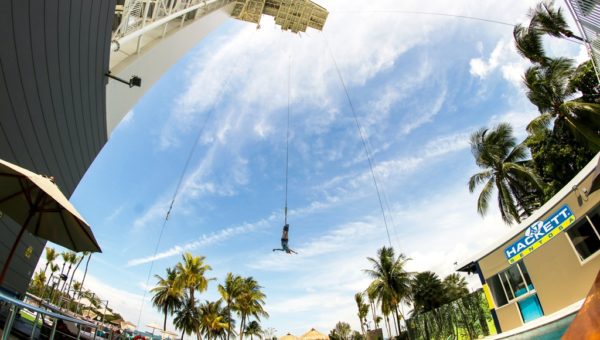 ZoukOut has also announced a partnership with AJ Hackett Sentosa, who recently launched Singapore's first bungy jumping tower, on a series of adrenaline-fueled options for attendees. This will include their signature 50m (165 foot) tall Bungy Jump Tower, along with the world's first dual swing system known as the Giant Swing, Asia's only Vertical Skywalk, and a 40m (130 foot) long Skybridge.
This partnership with AJ Hackett Sentosa will be the first time that ZoukOut attendees will get the chance to watch their favorite DJ perform while hanging out or flying high above the crowd, giving a whole new type of adrenaline rush to the music festival experience that fans have come to expect.
AJ's Bar and Beach Dining at the beach level will be serving drinks, tapas and a ZoukOut signature cocktail in an exclusive VIP Area that can house up to 50 pax. This area will give attendees the chance to take a break from the festivities while still being within festival grounds. AJ Hackett's doors will be closed to the public 2 hours before ZoukOut doors open at 6.30pm and access to the site would only be through the ZoukOut entrance.
• Sky Bridge: Entrance to Skybridge is SGD 20.00. Guests can top up SGD 5.00 more to enjoy a ZoukOut Cocktail specially prepared by the AJ Hackett team once they reach the ground level.
• AJ Hackett Activities: From 6pm to 8pm, AJ Hackett will be offering all ticket-holders a 20% discount for Bungy Jump, Giant Swing, and Vertical Skywalk (except for Skybridge) and normal prices will resume after 8pm. Prices and activity information are available at ajhackett.com/sentosa.
• AJ's Bar and Beach Dining VIP Area: The exclusive VIP Area that can house 50 pax, will be available for pre-selling starting November, and can be purchased directly from AJ Hackett.
For more details about table enquiries at the VIP area, please email sentosa.info@ajhackett.com or call +65 6911 3070.
The festival is put on by the popular nightclub Zouk, most known for its Singapore location that was named the the Best Club In Asia and the Fourth Best Club in the world by DJ Mag, and is known for bringing in the biggest artists in dance music to dedicated fans in Southeast Asia. The club is also present in Malaysia and on the luxury cruiseliner Genting Dream.
Tickets are now available for purchase on ZoukOut's website: www.zoukout.com. As the Official Card for ZoukOut 2017, DBS Live Fresh Cardmembers & all other DBS/POSB Cardmembers are entitled to purchase discounted tickets. This promotion is valid for all DBS/POSB cards issued from Singapore only. They include:
• Single Day, Day-1 tickets at SGD 124.20* (R.P: SGD138)
• Single Day, Day-2 tickets at SGD 133.20* (R.P: SGD 148)
• A set of four 2-Day tickets at SGD 800* (R.P: SGD 228 each)
Official hotel packages which are bundled in with ZoukOut tickets are also available , which includes packages with W Singapore Sentosa Cove Hotel, Hard Rock Hotel, Genting Hotel Jurong, and Park Hotel Alexandra. Hotel packages include 2 tickets to ZoukOut 2017, daily breakfast and daily transfers to ZoukOut.
For more information or details on ZoukOut 2017 and hotel packages, please visit: www.zoukout.com