Review: Cirque du Soleil Goes Back to their Circus Roots with Kooza
CONTENT: Michelle Ng
IMAGES: Sliding Doors Entertainment
Cirque du Soleil's latest show to arrive at Singapore's shores pays homage to its roots. Kooza brings back the traditional big top and circular stage whilst continuing to thrill audiences with heart-stopping acrobatics and death-defying stunts. Throw in the hilarious art of clowning, and you are in for a good time!
The name, Kooza, is inspired by the Sanskrit word – Koza – which means 'box', 'chest', or 'treasure'. The main character, also known as the Innocent, is meant to represent the naïve child in all of us, and receives a treasure box that sets him off on a discovery journey of fabulously eccentric yet exciting characters.
Join The Innocent as he learns more about world that The King, his sidekick Heimloss and The Mad Dog exist in. But you'll have to be careful here. Kooza is not ruled by The King, but by the Trickster, a genie-like being dressed in a striped suit who can send people careening all over the place with just a wave of his wand.
Be prepared to witness traditional circus acts with a little Asian twist. From Mongolian contortionists to sword-fighting trapeze acts, the cast will have you at the edges of your seat. The most highly anticipated act comes just after the intermission, and it involves a rotating aerial wheel as daredevil acrobats use their body weight to perform jumps and tricks mid-air.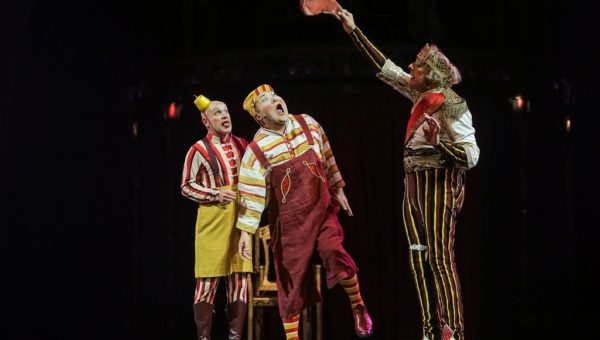 Of course, you'll be able to catch good ol' magic tricks, the art of old-school clowning as well as cheerleading stunts. The somersaults just keep getting higher and the acrobats just get crazier. Think you've seen it all? Well, you haven't seen acrobats on pogo sticks and stilts somersaulting off teeterboards yet.
There will be nary a boring moment during the show, as there is always something happening on onstage or somewhere in the tent. Yup, the entire Big Top is their playground, so be prepared to see some of your favorite characters running past you or even interacting with you!
The elaborate costumes are all a work of art in them, and the live band adds another dimension to the already lively atmosphere. Written by Jean Francoise Cote, the soundtrack is inspired by the likes of Western pop, 1970s funk, and you might even hear a little bit of Bollywood music in there somewhere.
Of course there is nothing like a circus without some audience participation. If you are lucky, you might even get invited on stage. From dancing on stage to exchanging quips with The King, anything can happen.
Head down to the Big Top to catch a glimpse of the eclectic world of Kooza before they leave!
KOOZA runs at Bayfront Avenue beside Marina Bay Sands from 12 July 2017 until 20 August 2017
For tickets or more information please visit www.sistic.com.sg or www.cirquedusoleil.com/kooza