REVIEW: KINKY BOOTS dazzles with a rousing showstopper as it debuts in Singapore
CONTENT: Carrie Er
IMAGE: Base Entertainment Asia
Not just any garden-variety musical, KINKY BOOTS is set to dazzle theatergoers with a rousing showstopper that comes replete with titillating dance numbers in its debut here.
Inspired by true events, KINKY BOOTS follows the protagonist, Charlie Price as he struggles to meet his father's expectations while finding ways to help his family business, Price & Son thrive. In a surprising turn of events, Charlie Price finds inspiration from Lola, who is a fabulous performer in need of some sturdy new stilettos. Together, they discover more about themselves; while strapping on some pretty elaborate pairs of boots at times.
The winner of six 2013 Tony® Awards, including Best Musical, Best Score and Best Choreography, made its debut on 5 October and is now performing at Marina Bay Sands Theatres until 14 October 2018. Here's why you mustn't miss this riveting performance.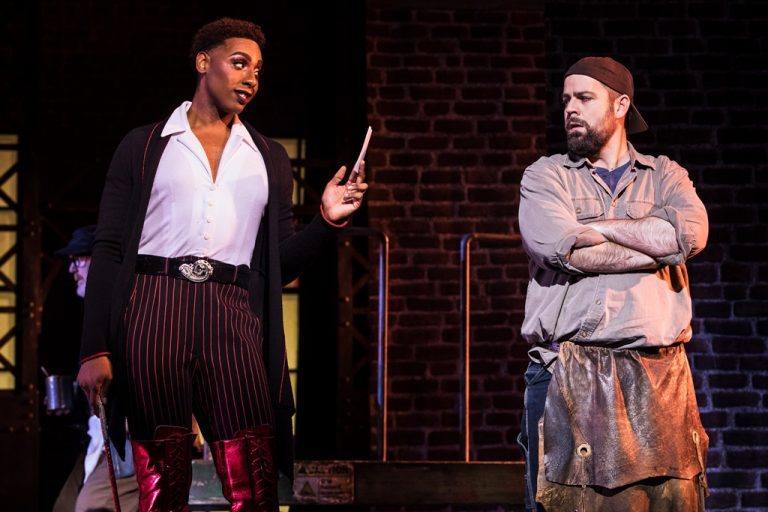 KINKY BOOTS is all about Love and Acceptance
As its name suggests, one might think of the notion that 'sex sells'. While you are not wrong for that thought, the underlying theme of KINKY BOOTS goes way deeper than that.
Everyone can certainly resonate with the running theme of KINKY BOOTS – which is all about love, acceptance, kinship and friendship. It also follows the self-discovery journey of both Charlie Price and Lola, where the latter is an unconventional entertainer with a penchant for flamboyant frocks and boots.
As they take the audience from a gentlemen's shoe factory in Northampton to the glamorous catwalks of Milan, expect to witness new friendships forged and the belief that you can change the world when you change your mind.
Named as the Winner of the 2014 Grammy Award for Best Musical Theater Album, KINKY BOOTS drives home the inspirational message of love and acceptance while enthralling senses with tracks such as 'Land of Lola', 'Everybody Say Yeah', 'Sex is in the Heel', 'Raise You Up/Just Be', and more. Further, it has been directed and choreographed by Tony® Award-winner Jerry Mitchell.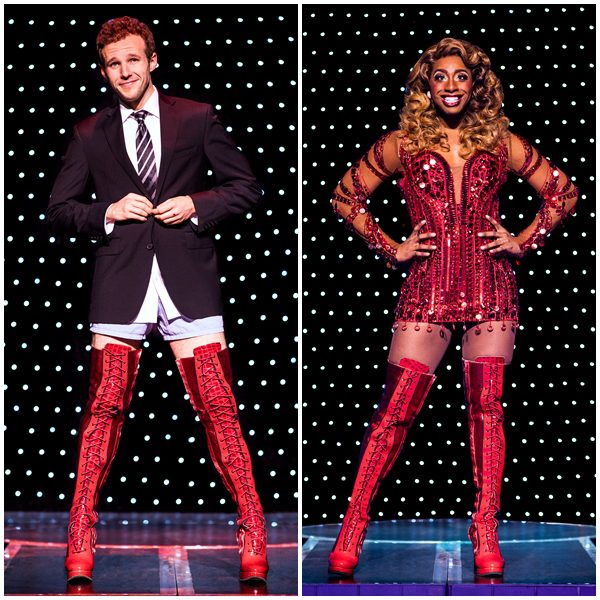 The Ensemble behind KINKY BOOTS pulls out all stops to Enthrall your Senses
Midway through the show, the smashing musical culminates at a peak as some of the cast transform into drag queens, who also donned some of the most extravagant yet breathtaking outfits.
Lola (also known as Simon) took centre-stage as he brought more than just glitz and glamour to the stage. Her vivacious personality offered the audience a high-octane (and high-heeled) performance that proved to be nothing short of sassiness and spunk.
While seen as a misfit for most of her life, Lola held the audience in rhapsody as they lapped up all his catchy tunes and moving ballads. She also didn't forget to make us all break out in laughter at times with her candid sense of humour.
In essence, KINKY BOOTS is an award-winning Broadway hit that aficionados and first-timers alike, are bound to revel in. In between the bouts of laughter and heart-wrenching moments, KINKY BOOTS aptly tells an awe-inspiring story of diversity and accepting one for who he or she is.
It is surely no surprise that KINKY BOOTS has won every major Best Musical Award and is now represented around the world with the Tony Award-winning Broadway company – in its sixth year.
As the bejeweled and glittery costumes put us in a tizzy, so did the stellar performance of the remarkable ensemble. Be sure to catch KINKY BOOTS before its gone.
Kinky Boots runs at The Sands Theatre, Marina Bay Sands until 14 October 2018. Get your tickets now via www.sistic.com.sg or www.marinabaysands.com/ticketing.