Talent and Glamour at the 2015 Asian Television Awards
Following two consecutive nights of awards from 2 to 3 December, the 20th Asian Television Awards concluded on a high note at the state-of-the-art auditorium at Suntec City, Singapore.
The region's most prestigious industry award enchanted the audience with live performances by heavyweight celebrities and honoured outstanding achievements across 40 categories. This year also saw tight competition with more than 1,400 entries vying for the top prize, from markets spanning across Asia and as far as Qatar in the Middle East.
For the first time in the Awards' 20-year history, the star-studded event was open to members of the public, with the 3,000-strong crowd joining industry luminaries and celebrities on 3 December.
Hosted by Allan Wu, Max Loong, Joey Mead King and Munah Bagharib, audiences were treated to dynamic world-class performances by international superstars like Korean girl group Secret, who wowed the crowd with their upbeat dance routines and songs like I'm in Love, Taiwan's Jeff Chang who wooed the crowd with his Signature ballads, Indonesian global powerhouse Anggun who showcased her vocal abilities with her Saviour and Swedish boy band JTR who is best known for recently appearing at The X Factor Australia.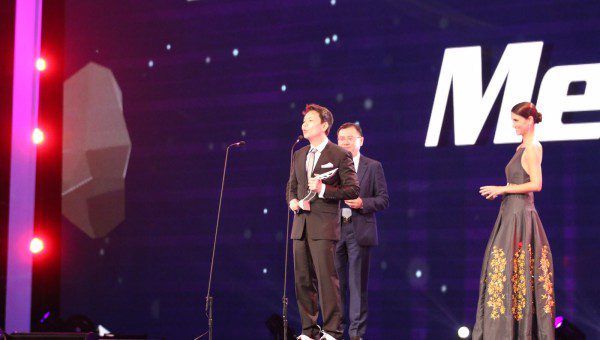 Biggest winner for the night is – Mediacorp, winning the highly-coveted Terrestrial Broadcaster of the Year for the 12th time at the annual event while Discovery Networks Asia-Pacific Pte Ltd brought home the award for being the Cable & Satellite Network of the Year. The Discovery Channel took home the Cable & Satellite Channel of the Year award, while Channel News Asia was announced the Terrestrial Channel of the Year respectively.
China's Zhang Jia-Yi, took home the award for Best Actor in a Leading Role category for his strong performance in Forty-nine Days Memory, while China's Zhou Xun was presented the Best Actress in a Leading Role award for her portrayal of Jiu Er in Red Sorghum.
Amidst a strong nomination list, The Incomplete, Korea, won Best Drama Series while I Am A Singer, Season Three, China, was awarded Best Music Programme.
Liu Changle, Chairman and CEO of Phoenix Satellite Television, was also presented with the Award for Outstanding Contribution to Asian Television, in recognition of his illustrious career in the broadcast and television industry.
With the live telecasts on channels including Astro Ria, Astro Ria HD, Bugaboo.tv, LeTV, Media Channel, Toggle and Tonton, more than 300 million viewers were able to share the experience in real-time from across the region.
Raymond Wong, Chairman of Asian Television Awards said, "Turning 20 has been a thrilling time for all of us at Asian Television Awards as we elevate the Awards to a larger scale. Asian Television Awards was conceived to honour and celebrate the very best of Asian talent. Through our live broadcast and partnership with regional broadcasters, more viewers can now enjoy the Awards ceremony in the comfort of their homes and cheer for their home grown stars as they compete for Asian television's highest honour."
Other winners for this year include:
Best News Presenter or Anchor
Barkha Dutt
The Buck Stops Here – New Delhi Television Ltd NDTV 24 x7, India
Best Current Affairs Programme
101 East: Afghanistan's Billion Dollar Drug War
Al Jazeera English, Malaysia
Har Ghar Kucch Kehta Hai Season 2
BBC Worldwide Media Pvt Ltd, Multi Screen Media Pvt Ltd, Sony Entertainment Television, India
Tong Yi-Jian & Liu Shi-Chuan
The Minority
Discovery Networks Asia-Pacific Pte Ltd, Discovery Channel, Singapore
Best Infotainment Programme
Route Awakening
Fox International Channels Asia, National Geographic Channel Taiwan
Squawk Box Asia
CNBC Asia Pacific, Singapore
Best Documentary Programme (One-Off/Special)
Danger Zone- Kabul
Mediacorp Pte Ltd, Channel News Asia, Singapore
Abalone Wars 3
Discovery Networks Asia-Pacific Pte Ltd, Discovery Channel, Singapore
Best Entertainment (One-Off/Annual)
MTV Music Evolution Manila Hip-Hop 2015
MTV Asia, Starhub & Singtel, Singapore
Best General Entertainment Programme
Super Combat Teams
Jiangsu Satellite Channel, China
Live To Laugh Show
Shanghai Media Group, Dragon TV, China
Best Game or Quiz Programme
The Genius Game
CJ E&M, TvN, Korea
Best Digital Fiction & Non-Fiction Programme Series
Stretch or Splurge "Sydney"
Brand New Media (Singapore) Pte Ltd, 4ME, ESCAPE TV, Singapore
Huang Yu-Chia
Message Seen – Hakka Television Station, Hakka TV Taiwan
Steve Evans
Grace – HBO Asia, HBO Singapore
Jim Lim
The Journey: Tumultuous Times; MediaCorp Pte Ltd; Channel 8, Singapore
Best 2D Animated Programme
Ronja, The Robber's Daughter
NHK (Japan Broadcasting Corporation), BS Premium Channel Japan
Best 3D Animated Programme
Grami's Circus Show Season 1
Studio Gale Co Ltd, KBS, KBS 1 TV Korea
Best Children's Programme
Art Attack Season 4 – Sports Theme
The Walt Disney Company S.E.A. Pte Ltd
Disney Channel Asia, Singapore
Produced by Non Stop Production
Hi-5 House Series 2
Hi-5 Australia Pty Ltd, Nickelodeon, Nick Jr. Australia
Best Sports Presenter/Commentator
Richard Lenton – Singtel Live FIFA World Cup
Singtel, Singtel WC Channel, Singapore
Produced by IMG
Best Live Sports Coverage
Malaysia Cup 2014 Final: JDT vs Pahang
Astro Arena Sdn Bhd, Astro Arena, Malaysia
Singapore's Finest
Beach House Pictures, Mediacorp Pte Ltd, Channel News Asia, Singapore
Nat Geo Covershot Maximum City
Fox International Channels Asia, National Geographic Channel India
Produced by Freemantle India Television Production Pvt Ltd
Best Natural History or Wildlife Programme
Revealed: Rann of Kutch
Discovery Networks Asia-Pacific Pte Ltd, Discovery Channel Singapore
Best Comedy Performance by an Actor/Actress
Ivana Wong
Come On, Cousin – Television Broadcast Limited, TVB, Jade Channel, Hong Kong
Origins of Food: Nuodeng Ham
Infocus Asia Pte Ltd, CCTV, CCTV-9, Singapore
Best Single News Story/Report (10mins or Less)
China's Stolen Children- Babies for Sale Online
BBC World News, Singapore
Best Social Awareness Programme
Little People Big Dreams
Mediacorp Pte Ltd, Channel News Asia, Singapore
Best Current Affairs Presenter
Steve Chao
101 East: Afghanistan's Billion Dollar Drug War – Al Jazeera English, Malaysia
I am Singer Season 3
Hunan Broadcasting System, Hunan Satellite TV, China
Best Entertainment Presenter/Host
Nick Baker
Nick Baker's Eco Malaysia
Fox International Channels Asia, National Geographic Channels Asia, Hong Kong
Best Adaptation of an Existing Format
Asia's Got Talent
Sony Pictures Television Networks, Asia, AXN Asia Singapore
Produced by Freemantle Media Asia Pte Ltd
Adita Thayi
Danger Zone – Kabul
Mediacorp Pte Ltd, Channel News Asia, Singapore
Best Single Drama or Telemovie
Spinster Diaries
MBC ( Munhwa Broadcasting Corporation), MBC TV Korea
The Incomplete
CJ E&M, TvN Korea
Best Actress in a Supporting Role
Nusba Punnakanta
The Secret Truth – Bangkok Broadcasting & T.V.Co. Ltd, Channel 7, Thailand
Best Actor in a Supporting Role
Lim Kay-Tong
Grace; HBO Asia, HBO Singapore
Best Actress in a Leading Role
Zhou Xun
Red Sorghum; Dongyang Flower Film & TV Culture Co, Ltd,
Shangdong Radio & TV Station, SDTV-1, China
Best Actor in a Leading Role
Zhang Jia-Yi
Forty-Nine Days Memory
Shanghai Media Group, Hunan TV, China
Cable & Satellite Channel of the Year
Discovery, Singapore
Terrestrial Broadcaster of the Year
MediaCorp Pte Ltd, Singapore
Cable & Satellite Network of the Year
Discovery Networks Asia-Pacific Pte Ltd, Singapore