Up Close with Jo Kukathas, Lead Actress, Shakespeare in the Park 2018: Julius Caesar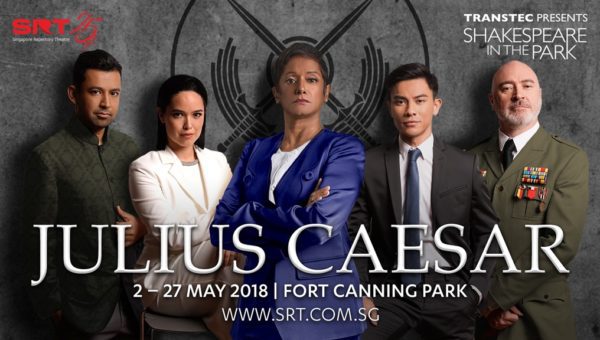 CONTENT: Andrew Kho
IMAGES: Singapore Repertory Theatre
After canning Shakespeare in the Park 2017 due to lack of financial support, we are delighted that Singapore Repertory Theatre (SRT) is bringing back Singapore's much talked about play in the beautiful setting of Fort Canning Park.
Directed by Guy Unsworth (Hand to God), and inspired by images of the G20 andN.A.T.O summits, Shakespeare in the Park 2018 – Julius Caesar, sees Shakespeare's political thriller brought to life against the backdrop of global current affairs. Ambition, power, and greed collide as the leaders of the R.O.M.E 7 countries gather. Plots to assassinate the ever-ambitious Caesar are hatched.
We sat down with seasoned theatre actress Jo Kukathas about her thoughts on a female playing the role of Julius Caesar as well as her challenges in preparing for the role.
Luxe Society Asia: For those who don't know you, can you give a brief introduction of yourself?
I'm an actor, director and writer and Artistic Director of The Instant Café Theatre Company, KL. I love theatre, film, dance, books, music, art and animals. I wish everyone would think every time they think about using or accepting a piece of plastic how much damage it is doing to our oceans. And then not accept it!
Luxe Society Asia: I was intrigued initially when I found out that a lady is playing the role of Julius Caesar, which is more to a man's role, how was the role offered to you?
SRT messaged and asked me to send an audition tape of any character from Julius Caesar. I did the parts of Cassius and Brutus as I felt quite deeply for these characters – the revolutionary and the romantic idealist and sent them in. Later I received a message the director Guy Unsworth wanted to cast me in the role of Julius Caesar. I was surprised. But when I had a skype interview with him and got to understand how he saw the world of the play for contemporary times I understood why.
Luxe Society Asia: What does it take for a woman to play the role of Julius Caesar?
Women in positions of power still intrigue people. Strange that we still find it exceptional that a woman could be a powerful world leader. There have been many through the ages – Wu Zetian, Emperor of China and Theodora the Byzantine Empress. There have been fascinating epochs where women were the de facto rulers such as The Sultanate of Women in Turkey.
Many of them changed women's lives for the better and improved their social lot but many did not. Women rulers have been as capable of war and mass murder – Ranavalona, Mary Tudor, Catherine de Medici to name a few… It is true that in many Western countries (the USA in particular) have not had that many memorable female leaders in the last hundred years or so but in the last few decades there was Margaret Thatcher in Britain now there is Angela Merkel and of course the Indian subcontinent had Indira Gandhi, Mrs Bandaranaike, Benazir Bhutto.
Now of course and again very controversially Aung San Suu Kyi. So I don't think it odd to see Julius Caesar as a woman. In fact I think with the whole rise of the whole women's movement of late I think it's feels right!
Luxe Society Asia: What are your challenges in preparing for this role?
The challenge has been to make Caesar multi-layered and ambiguous. Everyone's opinion is divided and I think the audience will be divided too. There's a challenge and a pressure in being the titular character of course. People come with a lot of expectations. Why is Caesar a woman is often asked. But I hope people find that intriguing. (Hashtag I'm With Her!) But of course I am the titular character but not the main character.
For me the two characters whose lives are sent into disarray are Brutus and Cassius and they have to deal with the consequences of their actions. They carry the burden of the emotional resonance of the play. Because at the end of the day the play is about people – and not about politics. It is a play about human desire and aspirations. It is the best of us and the worst of us. It is about people and their love and their hate and their jealousy and and their grief. It is about corruption and greed and loyalty and fierce friendships. It is what people truly believe in their hearts is the right and good thing to do. And then they doubt themselves. It's fantastic.
Luxe Society Asia: What made you say Yes! in playing the role of Julius Caesar?
I was intrigued by the director Guy Unsworth vision for the play. He has conceived of Rome as R.O.M.E – a acronym for a powerful bloc of world leaders. Just as Rome circa 44BC saw itself as representing the world order so does R.O.M.E circa 2018 AD see itself as the centre of global power. But just as the Roman patricians saw Julius Caesar's rising populism as a cause of concern so does R.O.M.E's G7 find Caesar's ambition within that bloc a source of tension in the delicate balance of power. Is she too ambitious? Does she have dictatorial tendencies? Whether she truly is as ambitious as her enemies make her out to be or whether they are driven by their own self-interests (financial or otherwise) it is all part of a recognisable global politics. The motto of R.O.M.E is Think Of The World (a line from the play) and the hashtag of Rome is #ThinkOfTheWorld. The world of the play is like our own – it thrives on social media and news – fake and viral and otherwise.
This production of Julius Caesar has two women leaders – Caesar herself and Cassius – out of a powerful bloc of 7 leaders that also includes Brutus, Casca, Decius, Cicero and Lucillius. Five of the seven are involved in the conspiracy against Caesar. So I think this production is a more realistic representation of current gender and power dynamics in world politics. (Hashtag #nastywomen #imwithher) So I decided Yes. I'm with him – because he is with her!
Luxe Society Asia: You had previously worked with SRT  for Romeo & Juliet and now Julius Caesar, how does it feel to be working with them again?
It's a super team. The rehearsal room is a positive, creative space. Everyone works hard. The director Guy Unsworth is super intelligent and funny and knows exactly what he wants, the design work by Richard Kent is stunning, the music and the multi-media is sharp and contemporary and the play is fast and furious. I can't wait to see the lighting designer's work in the park.
Luxe Society Asia: What about your co-actors and actresses, how does it feel to be working with them?
I get to work with some of my favourite Singaporean and Malaysian actors. Ghafir Akbar is a dear friend – we've worked together in Malaysia in my theatre company many times. Four of the actors Ghafir, Sharda Harrison, Julie Wee and Daniel Jenkins were in Hotel together. That was a great bonding experience. I worked with Thomas Pang in Ophelia and that brought us close and I'm always happy for any opportunity to work with him. And then there are the actors I met on Romeo and Juliet – Shane Mardjuki, Edward Choy – it's been lovely reconnecting. And then there are all these new exciting young actors I don't know but who are fantastic. Tia Guttensohn, Salif Hardie among others. And then there's the Young Company who have been thrown into the mix and who are rising to the challenge. It takes a village to play in the park.
Luxe Society Asia: What is your favourite scene in Julius Ceasar and why?
The scene after the assassination when Brutus and then Mark Anthony explain to the assembled populace what just happened. In our production it is done as a modern day press conference. People are angry, confused and passionate. They are furious at Brutus but he explains why they had to assassinate Caesar and by the time he leaves they are calling him a hero. He then leaves and allows Mark Anthony to speak. Mark Anthony's speech is a masterful. Full of honest grief but also cunning and manipulative. He knows he has to survive and he can only survive and get his revenge on Caesar's death by getting the people on his side and turning them against the conspirators. This he manages to do fantastically. But the end of it he has incited them to riot not by damning the conspirators but by praising both Caesar and her killers. It's brilliant.
Luxe Society Asia: In your own perspective, who is Julius Caesar?
Shakespeare's text is written in one way for the historical figure Julius Caesar but it's worth remembering that when Shakespeare wrote this play Elizabeth 1 was monarch of all of England. And during a very treacherous time. But she ruled with a strong hand and brought stability to a country riven by civil strife and the threat of foreign invasion. So the I think Julius Caesar is a kind of cipher for Elizabeth. And a cipher today for any leader who is charismatic and loved and who divides people. Who was Julius Caesr? Was she strong? Yes. Was she ambitious? Yes. Was she dictatorial? Perhaps. Was that a good or bad thing can only be decided by the populace – in this case the audience. That's you! Hopefully. For me this version is like Shakespeare meets West Wing meets House of Cards meets Avengers. There's a lot of plotting and scheming, there's a lot of fighting and action and yes killing. But is it for the greater good? That's for you the audience to decide!
Luxe Society Asia: In our society today, is there anyone who you think resembles the traits/character of Julius Caesar?  and why?
The interesting thing about Caesar is that she/he is a composite of what OTHERS think of her/him. Brutus says she was ambitious but he also says she was brave and that he loved her for her many great qualities. Cassius says she is cowardly and weak – she suffers from epilepsy and is deaf in one ear – but despite that she has grown too powerful, like a god. Anthony calls her loyal, noble and loving and reminds everyone how much Caesar loved them and was loved in return. Yet there are many who hated her. In this way Caesar is like many people in power and in high positions in politics – they divide people.
Luxe Society Asia: Why should the public watch Julius Caesar?
The production is contemporary, fast paced and very exciting. It's like a political thriller. It's got a fantastic cast, its edgy and very theatrical. It's full of surprises and the director has given a lot for an audience to enjoy.
Luxe Society Asia: What is next for Jo after Julius Caesar? Any upcoming theatre shows?
In June/July I'll be working as an actor with a Spanish director Carlos Garcia Estevez of Manifesto Poetica on a new Malaysian collaboration. In September and October I'll be in Tokyo directing a piece in collaboration with two directors Junnosuke Tada from Tokyo and Bambang Prihadi from Jakarta to create a new piece of theatre together with actors from all three countries.
Luxe Society Asia: Before we end, name any Shakespeare character you would want to portray next.
Prospero. Iago. Cleopatra. Lear's clown. Caliban. Beatrice. But who knows what a director sees? I never dreamt of playing Julius Caesar but I'm very glad I am.
Julius Caesar will be staged Wednesday through Sunday from 2 May to 27 May 2018, at 7:30pm at Fort Canning Park. The gates will open at 6.30pm for those who wish to choose their favourite spot to picnic. Tickets from $45 to S$95 and are now available from www.sistic.com.sg, at all SISTIC outlets and the booking hotline (65) 6348 5555 or www.srt.com.sg/show/juliuscaesar