Up Close with Robbie Hoyes-Cock, Founder, The Podium Lounge Singapore
CONTENT: Andrew Kho
IMAGES: The Podium Lounge
One of Singapore's most sought after F1 after-parties, The Podium Lounge Singapore celebrates its 10th anniversary this year.
We interviewed Robbie Hoyes-Cock, founder of The Podium Lounge Singapore as he looked back on its early beginnings and shares with us his future plans for this massive event.
Luxe Society Asia: We understand that you were a former banker, what happened along the way that motivated you to create The Podium Lounge?
I was a Management Associate Trainee at Citibank as part of their Asia Pacific Consumer Bank, Regional Treasury. Towards the end of my second year there, I was supposed to do a three month training stint in London, after which I was to be bonded to Citibank for at least a year afterwards. I guess you can say that I took exception to the fact that the three months were organized for the height of winter (November to February) but on a deeper level I also didn't really subscribe to the pure pursuit of money and wealth that banking offers. I figured there were more enjoyable and entertaining ways to make a living!
I left Citibank in 2005 and started a private VIP club night, once a month, called B-Yond, hosting parties for Singapore's well-heeled expats and local socialites that went beyond the norm of your stereotypical clubbing experience.
I hosted over 100 B-Yond Parties before I was approached by the GM of The Ritz-Carlton, Millenia Singapore, Peter Mainguy who wanted me to organize a three-night, high society Formula 1 themed event by The Ritz-Carlton, Millenia's poolside over the 2009 Singapore Grand Prix. The venue was very "B-Yond" so I jumped at the opportunity and well, the rest is very much history!
Luxe Society Asia: The Podium Lounge Singapore started back in 2009 with this year being its 10th year anniversary, what are your thoughts looking back in time?
We have enviable record of having grown our attendance, sponsorship and overall profitability of The Podium Lounge Singapore every single year since we began. We've also had great success in expanding the brand to Melbourne, Monaco and Abu Dhabi which has been hugely thrilling; especially as we get to fly the Singapore Flag internationally as a locally registered company.
Luxe Society Asia: Which year was your most memorable The Podium Lounge and why?
In 2013 I partnered up with my best friend and former Executive Director of Marketing & Entertainment at Pangaea, Steve Yallop and we hosted four Podium Lounge events that year, for the very first time. The year culminated in Abu Dhabi, together with the end of the 2013 Formula 1 Season and we were asked to host an extraordinary celebration for Red Bull Racing's Sebastian Vettel, who became a living legend by winning his fourth consecutive Formula 1™ World Driver's Championship and victory at the Abu Dhabi Grand Prix with Infiniti Red Bull Racing.
F1's record-breaking four-time World Champion chose our star-studded party, held on the Marina Rooftop Pool of the Yas Viceroy Abu Dhabi, to continue celebrations after winning the title in New Delhi the previous week. The post-race party we organized hosted the racing community's ultimate A-list celebrities with Vettel's team of mechanics, engineers, management and friends from The Paddock Club including racing legends Damon Hill, David Coulthard, Rubens Barrichello, Eddie Jordan, Gil de Ferran (IndyCar Indianapolis 500 Champion) and other personalities including Sky Sports F1 presenters Simon Lazenby and Natalie Pinkham, Chairman of Sky Nicholas Ferguson (CBE), Princess Deborah Murrat, HI&RH Archduchess Eleonore of The House of Habsburg, English television presenter Vanessa Feltz, and soccer legend Diego Maradona all revelling in the post-race celebrations of the 2013 Formula 1 Etihad Airways Abu Dhabi Grand Prix.
It was a night I will never forget.
Luxe Society Asia: The Podium Lounge now takes place in several countries from Monaco to Abu Dhabi, how do you manage to oversee all of these?
We have a great team with representatives on the ground in each territory. We follow a very well tried and tested formula in how we approach each event; and the key has always been to have a super-premium venue within stumbling distance of the Formula 1 track. Over the years it has become a lot easier as we have built up a super strong brand name and The Podium Lounge has become very closely associated with Formula 1's jet-setting party elite, Royalty, celebrities and superstars musicians around the world.
Luxe Society Asia: Singapore has quite a few F1 after-parties, what sets The Podium Lounge Singapore apart from the rest?
The Podium Lounge is a pop-up event in Singapore, in the Grand Ballroom of The Ritz-Carlton, Millenia which takes place for only three nights a year in conjunction with the trackside action of the Marina Bay Street Circuit. We combine global music sensations, with celebrity fashion designers, extraordinary fringe performances, luxury brand showcases and a guest list that brings together some of the most powerful people in Asia. Our venue is the very closest venue to the F1 Paddock and Pit Lane, which makes it extremely easy for the Racing Community to join the party when the Race (& Practice / Qualifying Sessions) end at 10.30pm. It also helps that the majority of the F1 Drivers & Teams including the powers at Liberty Media all stay at The Ritz-Carlton, Millenia.
Luxe Society Asia: What are your future plans for The Podium Lounge Singapore?
The Podium Lounge Singapore will continue to grow and expand together with The Ritz-Carlton, Millenia Singapore who have been our partners and very supportive stakeholders since 2009. We have experimented with hosting a Race Dinner with 3 Michelin Star Chef Quique Dacosta and on top of the $500k minimum investment that we spend on retrofitting the Grand Ballroom into a dazzling ultra-lounge for over 3,000 guests per night, we do believe there is an appetite for day time (brunch) and evening (dinner) components too. Watch this space.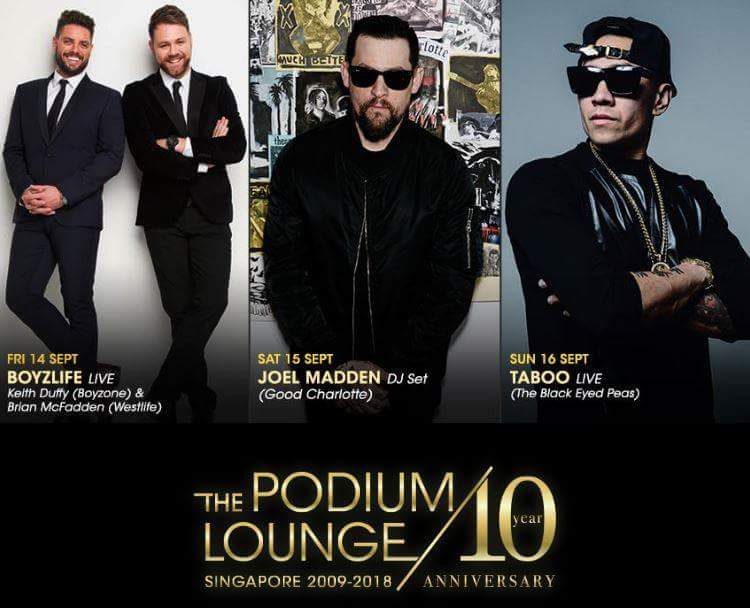 Luxe Society Asia: Lastly, why should the public visit The Podium Lounge Singapore this year?
It is an extraordinary opportunity to rub shoulders with the who's who of the global racing community including both Formula 1 Drivers & Legends and Team Owners. On each night we have an action-packed line-up of entertainment that features not only the headliners detailed below, but also a superb Australian Burlesque Dance Troupe, aerialists, roving musicians, the nightly fashion circuit featuring Cosmic 108, EGO and MTHEMOVEMENT  (no less than three LA based celebrity designer), an art exhibition by one of the UK's most popular contemporary artists Lincoln Townley who's being hailed as "the next Andy Warhol", and a supercar exhibition that will blow everyone's minds away!
This year, Boyzlife (featuring Keith Duffy from Boyzone and Brian McFadden from Westlife), will be performing on the opening night Friday, 14 September 2018. Good Charlotte front man Joel Madden will be spinning his favourite tracks on Saturday, 15 September and The Black Eyed Peas member Taboo will be putting up a special celebratory performance on Sunday race night, 16 September.
It's six hours of entertainment each night and we have a lot of incredible surprises in store this year, as part of our Year 10 Anniversary celebration!
The Podium Lounge Singapore 2018 is located at 7 Raffles Avenue, Marina Bay, The Ritz-Carlton, Singapore 039799 held from 14 September to 16 September 2018, 10pm until late
For The Podium Lounge Singapore Tickets, VIP Tables and Booking Information, please email: robbie@podiumlounge.com or visit www.podiumlounge.com/sg/