ZoukOut 2017 To Debut The Most Elaborate Stage Ever Seen At A Music Festival in Singapore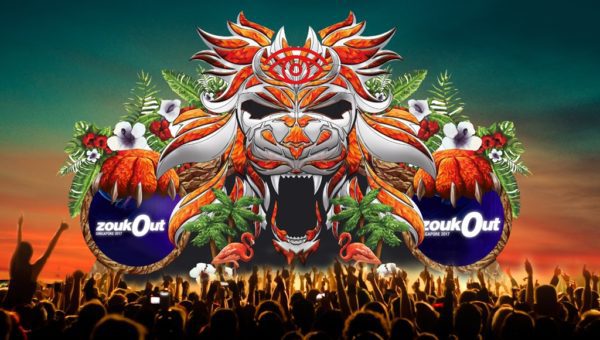 ZoukOut, Asia's largest beachfront music festival and only dusk-to-dawn dance festival, today revealed a first look of its mainstage. The iconic Moon Stage this year gets a massive facelift as it is set to become the most elaborate stage ever seen at a music festival in Singapore. It is also Singapore's first ever large scale structural 3D stage purpose-built for a music festival.
The mainstage this year pays tribute to Singapore, reflecting ZoukOut's 17-year establishment in the Lion City.
Andrew Li, Executive Chairman and Chief Executive Officer of Zouk Singapore says, "ZoukOut has over the years become synonymous among Singaporeans, with many of us having grown up with the brand. As such, we felt that we needed to pay homage to this country which has been ZoukOut's home for 17 years. As the world gathers at ZoukOut this year on Dec 8 & 9, we hope to be able to show them the spirit of Singapore through our main stage."
Standing 34 meters wide and 18 meters tall, ZoukOut's mainstage this year (also iconically and historically called the Moon Stage) features a towering lion head with its paws raised, guarding over the audience. Its eyes glow as laser effects will be projected out just above the audience. On its forehead, is Zouk's symbol of unity, the Zouk Eye, signifying togetherness and oneness through music. Surrounding the lion centerpiece are finer details of tropical motifs with the national flower, the Orchid, also featured.
In line with the festival's Neon Tropical theme this year, neon colours will also be used to enhance the effects of the 3D lion structure and its surroundings. The structure, which is being hand carved in Singapore and at the time of ZoukOut, would have taken over 3-months to be put together will additionally be supported by over 40 strobe lights, 8 lasers, 834 LED panels, CO2 jets, and pyrotechnics to provide the audience with a never before seen, immersive, sound and light experience.
This alongside a stellar list of headlining acts promises to make ZoukOut an experience not to be missed. Now in its 17th year, Asia's longest running dance music festival is raved about by top DJs in the global clubbing circuit and is sworn by legions of fans as a must-attend party location.
After already announcing some of the biggest names in dance music from around the world including Marshmello, Flume, Axwell /\ Ingrosso, R3HAB, Yellow Claw, Robin Schulz, Claptone, Gui Boratto, DJ Snake, Amelie Lens, and MaRLo, ZoukOut has now finalized their lineup with the addition of a takeover from 88rising that will include Rich Chigga and Higher Brothers.
ZoukOut is also the only December pit-stop in the region for Swedish House Mafia founding members Axwell /\ Ingrosso, Amsterdam-based electronic duo Yellow Claw, Belgium based techno aficionado Amelie Lens, and Dutch trance phenomenon MaRLo.
The festival this year also continues to roll out more experience related activities. This includes a partnership with AJ Hackett Sentosa that will allow guests to take on their Bungy Jump Tower, Giant Swing, Vertical Skywalk and Skybridge at the festival. Guests will also have the chance to watch the sunset whilst having dinner to experience various cuisine options and chill-out beach beats as doors to ZoukOut this year opens earlier, at 6:30pm.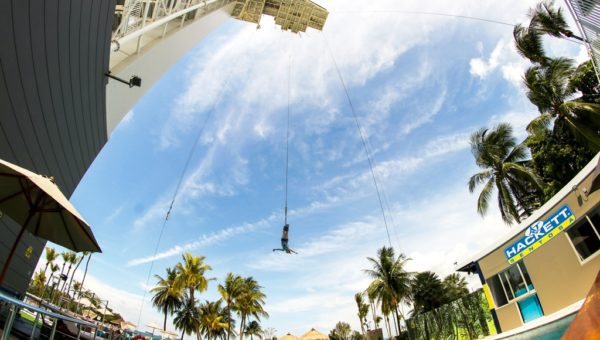 The festival is put on by the iconic nightclub Zouk, best known for its Singapore location that was named the Best Club In Asia and the Fourth Best Club in the world by the DJ Mag Top 100 Clubs in the World Poll, and is known for bringing in the biggest artists in dance music to dedicated fans in Southeast Asia. The club is also present in Malaysia and on the luxury cruise liner, Genting Dream.
ZoukOut tickets can be purchased from www.zoukout.com. As the Official Card for ZoukOut 2017, DBS Live Fresh Cardmembers & all other DBS/POSB Cardmembers are entitled to purchase discounted tickets. This promotion is valid for all DBS/POSB cards issued from Singapore only. They include:
⦁ Single Day, Day-1 tickets at SGD 124.20* (R.P: SGD138)
⦁ Single Day, Day-2 tickets at SGD 133.20* (R.P: SGD 148)
⦁ A set of four 2-Day tickets at SGD 800* (R.P: SGD 228 each)
Official hotel packages which are bundled in with ZoukOut tickets are also available which includes packages with W Singapore Sentosa Cove Hotel, Hard Rock Hotel, Genting Hotel Jurong, and Park Hotel Alexandra. Hotel packages include 2 tickets to ZoukOut 2017, daily breakfast and daily transfers to ZoukOut.