Benetti Delivers First Flagship Giga Yacht FB275 To Her Owner.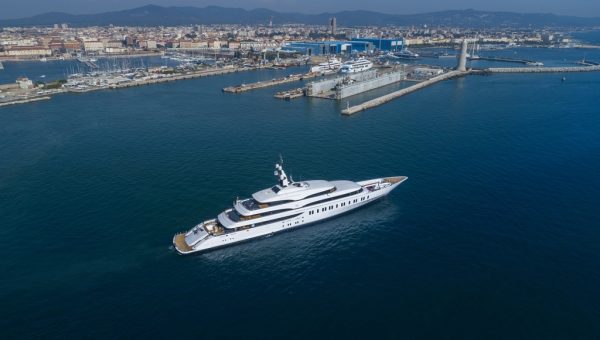 The final installment of Benetti's Giga Season kicks off as the yard announces the successful delivery of the 108-metre flagship Giga yacht FB275, the longest yacht ever built by Benetti. Featuring exterior design and décor by RWD and interiors by Benetti's in-house design team. Onboard amenities such as her large swimming pool, on board cinema, fire pit and treasure trove of water toys make her live up to her Giga yacht status.
"FB275: a great success for Benetti, for Livorno, for Italy. Today we completed this delivery 40 days before the due time. We have made the owner, his captain and his team extremely happy and proud of such a real masterpiece. My warmest thanks to the owner who trusted Benetti, to Franco Fusignani and all Benetti management who have made this extraordinary achievement possible" said Paolo Vitelli, Founder and President of Azimut Benetti Group.
The departure of FB275 marks a significant milestone for the leading Italian shipyard. With a steel hull, aluminium superstructure and a naval architecture by Pierluigi Ausonio, the 108-metre FB275 is the longest Giga yacht ever to be delivered by Benetti. She features 14.5 meters beam, a draft of 4.4 meters and a gross tonnage of 3,367 tonnes. After 4 sea trials she is now accredited with Lloyd Certification.
With a fuel tank capacity of 345,000 litres and powerful twin MTU 2880 kW engines, she has a maximum speed of 18.5 knots and an autonomous range of 6,500 nm at 14 knots. Benetti's new flagship Giga yacht also boasts an electric Schottel stern SPJ pump jet to enable the yacht to travel distances powered entirely by electric propulsion.
Inside Benetti's largest Giga Yacht
From the large heated swimming pool on the Main Deck to her treasure trove of yacht toys and tenders accommodated on board, the FB275 is a Giga yacht built for embracing the very best of the yacht life. In addition to her 2 14-metre tenders together with a 10-metre custom tender and a total of 8 jet skis, she boasts more than 1,000 square metres entirely devoted to outdoor living spaces. The Observation Deck is a highlight on board, providing breathtaking evenings under the stars, while on the Bridge Deck a 1.5-metre fire pit sets the scene for cosy nights at sea. The Owner's Deck features its own private al fresco dining and relaxation areas, while on the Main Deck a vast dining table provides the perfect setting for an evening of al fresco fine dining.
"The exterior design of FB275 epitomises all that RWD strive for in our designs – elegance, beauty, attention to detail and absolute quality in every surface and sweeping curve" said Adrian Chisnell, Team Principal at RWD. "Many years in development, the exterior lines were created to portray a purposeful and powerful stature yet with a timeless flowing silhouette. Significant engineering accomplishments on board coupled with such an elegant exterior form, masterfully crafted by Benetti create a unique statement – of which RWD's whole team are incredibly proud."
FB275 accommodates up to 22 guests on board in absolute comfort and luxury, tended to by a yacht crew of 29.
With FB275 now delivered to her owners, the handover of the 107-metre FB277 will follow shortly, followed by the delivery of FB272 in the second half of the year.