Digital Health Platform andSons Launches Complete Care Hair Loss Kit to combat Men's Hair Loss Problems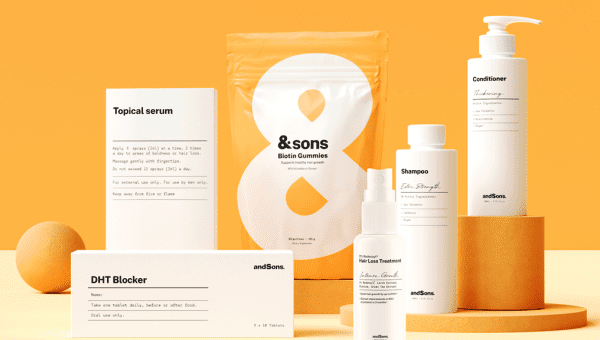 As one grow older, hair loss is one of the most common problems every men face. Hair loss can be result of heredity, hormonal changes, medical conditions or simply a part of ageing. Anyone can have hair loss but it's usually a more common problem in men.

Here comes andSons, Singapore's pioneer digital health platform which carries a large range of treatment plans that target issues such as hair loss, sexual health, weight-loss, skincare and general well-being to help alleviate your problem.

andSons' has launched its Complete Care Hair Loss Kit which includes clinically-proven DHT-blocker pills and 3% Redensyl Hair Serum proven to increase hair growth by 214% in 85% of men. Along with the kit is the new Thickening Shampoo, Conditioner plus Biotin supplements to keep your hair looking healthy and full.

Formulated with a high concentration of Saw Palmetto (a natural extract that acts as a follicle guard, removing build-up that might keep you from growing thick and healthy hair), Caffeine and Argan, the 5% Thickening Complex Shampoo keeps the scalp clean and locks in essential moisture for healthy hair growth.

Pair the shampoo with the 5% Thickening Complex Conditioner formulated with Niacinamide (Vitamin B3), this conditioner nourishes your scalp and revitalises hair strands. It works hand-in-hand with the shampoo which helps to lock in moisture and nutrients and helps hair look thicker.
Supplement to your Hair Loss Kit is the Biotin Gummies (from S$30/pack) which is deliciously chewable and can be enjoyed on the go. Each gummy is formulated with biotin, clinically proven 5,000mcg vitamin B6 that stimulates keratin production to support better hair growth. 100% vegan, with no artificial colours or flavours.
andSons recommends a daily usage of the hair loss products for at least 3 to 6 months to have a more effective results of your hair. 

andSons Complete Care Hair Loss Kit is subscription based and available in monthly, 3 months or 6 months from S$96 per month.The hair loss kits will be delivered to you on a monthly basis (1 kit per month) and include free online consultations with their medical team to check on your progress or to adjust your treatment as you need

For more details please visit andSons Website