Finnair A350 XWB Aircraft Launches Singapore to Helsinki Route
This first A350 journey from Singapore to Helsinki Airport (HEL) marks a significant milestone for the aviation industry last 17th October 2016 as the much anticipated Finnair A350 XWB ( extra wide body) aircraft departed Singapore Changi Airport Terminal 1 for the first time.
Not only is Finnair the first European airline to fly the A350 between Europe and Asia, but is now providing local travellers with the shortest connection between the two continents. On arrival into Helsinki, travellers can seamlessly transit through Helsinki Airport and connect onto over 70 destinations in Europe such as London, Paris, Amsterdam in as little as 35 minutes.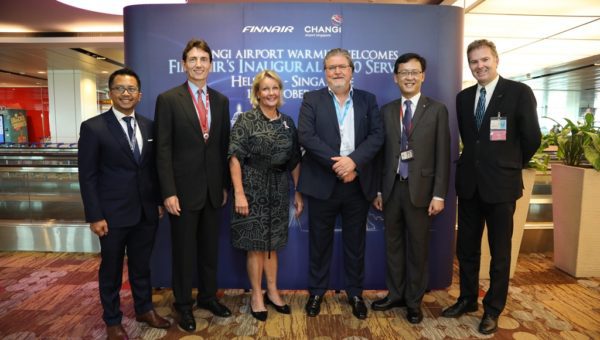 The inaugural flight departure was celebrated with a ribbon cutting ceremony and meet-and-greet with the Finnish Ambassador to Singapore HE Paula Parviainen.
"This moment heralds a new and exciting chapter in Finnair's 92 year history. The A350 is the future of flying and we intend to revolutionize the flying experience for our Singapore passengers with our customised features and Nordic touch," said Mikko Turtiainen, Vice President, Global Sales at Finnair. "We are firmly focused on growing our presence in Asia-Europe traffic, and the launch of the A350 on our Singapore – Helsinki route is key to our strategy. Our overall investment in a fleet of A350´s has been integral to building global growth," Turtiainen continued.
The inflight experience on board the Finnair A350 is reflects Finnair's vision to offer a unique Nordic experience to its customers. With light and spacious cabin design, regional ingredients incorporated into the in-flight menus, on board retail featuring Finnish brands and even mood lighting inspired by the Northern Lights, Finnair is setting itself apart in the competitive aviation space.
Finnair currently has seven A350's in operation, with an additional 12 on order, making this the largest investment in Finnair history. The A350 fleet investment is the backbone of Finnair's strategy to double its Asian traffic by 2020 from the 2010 baseline, and increase its cargo capacity by up to 50%.
For a quick and easy way to book a stopover for connecting flight to or from Helsinki please visit stopover.finnair.com, and select between a wide variety of activities and tours in Finland ranging from five hours up to five days.