Local Optic Retailer, Capitol Optical, has their Eyes set for Future Endeavours
CONTENT: Henry Boen
In a time frame when personal well being and health champions the need for others unnecessary wants, trustworthy local optic retailers like Capitol Optical seized the chance to shine spotlight on its all-rounded eye care service and rebrand on its 50th anniversary.
The extensive service starts off with a visual assessment. The visual assessment will require the patient to wear glasses as the I-terminal technology captures the positioning of the frame to the wearer's face. These customisations increases comfort and allow the lenses and frame to provide a guaranteed relaxed and ideal vision for all customers. The Capitol experience progresses on to introduce the state of the art technology, i-Profiler. The digitalized auto refractor will measure the characteristic of the eye, how it receives light, see and read in both say and night.
The third process forward to a slit-lamp examination, where the process includes the passing through of a thin sheet of light in your eyeball. The process will determine the health of your eyeball exterior that goes from simple diagnosis of dryness in eyes to conjunctivitis. The optician may also use an orange dye to better explain and show the problematic areas. The last one features the Visuscout Fundus Photography technology, where it snaps the back of the customer's eye to check for any existing retinal conditions.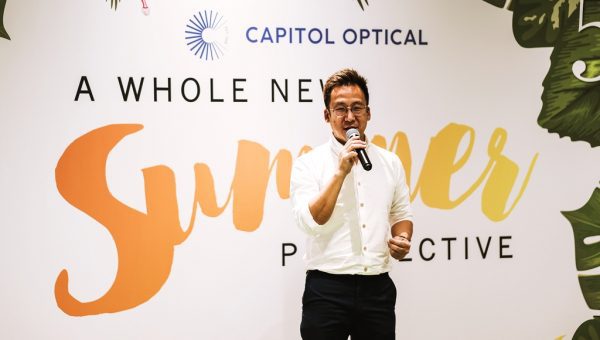 2018 also marked the rebranding of Capitol Optical by the second-generation successors, CEO Delvyn Wong (pictured above), CCO Marcus Wong and COO Denny Wong. The logos were reworked into a simpler geometrical shape that resembles the pupil of an eye. The 'EST. 1968' were placed to honour the company's heritage and values, while the illusory initials of 'C' and 'O' represent Capitol Optical. When asked for the next upcoming plans for the brand, Delvyn revealed his 'hopes to expand into neighbouring countries such as Malaysia and Vietnam'. Delvyn also planned to open a flagship store in April 2019 while also refurbishing the current 17 stores to reflect a newer aesthetic. Capitol Optical will also continue to carry luxury international brands such as Miu Miu, Celine, Prada, Christian Dior, and Moschino on its shelves.
To give back to their customers for the 50 years worth of support, Capitol Optical will be offering 50 percent off all fashion eyewear and frames (excluding lenses and accessories) on 25th and 26th August at all 17 outlets. Visit https://capitol.com.sg to find out more.