Opening February 2018: Kudadoo Maldives Private Island By Hurawalhi
Opening in February 2018, Kudadoo is a small and private island that holds over 15 water villas with various amenities and activities for guests to relax and unwind.
CONTENT: Yiew Kai Jie
Kudadoo is a small and exclusive island surrounded by a beautiful lagoon, alluring house reef and long stretches of white sandy beaches. A direct seaplane transfer flight is available from Velana international airport in which a 40-minute scenic flight awaits you as you fly over the clear waters of the sea and towards the island.
Once clearing the various immigration procedures, you will be greeted by the staff and escorted to the seaplane to be transferred to the seaplane terminal to be pampered until the seaplane departs for the island paradise.
Upon arrival, 13 ocean villas of 300 sqm (one bedroom) and two ocean villas of 380 sqm (two bedrooms) await you. Outfitted with a luxurious infinity pool, a glorious view of the sunset and sunrise along with a personal butler for all of your needs. Other rooms are available for accompanying personal and household staff should you require them. The ocean villas offer privacy, spaciousness and comfort for those that have been worn out from their busy work schedules or the hectic life of the cities. All of the villas feature the same contemporary design, the epitome of tropical chic with clean lines, earth tone colours and natural building materials which harmonize perfectly with the surrounding lush, landscaped vegetation on this unspoiled island.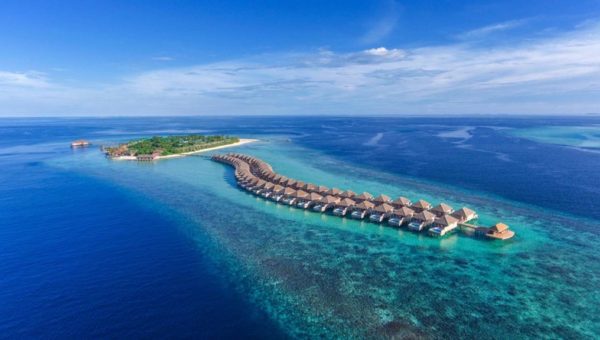 The rooms include:
State-of-the-art electronics (54-inch TV & surround sound system)
IPTV with a range of latest movies, series and TV channels
Fully automated lights with dimming
Energy-efficient cooling system
Handmade furniture
Complimentary WiFi
iMac computer for guests' use
Tasmanian oak floors
A sanctuary for adults only, there are various activities available for them to unwind. Since the island is located in Lhaviyani Atoll, where a great abundance of marine life is present, the resort offers guests to see and snorkel up close with manta rays, turtles and other various ocean life. The resort boasts over 50 dive sites, with new ones being discovered on a regular basis. The in-house dive center runs single dive trips every morning and afternoon and regularly organizes two tank and full day trips to showcase the very best diving experience the Maldives has to offer. Other watersports activities include jet skis, paragliding, water-skiing, wake-boarding, paddle boarding, windsurfing, kayaks and catamarans.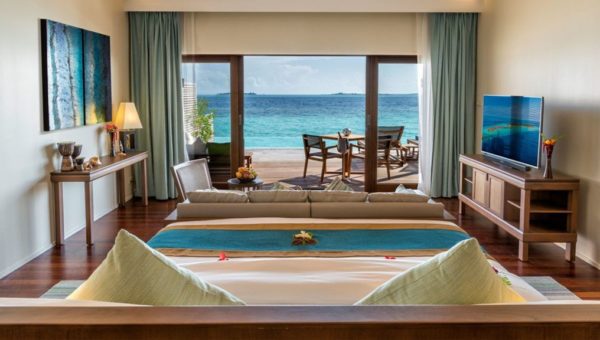 If you feel that diving doesn't suit your form of relaxation, you could opt to pamper yourself at the blissful over-water Duniye Spa. The Signature Maldivian Island Paradise Ritual Treatment is the ultimate indulgence. The 120 minute treatment indulges one from top to toe, leaving skin hydrated and hair nourished from the use of locally sourced 100% virgin coconut skin. After guests have been pampered to their heart's content, they have the option of continuing to the "Tree Top Tranquility Lounge." This haven offers yoga, meditation and sound healing sessions, the perfect environment for a soothing tea whilst overlooking the stunning vista of the tropical landscape and soothing turquoise sea below. There are also various treatments or therapies for couples as well, such as Full Moon Magic, Honeymoon Indulgence and Him and Her.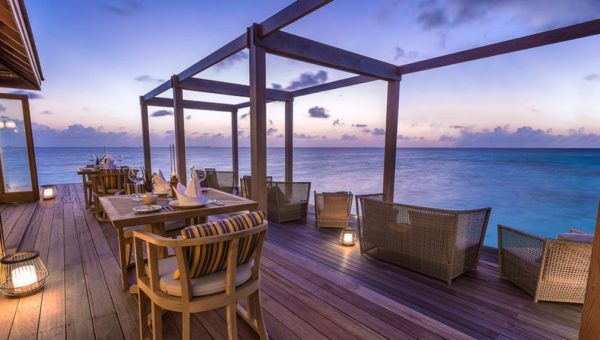 The resort is home to the world's largest undersea restaurant called "5.8" as it is literally housed 5.8 meters under the sea. Exceptional cuisine awaits you in this underwater location with the food made out of the best ingredients with innovation and style, resulting in a showcase of imaginative modern cuisine in a unique location, combined with bespoke service and world-class vintage wines. Surrounded by out-of-this-world marine life and views, the restaurant keeps the focus on the outside and turns on the mood for romance with every table being set for two. The other various restaurants and bar in the resort such as The Aquarium Restaurant, Canneli, Champagne Pavilion, Coco Bar and Aquarium Bar boasts their own concept and glorious views, but they all have the perfect setting for you and your partner to have a romantic night out.
To bring the romance a step further, the resort prides itself on being a lover's haven, with several wedding proposal packages being made available to assist you in making one of the most romantic moments in your life that much more memorable.
Here are seven ways the resort aims to make your wedding proposal creative and unique:
Romantic Starlight Dinner for Two
Secluded Sandbank Proposal On 'Dream Island'
Show Her How Deep Your Love Is '5.8' Undersea Restaurant
Sunset Proposal At Sea
Private Villa Proposal
Champagne Pavilion Proposal
Truly, Madly, Deeply Yours Underwater Proposal
The resort also offers couples to have a bespoke wedding celebration in a tropical paradise, no matter if it ranges from being on a yacht cruising the ocean or a barefoot ceremony on a private island surrounded by close friends and family. Wedding planner Patrizia Cilli who has worked with various celebrities on their extravagant weddings will work with you to design that dream wedding that you have been dreaming about since you were just a child. She will ensure that your dream wedding will be brought to life with no aspect overlooked while causing the least amount of stress possible to the bride and groom.
Regardless if you're a carefree man or a married man to be, Kudadoo Island is the perfect place to be to get away from it all and retreat to a safe solace to wash away the worries of the world to be refreshed or begin a new life with your significant other.
Hurawalhi Island Resort is located at Lhaviyani Atoll, Republic of Maldives
For more information or reservation please visit: www.hurawalhi.com