Poh Heng Celebrates New Beginnings and Renewals in Year of the Rat
Poh Heng ushers in prosperity and luck with Poh Heng Auspicious – a selection of opulent 22K jewelleries and fine gold pieces to celebrate Lunar New Year. Gold plays an essential part in celebrating the good fortune associated with the season. With the year of the Rat signifying new beginnings and new opportunities, indulge in the highly symbolic tradition of buying and gifting of gold, as well as wearing gold in symbolic shapes, with the new collection.
Gold Jewelleries for Luck, Good Fortune and Health
Chinese culture is steeped in tradition and beliefs. Poh Heng Auspicious features auspicious symbols that befit the joyous celebration of Lunar New Year. From gold medallions to Zodiac pendants, these highly crafted gold jewelleries capture tradition in its timeless designs and convey best wishes of prosperity, wellness, and good luck.
Worn for generations, symbolic shapes and characters such as the Abacus is associated with money luck and is believed to keep finances in control; while the number "8", long regarded as the luckiest number in Chinese culture, is believed to attract wealth and fortune. The Pineapple too has come to be regarded as harbinger of financial gain, for the Chinese word for pineapple "黄利" sounds like "旺来" in Hokkien dialect, meaning incoming fortune. Perhaps one of the most ubiquitous auspicious Chinese symbols since ancient times is the character "福", which means fortune, good luck, blessing, and happiness.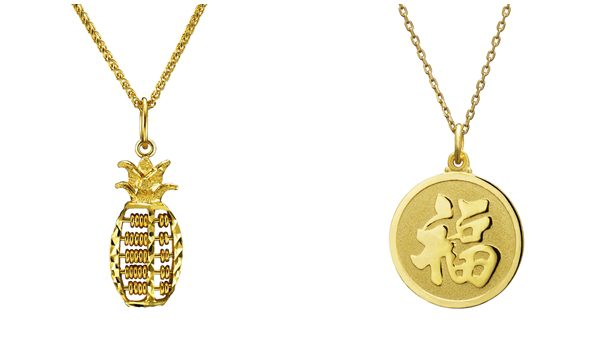 Meanwhile, the Tortoise, considered one of the four sacred creatures in China, is a symbol of wisdom, endurance, wealth, and longevity, as well as a good luck charm for protection; and the Chinese Eternity Knot promises a long and happy life filled with good fortune. Wear these auspicious symbols as a ring, a pendant, earrings, or a bracelet from the Poh Heng Auspicious collection to attract wealth and health as we celebrate new beginnings in the new year.
Welcome New and Auspicious Opportunities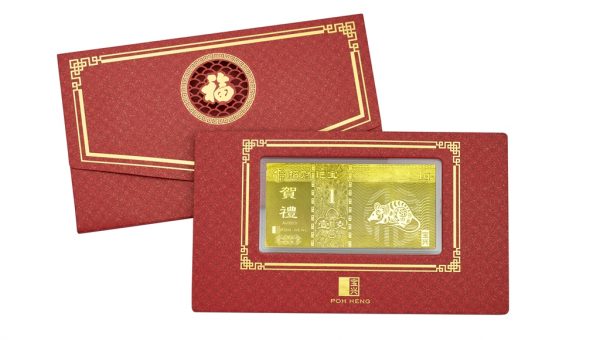 Share blessings and best wishes with Poh Heng Year of the Rat Gold Foil in 1 gram (S$148). Encased in an auspicious red envelope and crafted in 999.9 fine gold, the Gold Foil features the animal of the year – the Rat, an animal that represents wisdom. It is an ideal gift symbolic of the customary red packet, or as a personal keepsake to commemorate the year of the Rat.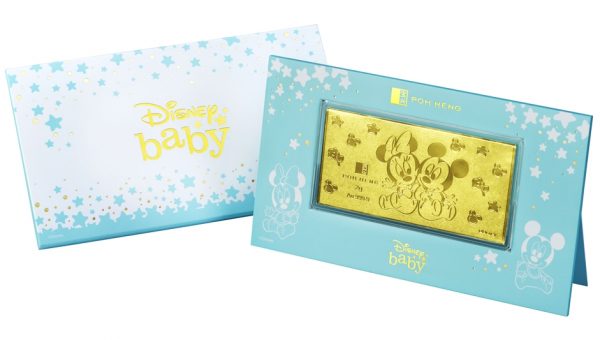 For those who are looking for a contemporary spin to a customary gift, whether it's to celebrate the festive season, or as a gift to those born in the year of the Rat, will delight in Poh Heng Disney Baby Year of the Mouse Gold Foil in 2 grams (S$328). This Poh Heng year-round exclusive Gold Foil adorned with Mickey and Minnie Mouse is a perfect Year of the Mouse gift to Disney fans young and old.
Poh Heng Year of the Rat 2.5 Grams Gold Bar

Poh Heng Year of the Rat 2.5 Grams Gold Bar (S$286) is an ideal gift for those born in the year of the Rat, as well as a collector's item for avid gold collectors of this yearly commemorative piece. Crafted in 999.9 fine gold, this Poh Heng exclusive gold bar is a classic symbol of wealth, prosperity, luck, and new opportunities.
Poh Heng Auspicious is available now at all Poh Heng boutiques island wide. The Poh Heng Disney Baby Year of the Mouse Gold Foil in 2 grams will be available from January 2020.
Visit www.pohheng.com.sg to discover the full selection and for information on price.