Spanish Football League LaLiga is Coming to Singapore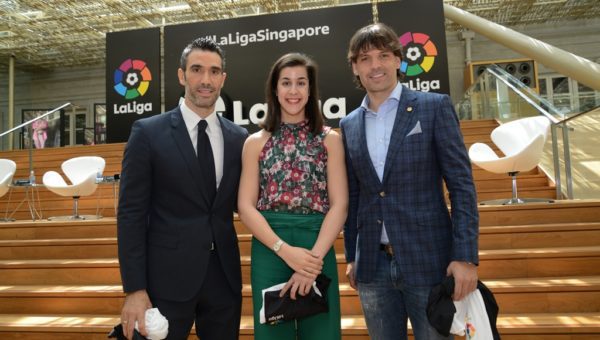 Spanish football league, LaLiga announced its plans to expand its presence in Asia, via the opening of its official office in Singapore in a star packed ceremony attended by no less than the Spanish Ambassador to Singapore, Miguel Angel Navarro Portera, Football Association of Singapore Provisional Council President and Deputy Chairman of FIFA's Disciplinary Committee, Lim Kia Tong as well as LaLiga Ambassadors Fernando Morientes, Carolina Marin and Fernando Sanz.
LaLiga has plans of significant investment of time and resources to popularise it in the continent, following a multi-dimensional approach using exhibition matches, players visits and development programmes at the grassroots level. LaLiga plans to grow its presence and popularity in Singapore, Malaysia, Indonesia, Thailand, Philippines and Vietnam.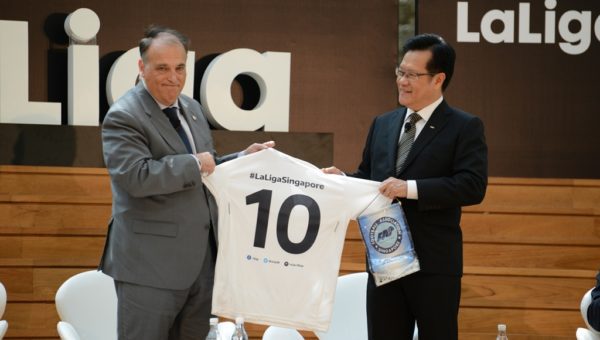 Mr. Javier Tebas, President, LaLiga, who led the delegation, opened LaLiga's fourth office in Asia, marking yet another significant step in their strategy of international expansion. The League already has offices in Dubai, China and India, with the latter being launched as recently as last year. LaLiga's office in Singapore will house a dedicated set of resources to execute its proposed projects in the region.
"Singapore for us is going to be the gate that is going to open for us the East part of Asia, and from here we will want to make all of our fans feel much more satisfied." said Javier Tebas, President, LaLiga. "We have changed the timetables of the football games so that in Singapore they can be seen at reasonable times. We will continue to make changes so that this part of Asia can enjoy our football matches throughout weeks", Tebas announced.
The announcement is a landmark event in the recognition of Asia as a key footballing market on the world map, and the vision & passion of LaLiga towards this project will provide unparalleled access to one of the world's leading footballing organizations.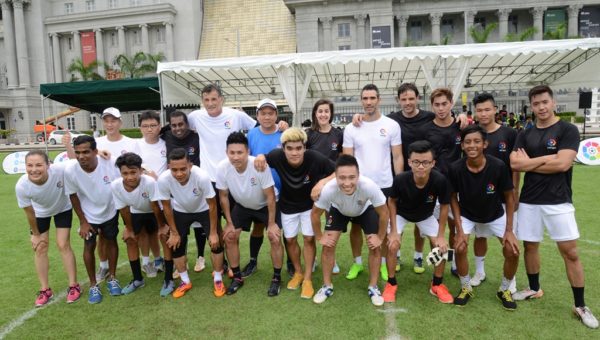 To mark the occasion and show their commitment towards developing football in the South East Asian region, LaLiga had invited footballers from Singapore, Indonesia, Vietnam, Malaysia and Thailand along with some key media personnel, celebrities, children from a local Singaporean NGO and a few lucky fans, to play a 6vs6 game of football, captained by Morientes and Sanz. Among the noted names who played were international model & TV presenter Denise Keller, former Singapore national team captain and current principal of Active SG, Aleksandar Duric, Malaysian footballer and 2016 FIFA Puskas award winner, Mohd. Faiz Bin Subri, Indonesian national team defender, Arthur Irawan, Singapore National Team and Geylang International player, Gabriel Quak, Pattya United's Thai midfielder, Peeradol Chamrasamee and Vietnam Under-23 national team player, Tran Huu Dong Trieu. The hard fought contest was won by Team Sanz, in extra time, 6-5.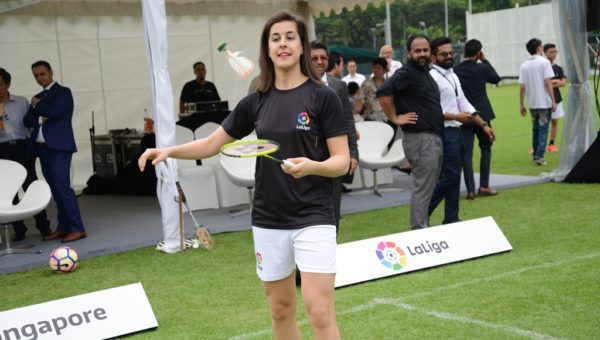 Carolina Marin was challenged to a game of traditional Chapteh by two fans, with the honours being shared between Marin and her opponents.
LaLiga's Singapore office will look after South East Asia, Japan & South Korea. It's Managing Director will be former Dentsu Sports Asia, Deputy Director and Head of Football, Mr. Ivan Codina, a Spanish National with 9 years of experience in Asia working in different roles. He will be in charge of building a team of 3- 4 people that will be based in Singapore, and will oversee the operations in the region along with 8 other members deployed in the different key markets within the region.
Laliga's Singapore Office will be located at: 1 Kim Seng Promenade #17-01 Great World City East Tower, Singapore 231994