Ethan K launches its 2019 Mystical Landscapes Collection
International luxury accessories label Ethan K launched its 2019 Collection – Mystical Landscapes, in an exclusive preview held at the ArtScience Museum located within the integrated resort of Marina Bay Sands in Singapore. The collection comprises more than 20 pieces, shown for the first time in the world.
Moving away from classic shapes into a more contemporary interpretation, the Mystical Landscapes collection features an instinctive evolution of new shapes. With the creative use of combinations of leather mediums in more casual day-to-night styles whilst keeping with Ethan K's key ideals of Adventure, Wonder, Dynamism and Whims, the designer takes a bold leap into new territories. Taking on a more playful persona, the new collection addresses the current more youthful trend and pays attention to what the Ethan K collectors have been asking for.
"Looking up to the midnight London skies, I feel like the stars are watching over me. A sparkling blanket of jewels warms my shoulders in the crisp, cool air. The Thames washes by, all swish and shimmer. But then it seems to stop. The air is still too, all of London's claustrophobic clamour and commotion pausing, just for a moment, to admire the magic of this mystical landscape above."
Creative Director, Ethan Koh was in awe of the domed ceilings, moulded and carved with mesmerising shapes, assured and stoic in their brilliance, century after century, of the Crosby Hall against the London sky. Taking in this Tudor revelation, a home fit for kings, its exteriors do not do justice to the secrets it holds within; its true beauty concealed for those with the adventurous spirit to tread further, those who always search for and believe that there is more. Everywhere inside, the latticed woodwork, golden nuggets beaming from within, brings reminder of the deference to the blanket of shining stars up above.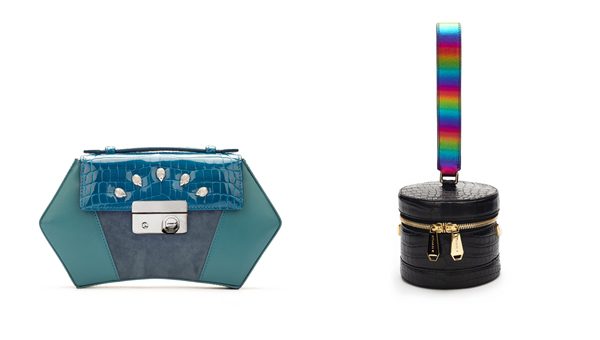 The collection is inspired by the beauty, love and dedication that the universe was created upon. Unexpected touches of soft shimmery leathers resembling the starry London skies hidden within seemingly serious exteriors; six sided stars bearing an archetypal meaning of 'harmony in diversity' in its beautiful mandala, adorning exquisitely crafted pieces; a magnificent hand painted leather in the enigmatic colors of the universe shaped in true elegance; a prism of colors that one would only imagine possible of faraway realms.
For more information please visit: www.ethan-k.com