Loewe Launches Limited Edition Dumbo Capsule Collection
Taking inspiration from the iconic Disney character, Dumbo the Elephant, the capsule is an exclusive extension of the Spring/Summer 2019 collection. This limited line of products builds on the positive nostalgia that the lovable Disney cartoon conjures in everyone's mind. Dumbo, the young elephant whose oversized ears enabled him to fly, became an intrinsic part of childhood for subsequent generations since he first took flight in 1941.
Reinforcing its focus on playful functionality and advanced craft, LOEWE employed a complex technique that combines marquetry and printing to apply images of Dumbo on two of the brand's most coveted items — the Goya backpack and T Pouch. Both bag and pouch are manufactured from high-grade stone-blue (or Dumbo grey) calfskin. In addition, a number of casual Ready-to-Wear pieces for men and women including jackets, shirts, trousers and scarves have been embroidered with his likeness.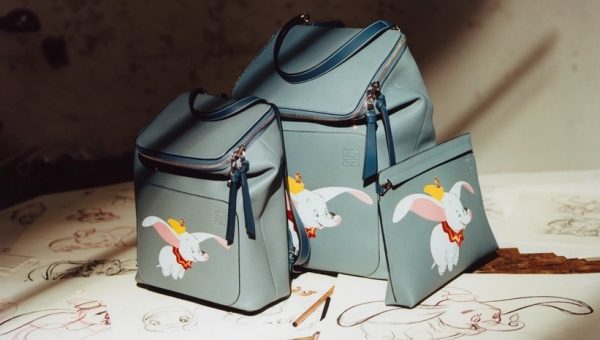 Register at loewe.com/int/en/dumbo today and stand a chance to purchase first at the pre-sale launch event on the 28th of March in one of the ten LOEWE stores that will sell the collection from 29 March. Madrid CASA LOEWE, Barcelona LOEWE Paseo de Gracia, Paris LOEWE Montaigne, London LOEWE Selfridges, Hong Kong LOEWE Landmark, Taipei LOEWE Breeze Nanshan, Singapore, LOEWE Paragon, Beijing LOEWE SKP 1F, Shanghai LOEWE IFC, Tokyo CASA LOEWE Omotesando.
The official launch of the collection will commence on the 29th of March.