Singapore International Jewelry Expo 2013
The Singapore International Jewelry Expo (SIJE) 2013 was held last week from 4 July to 7 July at the Marina Bay Sands Convention Centre, showcasing the best in jewellery and design from around the world. With 223 exhibitors from 26 countries, is testimony to the fact that many jewellers around the world recognize Singapore as an important destination for fine jewelry, making the republic a one-stop destination for the industry's buyers and traders.
This year, the event celebrates the theme, 'Enchantment' inspired by the beauty and exquisite display of jewelry from around the world. The show was focused on the latest trends in jewellery crafted in the beauty of gold, white, yellow, rose, purple and black, and encrusted in the widest range of precious stones of all hues.
SIJE 2013 is the largest jewelry show to date. The vibrancy and glittery of the show pieces were complemented by the exciting line-up of events which includes a jewelry fashion show, networking sessions and jewelry appreciation talks over the four days. The jewelry fashion show showcased the latest collection from DeGem, Famosi, Joon, La Putri, Simone and Yuli.
The most spectacular showpiece is the exceptionally rare violet-blue stunner, the largest natural tanzanite ever showcased here in Singapore and South East Asia. This 118-carat beauty priced at more than S$1 million, was showcased by DeGem (Singapore) throughout the 4 days of exhibition.
Certified by the American Gemological Laboratories, this remarkable beauty also possess the best possible colour, an exceptional violet-blue hue that is rich and even, in addition to its amazing size. Tanzanites are outstanding among coloured gemstones and are of particular interest to connoisseurs because of their impressive pleochroism, appearing to be different colours at different angles, ranging from reddish purple to blue and even to deep purple. It is estimated that less than 1% of Tanzanite mined qualify for the 'exceptional' colour rating, and this 118-carat Tanzanite is certified to possess a rating of 'exceptional +', which is even more rare.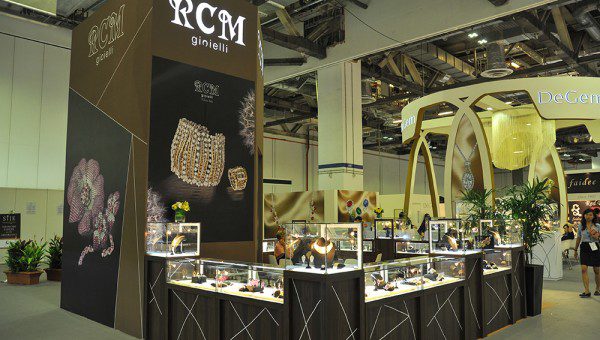 Another interesting and outstanding pieces of jewelry that was showcased at the SIJE 2013 was the Pink Sapphire & Diamonds Flower Brooch & Accessories from RCM. This set of jewellery is made of titanium based, which is light and allows women to wear on the palm-sized flower brooch, and is a one of a kind limited edition jewelry. Pink Sapphires brought out the exquisiteness of the brooch as the enhances the look and feel that blends well with diamonds. The dolphin brooch is yet another stellar creation from RCM.
Singapore International Jewelry Expo (SIJE) 2013 was held at the Marina Bay Sands, Sands Expo and Convention Centre from July 4 to 7, 2013. For more information and updates on the exhibition, please visit www.sije.com.sg.