SK Jewellery Launches the Peanuts Collection this Chinese New Year 2018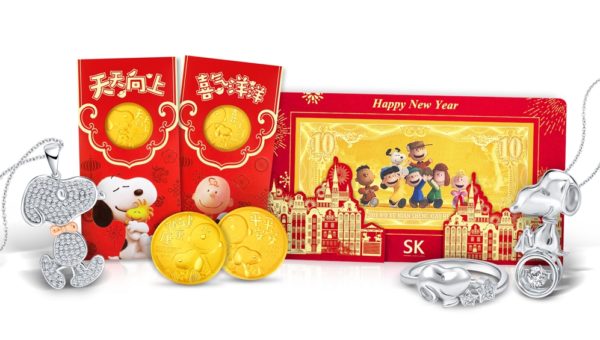 For this coming year of the Dog, SK Jewellery launches the exclusive brand new Peanuts Collection. Featuring the popular Peanuts characters Snoopy, Woodstock, Charlie Brown and company, SK Jewellery is the first in Singapore to collaborate with Peanuts in creating an exquisite diamond jewelery and 999 Pure Gold collection.
The comprehensive Peanuts Collection is inspired by Snoopy's optimistic personality, his insatiable sense of adventure, unbridled imagination, and the fact that he dreams big and often sees himself as a fearless Flying Ace. With his big heart and caring nature, he also brings joy to those around him. Designed to fire up one's imagination, the Peanuts Collection seeks to inspire one to have the courage to dream big and turn dreams into reality. The Collection also represents boundless love and happiness.
From 999 Pure Gold Coins, Gold Bars, Gold Notes to white gold and diamond jewelry, Singapore's leading 999 Pure Gold jeweller indulges Peanuts fans in all things Peanuts, as the brand re-interprets well-loved characters such as Snoopy, Woodstock, Charlie Brown and many more in glamorous 999 Pure Gold, and shimmery white gold diamond jewelry. The collection is designed to inspire one and all to dream big just like the adorable beagle, and to turn dreams into plans.
Traditionally, gold features extensively during Chinese New Year festivities, as it is considered auspicious and is a symbol of success. Specially for Chinese New Year, SK Jewellery presents meaningful 999 Pure Gold Peanuts keepsakes that symbolise blessings to loved ones. The range makes perfect gifting options, not only due to the captivating designs, but also because 999 Pure Gold – the purest of gold – represents the absolute purest of well-wishes.
The SK Jewellery Peanuts Collection 2018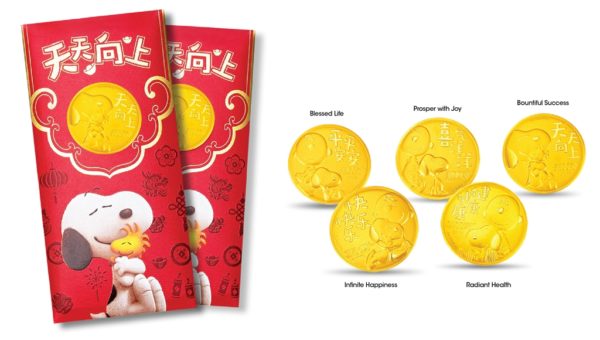 Snoopy 999 Pure Gold Coin Ang Pow
The Snoopy 999 Pure Gold Coin Ang Pow comes in five delightful and enchanting designs, focusing on five Chinese New Year blessings. Exquisitely crafted, the coins feature well-wishes for health, happiness, festive joy, peace and progress . Designed to be gifted in place of the traditional red packets as a meaningful keepsake for children and the young-at-heart, the Gold Coins serve to spur them on to embrace adventure and pursue their dreams relentlessly.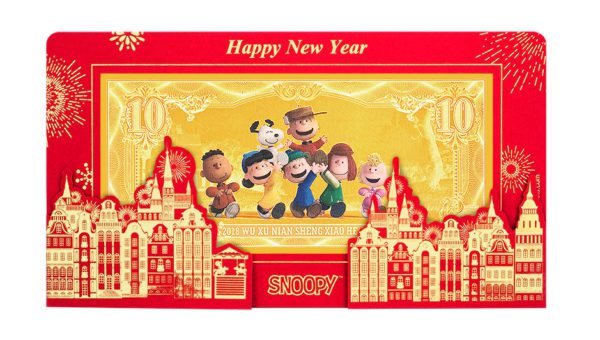 999 Pure Gold Snoopy Gold Notes
SK Jewellery introduces for the first time 999 Pure Gold Snoopy Gold Notes. The Gold Notes are artfully laminated to feel more paper bill-like, compared to the brand's Gold Bars.
Available in ten packaging designs, the Gold Notes dazzle with beautiful splashes of colour – crafted by the same state-of-the-art laser technology that injects eye-catching bursts of hues onto the colourful 999 Pure Gold Bars first introduced to the market in 2016. The Gold Notes beautifully captures the exuberance of the lovable characters, and the wonderful friendship among the close knitted group. Meaningfully crafted with words of well-wishes, the Gold Notes perfectly encapsulate the giver's whole-hearted wishes of happiness for the recipient.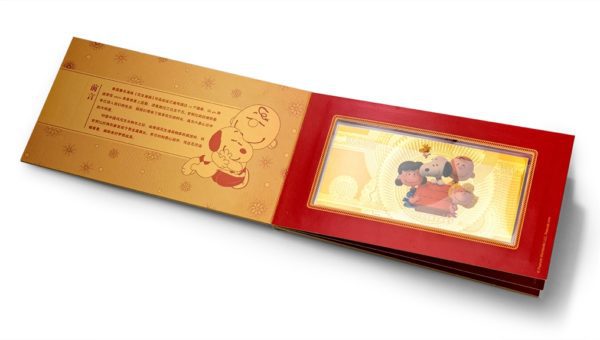 Limited Edition Snoopy Collectible Gold and Silver Notes
Peanuts fans looking for a memorable keepsake will be delighted with the Limited Edition Snoopy Collectible Gold and Silver Notes – the coveted must-have for Peanuts fans! A collectible booklet consisting of a 999 Pure Gold Gold Note and Silver Note, the Limited Edition Snoopy Collectible Note is certain to bring the purest of joy to Peanuts lovers.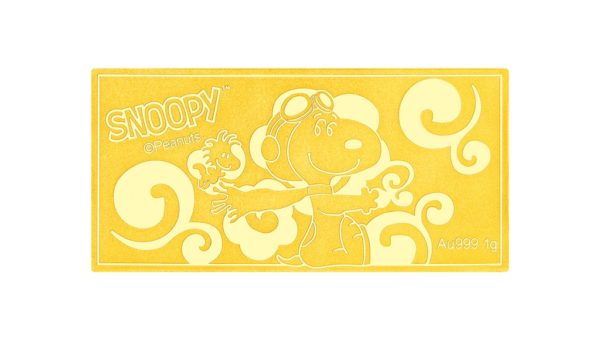 Peanuts 999 Pure Gold Bars
For Peanuts fans who prefer the look and feel of SK Jewellery's signature 999 Pure Gold Bars, the jeweler presents two Peanuts 999 Pure Gold Bars, featuring the humorous and iconic image of Snoopy as a Flying Ace.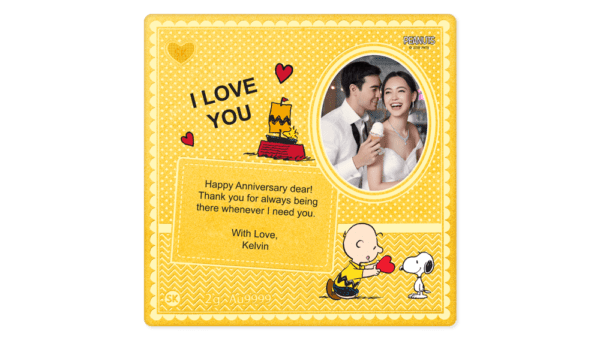 Customize your own Snoopy 999 Pure Gold Bar
Elevating the gifting experience to a higher level of personalisation and intimacy, SK Jewellery launches a 999 Pure Gold Bar customization service and unveils the first-ever customizable Snoopy 999 Pure Gold Bar.
Visit the SK Jewellery website, or any of the jeweller's showrooms to customize 2-gram, 5-gram or 10-gram 999 Gold Bars with names, pictures and personalized messages for meaningful one-of-a-kind presents. The service is offered for customizable Snoopy 999 Pure Gold Bar, as well as three other customizable Gold Bars for wedding, baby shower and birthday. The customization process will take about two weeks from start to finish.
The Peanuts Diamond Jewellery Collection
In addition to the 999 Pure Gold Peanuts keepsakes, SK Jewellery is also thrilled to launch an exclusive range of Peanuts jewelry collection, so fans can be inspired by Snoopy and his friends whenever and wherever they are.
Snoopy Dancing Star Pendant
The pendant features a beautifully crafted white gold Snoopy sitting on top of a scintillating brilliant diamond.. The diamond is skillfully set to oscillate ever so gently to capture light and maximize its mesmerizing sparkle. As a result, the pendant shines and twinkles at every moment, enhancing the allure of the wearer.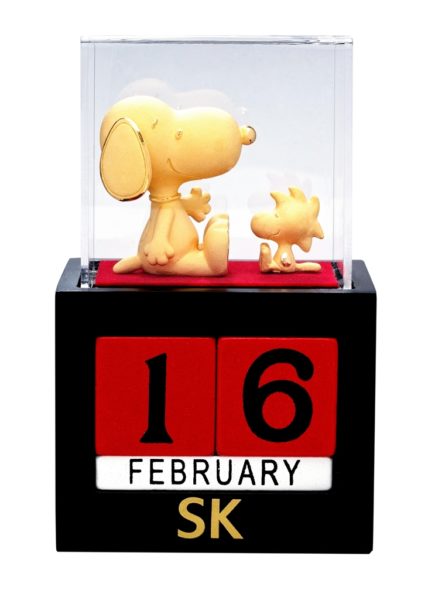 Limited Edition 999 Pure Gold-plated Snoopy Figurine and 2018 Calendar
Peanuts fans can also get their hands on a lovely limited edition 999 Pure Gold-plated Snoopy figurine and 2018 calendar, so that they can be inspired by Snoopy, the intrepid adventurer with a big heart, every single day of the year
SK Jewellery's Peanuts Collection is now available at a special pre-launch roadshow at VivoCity Central Court A from 13 December 2017 to 2 January 2018. Preview the full collection before they hit the stores, and be enthralled by Peanuts 3D trick-eye art, Singapore's largest 999 Pure Gold Snoopy and Woodstock, and more!
To celebrate the launch, for one day only, today 15 December 2017, SK Jewellery will release 500 pieces of 999 Pure Gold Snoopy Gold Note from 11am onwards. The first 99 customers will be able to purchase at $9.90 whilst the 100th customer onwards can purchase it at $19.90. Each customer is only entitled to purchase one Gold Note each. Come early to secure your place to ensure that you are amongst the first in Singapore and one of the 500 lucky customers to take home the collectible 999 Pure Gold Snoopy Gold Note at a special price.
The Peanuts Collection will be available at all SK Jewellery showrooms island-wide from 20 December 2017 onwards. For more details please visit: www.skjewellery.com