SocietyA Spring/Summer 2018 Lineup Feature: Floret Combustion
CONTENT: Henry Boen
There's an apparent hierarchy of prints in every fashion season, and for Spring/Summer 2018, the romanticized floral get-up prevailed once again. Here's why; every flower/leaves imprints a form of cliché – be it the delicate expression of camellia, a sultry tone of orchids or the autumnal leaves' obsession with melancholy. The chances of making these botanical prints appear bleak may be next to impossible, but the constant overuse of floral prints in fashion have posed a challenge for designers due to the ever-unstable tipping scale between creating a bland passing platitude of "just-another-floral-dress" or an actual statement piece amongst the standard bouquet.
Despite the concern, four upcoming brands took their chances for a reinvention as floral prints became the centralised vision for their latest Spring/Summer 2018 collection.
JONATHAN LIANG
A beautiful flair of masculine femininity in a vintage filtered palette; semi-grunge inspired ensemble that remind us of McQueen's trademark silk-chiffon floral dresses and a partial ray of sunlight against the sun-kissed blondie with a millennial attitude – these qualities reflect a haunting resemblance against Jonathan Liang Spring/Summer 2018 collection's base inspiration, a film entitled Innocence as directed by Lucile Hadz's.
There were embroidery petals on sheer fabrications on top of various pleating and tailoring techniques. From the angelic tones of pink against leafy green mesh to a striking almost-neon beaded dress with a mid-waist tassel detailing, the standouts painted a youthful representation of the selection overall while the simpler orange ensemble with the cut-out flare pants takes us back on Jonathan Liang's childhood of the 90's. Vampire orchid became the core flora this season; another symbol of the aggressively soft romanticism juxtaposing the fragility of youth and liberty. It was an interesting insight for the brand, and the relevancy of softer aesthetics felt an elevated blossom in all the right way.
Ti:baeg
Korean designer Eunae Cho had cultivated a culture for Ti:baeg since the first collection; a soft embrace for pastel palette, comforting ensembles and an eye for classic-casual style. And it seems that there isn't any plan to divert away anytime soon as the brand's Spring/Summer 2018 presentation bravely defended its ideals and direction – which frankly we're still in love with.
茶 (chá): tea, pretty girl and camellia, is the to-learn chinese character that accompanied and inspired the collection. The patterns, colour and placements were also kept fairly minimalistic as well to compliment and not overdo. Many separates were presented for options and the silhouettes were not tight-fitting to keep it casual and cool. The multi-coloured camellia graphics came alive in all-over and one-offs styles as digital prints and embroideries on sweaters and sheer dresses respectively. Some separates may have been styled a little too much to carry for and may have been slightly excessive (we're talking about deep minuscule pickiness) but beneath these minor casualties, are plenty of choices to love.
Whole9Yards
Beauty is in the eye of the beholder and the erratic beauty of an abandoned house surprisingly kept Daniel Ngoo and Valerie Chan (designers of Whole9Yards) on top of their fashion game. As the duo is able to look past all the ghostly presence and imagined stories, the intricate floral gates and cracked walls/floors swallowed by unkempt nature unveiled and found itself as the unconventional muse of the brand's Spring/Summer 2018 collection.
The body became the canvas walls and the random growth of vines and weed morphed into the asymmetric gathers and lace trims that outlined the body. Well placed cutouts; organza details across necklines and bodice; the playful one shoulder short sleeve dress in green carnation lace brushes on the softer ideals of femininity and is our recommended trophy to look out for. The collection also sees a harmony of black ensembles with oddly misplaced pop of colours in questionable layers of denim against laces. It's not at all bad per se, but an extreme combination like that do take an acquired taste to totally fall in love at first sight. It's a noble concept to uphold and materialise but the designer's fared well in their quintessential pursuit for unconventional femininity.
Sean Sheila
Sean Loh and Sheila Wijaya (Fashion designers of Sean Sheila) knew their audiences won't appreciate a collection that comes without much thoughts, so the brand paid extra efforts to push the depth of conceptualisation. Eventually, "Humanity" was born out of the contrast between the vision of decomposed organic beauty and the effect of man-made substances in reference to the ocean life. With the concept nailed, the brand's next mission was to materialise a perfect collection to match.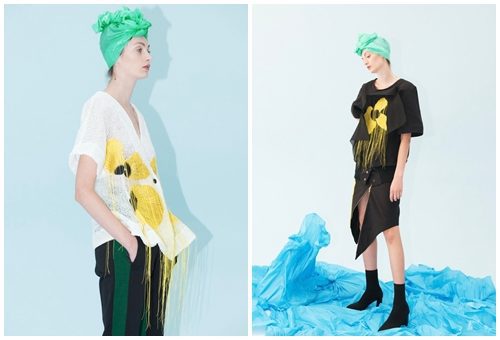 It is our word to say that Sean and Sheila have had it in the front pocket of their bag. We love it! The strength lies in the consistent usage of its signature yellow-floral embroidery throughout. Designed to imitate wilting flower petals, the motif is left unfinished with hanging thread to emulate submerged growths that may look slightly messy but undeniably unique. The palette of vibrant green and yellows permeated the collection like a breath of fresh air while the darker undertones added mystery and a nod to classic fashion. Besides fulfilling the aspects of fashion aesthetics, the brand also had a sensitive value unbeknownst to others: the utilisation of speech-impaired and hearing-impaired artisans as part of their workforce. Does it matter? It does. In fact, there isn't a of attention paid by majority brands about the notion of giving back to society (besides its normative art beautification), so by being the first, those fashion conversations could really land Sean Sheila in the right market placement with a meaningful purpose.
Physical products of the stated brands can be found at SocietyA, Ngee Ann City, Singapore or it's online platform at www.society-a.com