SocietyA Spring/Summer 2018 Lineup: More-Than-Basics
CONTENT: Henry Boen
Keep a monochromatic wardrobe, you're going to need a lot of neutrals; have a simplistic palette of accessories, nothing too chunky or funky; quality over quantity they say, go for that high-end faux fur coat that can go from Kardashian-luxe to Miley-street – those are the quintessential rules to minimalistic dressing. If you're a firm believer of minimalist aesthetics, we applaud you. It's really not easy to invest that extensive amount of time to build up a strict wardrobe, trashes excessive prints and colours, and still manages look 'fresh' every single time. We tried – but god forbids, we just can't seem to escape our irresistible pink-flamingos-with-pineapples printed overalls.
For those beginners, half-way-throughs or even minimalist experts, here's a few up-and-coming brands you need to know if you ever need a helping hand (or inspiration) in expanding your wardrobe empire.
KIMHEKIM
There's an undeniable sense of fetishism that played into the appeal of KIMHEKIM's Spring/Summer 2018 collection. The pieces weren't something fully reinvented (we're referring to his attempt to renew femininity in typical masculine silhouettes of suits, shirts and midi skirts), but it was the immaculate styling that sold the lineup. Entitled Arrosage, it was all about bringing back the ever-desired millennial-esque fantasy of looking effortlessly chic. Cue the suitably laid back attitude, a statuesque stare, and the posture of slumping slightly with ensembles that mirrors the neutrality of the background.
The designer's choice of inspiration was the innocence of childhood; and clearly, the ethereal presence reflects in his dreamy campaign images. Kiminte Kimhekim's knowledge of both traditional Korean sewing techniques and French haute couture also shone through in his beautiful craftsmanship and choice of fabrications. The sheer panels balanced off the heaviness of leather while the specks of yellow and greens steered the lineup from going full bland. The collection's takeaway has to be the white drawstring top paired with the royal green petal-wrapped pants. Just pair it up with a chic black mule heels and you're set to KIMHEKIM's fashion fantasy.
PEGGY HARTANTO
Peggy Hartanto has her own way of making the various aspects of fashion designing come together and tells a simultaneous story. To her, it's a simple feat but to us, it's looks way more complicated. By manipulating her clean lines, bold colours, and the innovative use of fabric and construction, she manages to once again create a remarkable lineup in her recent Spring/summer 2018 collection entitled "Mutant".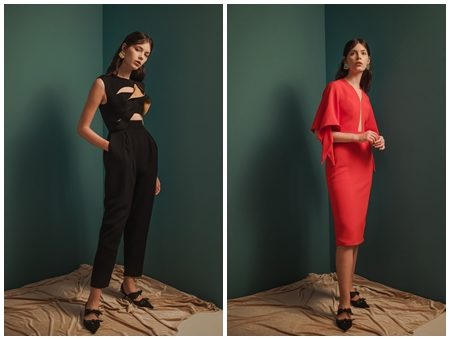 The "Mutant" came about from the extreme mutation of butterflies during the Fukishima disaster of March 2011, which resulted in forked antennas and asymmetrical wings. The queer abnormalities are then reflected in the season's unique silhouette and detailing. One of such can be seen in the black sculptural-draped jumpsuit that played up the avant-garde vibe while retaining its proper functionality. Some others, namely the red swallowtail-cut sleeves dress provides an easier option for a full-day look. In all, the line up had successfully embodied Peggy's trademark design aesthetics, and ultimately, provided distinctive feminine pieces with a sensibility and vision tailored to a modern woman.
SOE JAKARTA
Not to be mistaken for a shallow case of aesthetical fluff, Monique Soeriaatmadja paid meticulous attention in her Spring/Summer 2018 collection to make sure that it wasn't anything but a full-fledged celebration towards her Indonesian heritage. Inspired by artist Melati Suryodarmo's work, the adaption seen in the line up reflected the concept of "Body Politics" and traditionalism elevated in a time-wrap of postmodernity.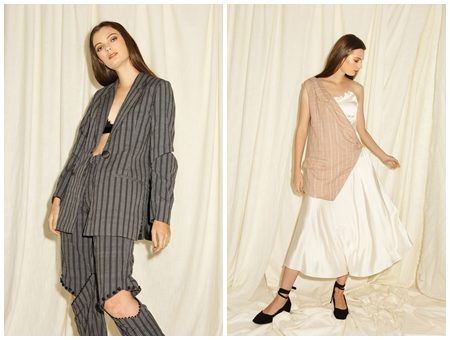 It was androgynous, sleek and eye-catching. And though the rustic aspect of hand woven fabrics may have been the most intimate inclusion to the brand, Monique seems to enjoy her not-so-subtle merger of contemporary detailing the most. Raw fringes adorned along the seams, experimental draping techniques make up illusory, oversized silhouettes; and covered buttons and thread shanks adorned in reminiscent cutouts of the rebellious ripped jeans reigned supreme as the spotlight of the lineup's addition. The asymmetrical placement of the vest top seen in Balinese batik costumes is also a look to appreciate. It's a heartwarming feeling when culture and traditionalism weaves into material existence of post-modern fashion; and the charm of SOE Jakarta lies exactly in that equation.
P by PANACHE
Now, this brand may not a fashion boutique but nothing centralises the aesthetic of minimalism than a set of championing accessories that speaks for itself. Listen to Marilyn Monroe herself – she said, "diamond are a girl's best friend". Well yes, these metals last long. So, to invest in one that's classically elegant, uncomplicated and versatile, is a good bring-along for your journey towards minimalistic pairing.
Inspired by the intricacy of middle age's beautiful armories and working mechanisms, designer Cha Sunyoung launched its Spring/Summer 2018 collection entitled "Luna". The collection – as the name suggested – also adopted the symbolism of moon and its spherical identities as part of the creative process; from the subtle brightness of the Swarovski's crystals to resemble the moon's soft glow to its continual phases represented by varied sizes of ornamental glasses. The jewellery line consists of earrings, rings and bracelets with two choices of plated brass in rose gold and white gold.
Physical products of the stated brands can be found at SocietyA, Ngee Ann City, Singapore or it's online store at www.society-a.com