Voilah! French Couture Week 2012 returns with a Scintillating Line-up
In the coming weeks, the highly anticipated nine-day long fashion extravaganza organized by Fide Fashion Week will feature the latest prêt-à-porter collection from international labels during Women's Fashion Week 2012, while the French Couture Week 2012 will showcase exquisite Haute Couture pieces from Parisian Haute Couture houses.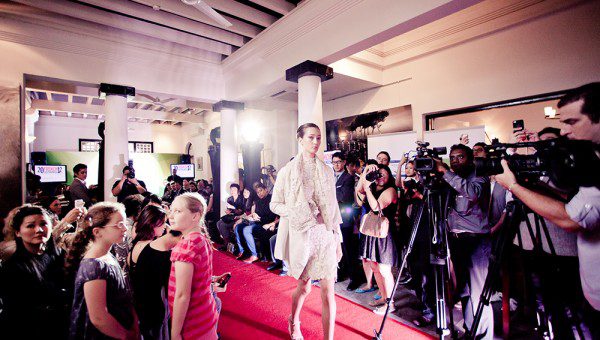 Held at the Rain Oculus, Marina Bay Sands, fashionistas will be able to witness this season's latest collections by top fashion labels including 6Five Barcode featuring Pierre Balmain, Anne Fontaine, Banana Republic, Bread & Butter, Brooks Brothers, Hervé Léger, Moiselle, Silvian Imberg and Tommy Hilfiger.
In addition, four stunning collections by Asian Couturiers will make their inaugural mark at Asian Couture 2012 Singapore showcase on 27th November. China's Guo Pei will showcase her complete "Legend of the Dragon" collection in combination with her retrospective collection; Thailand's Asava by Polpat Asavaprapa will show his Autumn/Winter 2012-2013 Collection; Barney Cheng from Hong Kong, while Mongolia's Torgo by Bold Ochirjantsan close the evening with his stunning Couture collection. Three respected Japanese couturiers will also showcase their collections at the Japan Couture Evening on the next day, 28th November.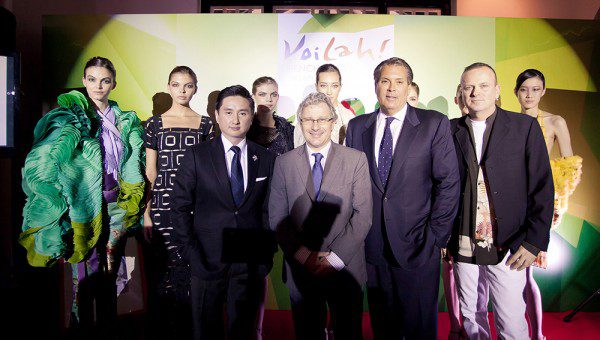 Continuing last year's debut showcase as a collective in Singapore, this year's French Couture Week 2012 Singapore will impress with a stunning display of boundless creativity and imagination.
To mark the launch of Voilah! French Festival Singapore & French Couture Week, Parisian Grand Couturier, Maurizio Galante, presented seven of his most spectacular creations at a preview that was held at the residence of French Ambassador to Singapore, His Excellency Olivier Caron.
For his show at French Couture Week on 30th November, Maurizo Galante will specially create 15 new creations that will showcase alongside his iconic retrospective pieces.
Amongst some of fashion's iconic personalities, celebrities and VIPs who have confirmed their attendance at the French Couture Week 2012 include Ms Suzy Menkes, the formidable fashion critic of the International Herald Tribune, Mr Didier Grumbach, President of the Chambre Syndicale de la Haute Couture, Ms Lyne Cohen-Solal, Deputy Mayor of Paris in charge of Commerce and Craft, Dr Satoshi Onuma, President of the Bunka Fashion College, and Japanese designer Mr Kenzo Takada.
In addition, International DJ Mr X, UK-based Asian Ballet Dancer Matthew Koon, Korean-American "Prince of Ballads" Tim Hwang, and top models from Mongolia and China will add much glamour to the event.
Mr Mark Juliano, Senior Vice President of Marketing, Marina Bay Sands, said, "With the second installation of Women's Fashion Week and French Couture Week Singapore, The Shoppes at Marina Bay Sands has raised the bar yet again as the leading fashion destination in Asia. We take great pride in presenting a world-class platform for our retailers to showcase their best to a wider Asian and international audience."
Dr Frank Cintamani, Singapore's Chairman and Founder of Fide Fashion Weeks array of fashion initiatives, said, "It is important to first understand that Haute Couture embodies the very highest discipline in fashion. Only then we will appreciate that the future of Haute Couture must include Asia."
French Couture Week 2012 Singapore is supported by the French Embassy and is a part of Voilah! French Festival Singapore.
For ticketing information on Women's Fashion Week 2012 Singapore, Asian Couture 2012 Singapore, Japan Couture 2012 Singapore and French Couture Week 2012 Singapore, please contact (+65) 9357 4644 or ticketing@efgfidefashionweeks.com
For more show information and latest updates on shows, designers, schedules, personalities attending, please visit www.fidefashionweeks.com and its Facebook Fan page www.facebook.com/fidefashionweeks.