Akyra Thonglor: Thonglor District's Finest Boutique Hotel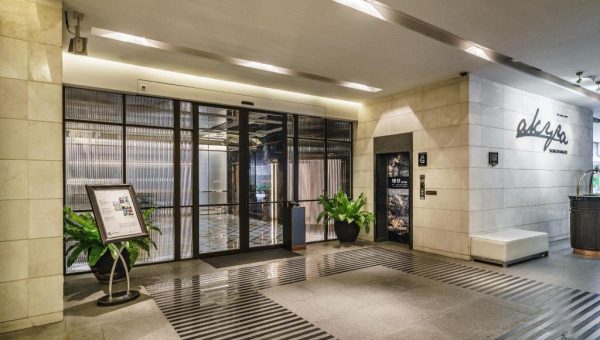 CONTENT: Yiew Kai Jie
If it's your first time travelling to the bustling city of Bangkok, chances are that you've never heard of the Thonglor district- one of Bangkok's new up and coming trendiest districts! The district is filled with a wide variety of restaurants, nightclubs, bars as well as luxury and boutique hotels to cater to a growing expat population as well as tourists as Bangkok becomes an ever more popular tourist destination.
Enter Akyra Thonglor, a boutique hotel that only consists of 148 suite rooms that sells an authentic bespoke experience to its guests from all over the world, particularly guests from neighbouring countries like China and Singapore. The hotel is connected to the neighbouring Eight Thonglor shopping mall that is filled with various F&B outlets, premium clothing stores and a 24/7 supermarket that is fully stocked for anything that you might need during your stay at Akyra Thonglor.
For young travellers or couples looking for a comfortable home base during their stay in Thailand, the Akyra Studio suite is an apt choice to rest your weary legs after a busy day of non-stop walking or shopping throughout Bangkok. Taking inspiration from the roaring twenties, the room has several Art Deco-inspired decorations that blend well with the modern dynamics of modern-day Bangkok. The 37sqm room comes with authentic timber wooden floorings, a comfortable king-sized bed, sofa, business desk and a marble coffee table and bathroom- a literal home away from home for you to kick back in.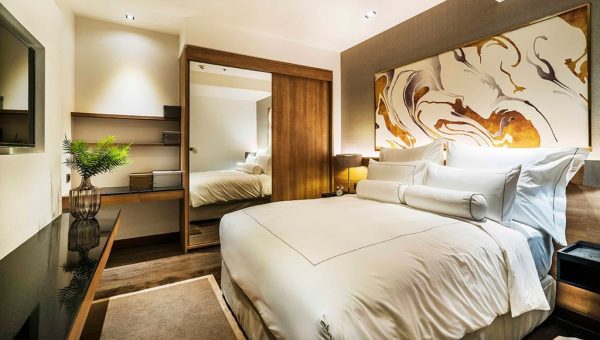 The Akyra One Bedroom suite offers the perfect balance between a normal room and a full-blown family suite by blending the artistic side of the studio apartment and opulence of the suite. The 61 sqm suite has all the amenities of the normal studio suite but comes with an oversized bathtub so that you can soak and wash all their worries or fatigue away!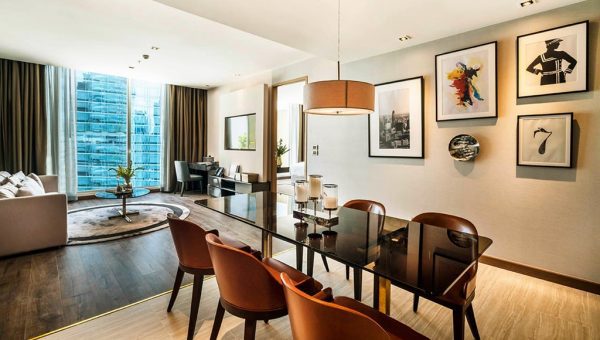 To enjoy the best that Akyra Thonglor has to offer, the hotel has several Akyra Two Bedroom Deluxe suites if you are visiting the country for business to feel right at home after a busy day r for you to stay with your family should you decide to bring them for a family vacation. The 140-180 sqm luxurious suite comes with bespoke Thai furniture and premium appliances to create a homey and aesthetically pleasing vibe. The suite comes with a built-in fully equipped kitchen as well as two luxurious sophisticated bedrooms that comes with different mood lightings and ambient curtains that are able to change the atmosphere according to your needs- be it from an intimate family movie night to a quiet yet warm ambience for a good night's sleep.
Additionally, you will be able to opt for different types of pillows in terms of fragrance and toughness to suit your needs. (EG: Hypoallergenic fibre pillows, pro pregnancy pillows, pillows that ease muscle pain or cramps, etc.) Finally, the suite comes with a large balcony that offers guests unparalleled views of Bangkok's hectic city during the day and her relative peaceful atmosphere at night.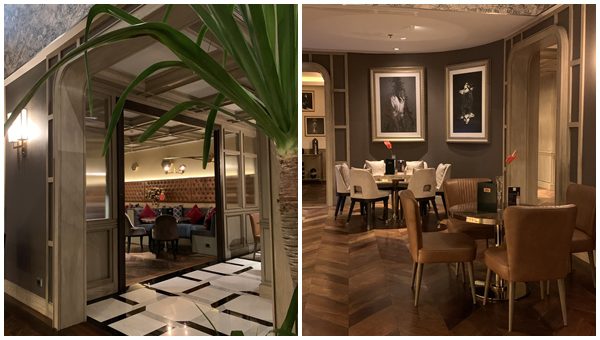 If you decide to opt to stay at Akyra Thonglor's deluxe suite rooms, you will have access to priority check-in services at The Presidente Lounge. The 24-hour art deco sanctuary is an ideal space for you to have a quick meal or to enjoy a high tea session with your families or business associates. The hotel also has a rooftop swimming pool, jacuzzi, a gymnasium along with its very own somtam and Chardonnay-focused restaurant, poolside bar and an independent speakeasy bar whose name acts as a homage to James Bond secret codename and has various concoctions whose recipes date back to the 1920 prohibition era. The hotel also offers hourly shuttle van services to the Thonglor BTS station so that you can get to the station quickly instead of having to walk for 20 minutes under the hot sun just to get your day started!
Akyra Thonglor is located at 88/333 Sukhumvit 55, North Klongton, Wattana District, Bangkok 10110.
For reservations, please call: +66 (0) 2 090 9000 or email: https://www.theakyra.com/bangkok/thonglor/.