Bintan Lagoon Resort: Luxury and Serenity with a Picturesque View located a mere hour's Ferry Ride away from Singapore.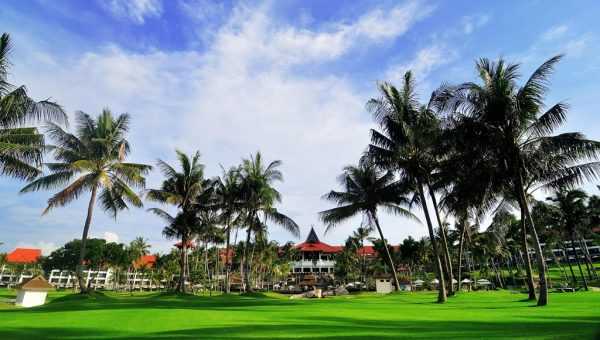 CONTENT: Yiew Kai Jie
IMAGE: Bintan Lagoon Resort
As many Singaporeans are simply itching with the need to travel at an ever-increasing rate, many of them are taking to flying or even sailing away from their country for a short weekend getaway. Bintan Lagoon Resort (BLR), the largest resort located on Bintan is just a stone's throw away from Singapore. The 300 hectare wide resort offers a wide array of 450 rooms, suites and private villas that can be adapted to cater to a wide variety of guests: regardless if its a group of friends looking to celebrate a special occasion, a family looking to get away for the weekend or a couple looking to spend some quality time together- there's something for everyone at BLR!
Getting There
One of the key advantages of staying at BLR is that the resort has its own ferry and private immigration checkpoints that make travelling there a breeze! Guests can simply book the Mozaic Ferry Lines ferry to BLR while booking their rooms on the same website! However, guests should take note that the ferry only operates twice a day at specific days that are subject to weather conditions. Alternatively, guests can make their own arrangements to travel to Bintan by any public ferries of their choice and take BLR's complimentary shuttle to the resort.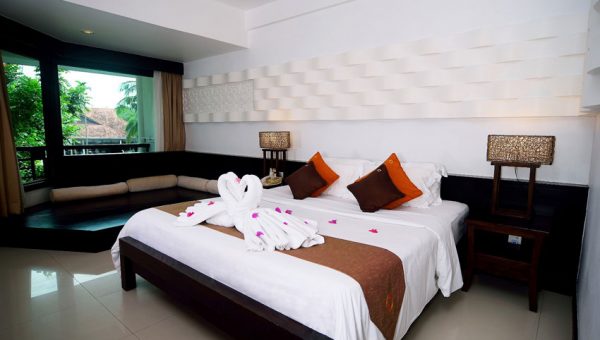 Room with a View
After arriving at the resort, checking in the luggage and handling all the various administrative matters, guests will be warmly greeted by the sight of their pristine rooms with decently comfortable single queen/double single sized beds, a bathtub in the bathroom and the usual amenities found in any hotel room. (Free wifi, unlimited coffee and tea, room service, etc) Depending on the type of room that was booked, some rooms has a spacious balcony that faces the seaside which makes it perfect for guests who want to soak in the sight of the sunrise when they wake up or take instaworthy shots of the sunset over the lagoon.
To pimp up their experience at BLR, guests can opt for an Angsoka private villa that starts from S$800 per night that comes with four bedrooms, a private swimming pool, BBQ pit and a fully equipped kitchen! Even though the villa fetches a high price, it will prove to be a great boon for friends and families if the total cost is split amongst the group.
Additionally, all guests will be able to rent a buggy (S$25 per hour) during their stay at the resort to either explore the resort on their own or to save time from getting from one place to another. Alternatively, they can simply approach the concierge for a one-way buggy ride to their choice of destination.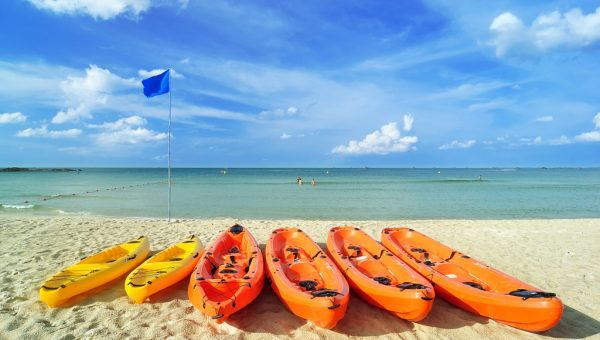 Putt, Swim or Shoot
There are a multitude of activities for guests to do during their stay at BLR, one of the highlights involves the time-honoured sport of golfing as the resort is home to various driving ranges and golf courses scattered throughout the entire area that will able to cater to golfers who are able to send the golf ball flying beyond 150 meters and those who just want to get that hole in one achievement.
For guests who are not interested in golfing, the main activities of the resort focuses on the water activities- specifically the jet skis! (S$160 per hour) Unfortunately we did not get to try out the jet ski due to some maintenance issues, hence we settled for the ATV ride (S$110 per hour) through the forest, which was well worth the price of admission. Once we got acquainted with our strides and put on the necessary safety equipment, we then proceeded to embark on a 20-30 min journey along the beachline and forest, safely guided by tour guides of course. For the more adventurous travellers, guests might be able to convince the tour guides to go off the beaten track- provided if the guests can demonstrate that they know their way around an ATV!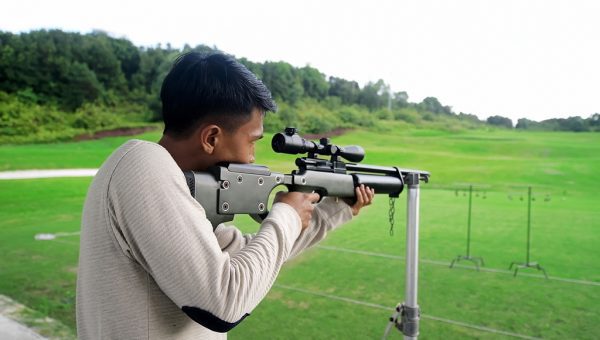 Groups of three or four individuals can rent a paddle boat (S$5 per hour) and take it out to sea and back, all with under the power of group paddling- it's no easy feat but its less strenuous compared to paddling a canoe! There are other activities to do at the beach, such as snorkelling (S$11 per hour), suntanning or simply taking a dip in the crystal clear waters of the lagoon. It is also highly recommended guests get their cameras ready as the scenic beach is a perfect spot to update their social media feed and make their friends envious of the short weekend getaway!
Other activities include an archery course (S$5 for 20 arrows) and air rifle range (S$12 for 20 bullets) that are perfect for families or couples to induce the call of the Mockingjay or to simply have some healthy competitive fun with each other!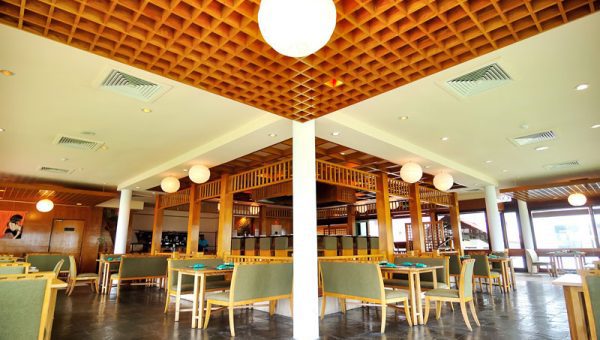 Grub and Grog
BLR is home to a wide range of restaurants with each establishment showcasing its own mastery over its own distinctive cuisine.
Indulge in some hearty Japanese food at BLR's top-rated restaurant, Miyako, known for its usage of fresh ingredients and attention to detail when it comes to food presentation! Guests will be spoilt for choice as the chef whips up a tantalizing teppanyaki meal right in front of them as they chow down on their meal with a view!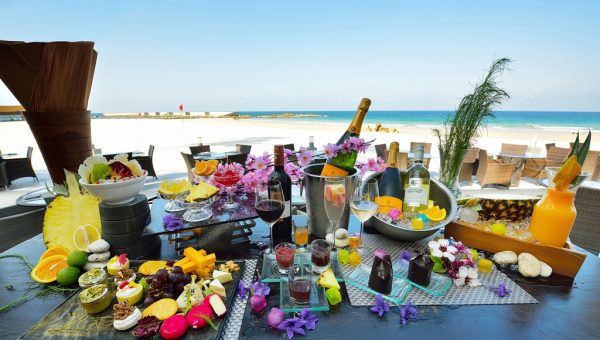 Nelayan is known for their special weekend jazzy brunch, where a live band will play classic tunes such as Take Me Home, Country Roads and keep guests entertained throughout the entire brunch session!
The multi-course menu includes a multi-course amuse bouche and seafood starters that are sure to wet one's appetite for the rest of the dishes to come! Customers are also entitled to various other brunch delights from the buffet such as fried prawn tempura, chocolate churros, lobster bisque,eggs benedict that are all cooked fresh to order and etc.
As with every buffet, the dessert table had a wide array of options but sadly there were a few hits and misses- especially when it came to some of the traditional desserts.
Note: (S$68++Brunch only, S$88++ Brunch with free flow of wines, S$128++ Brunch with free flow of champagne and wines)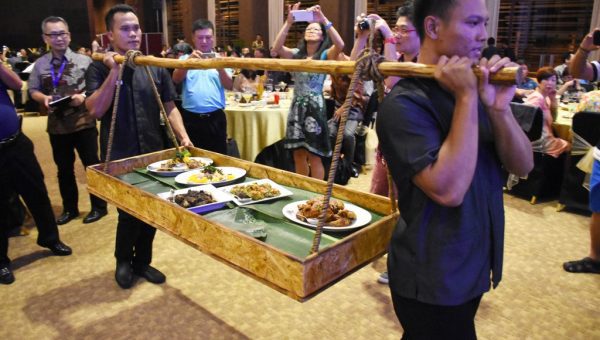 Nelayan also offers traditional Indonesian dishes in the form of their Rusttafel Menu (S$47 per person), a multi-course menu that paints a story of the traditional flavours of Indonesia that have been handed down from one generation to another since the times of the Dutch. Such dishes include a Sup Soto Banjar- a combination of a Mee Soto dish and a light tasting kambing soup that will be a good starter before the rest of the dishes arrive on the table.
The main courses will arrive on a traditional tandu as the staff presents the various main courses to the table. The dishes include Udang Goreng Mentega (Buttered Wok Prawns in Oyster Sauce), Ayam Paniki (Chargrilled Manado Style), Nelayan's Rendang Sapi (Beef in homemade spices and coconut milk), Sambal Ikan Bawal (Crispy Pomfret Fish with homemade Sambal Matah) and Terong Belado Padang (Eggplant with Red Chili Paste).
The whole menu is designed to bring about communal dining for guests while showcasing the diverse flavours of Indonesian cuisine.
Tip: It is highly recommended that the sambal be put to good use as it enhances the dishes, however, if the spices are too overwhelming or if some guests are rather afraid of spicy food, then it is perfectly acceptable to tuck in without the chillies.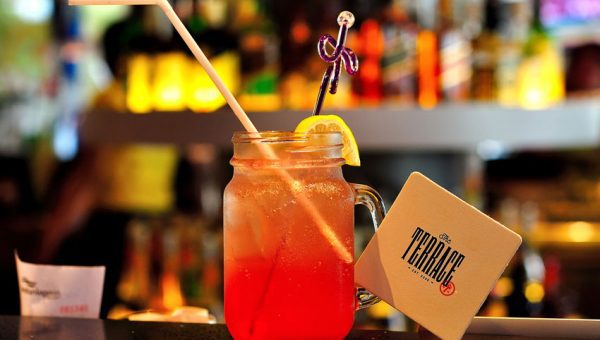 For an evening tipple, guests can head to The Terrace Sports Bar for a cooling pint of beer or a chilled glass of margarita all while watching the current sports updates from around the world at the bar's 5 big-screen TVs or while looking aimlessly out into the South China Sea.
To cater to the ever-growing number of visitors from its island neighbour, BLR has come up with a Bintan Chillax Package (S$390 per person), an all-inclusive 3D2N package that encompasses a wide variety of activities at the resort and ensures guests that there will never be a dull moment at BLR!
The package includes:
3D2N stay at a Deluxe Room
Two-way Ferry ride from Singapore to Bintan
2 days Breakfast Buffet
2 x F&B Credit of S$25 for Lunch and 2 x F&B Credit of S$40 for Dinner at a select outlet of your choice (for the duration of stay)
Complimentary cocktail drink or mocktail at The Terrace Sports Bar during each day (5:00 pm to 7:00 pm)
1 session of ATV Tour or Jetski (15 mins), Ninebot (15 mins), Archery (20 arrows) and Driving Range (20 balls)
10% off all F&B Outlets, 20% Off Recreation Activities on weekdays and 10% Off on weekends
Free access to BLR's SILK Nightclub.
For more information or reservations, please visit: https://www.bintanlagoon.com