Coal Drops Yard Opens with over 50 stores, cafés and restaurants at London's King's Cross.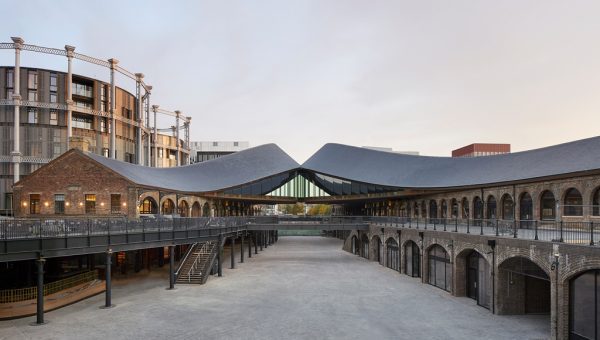 Coal Drops Yard, the new Heatherwick Studio-designed shopping and restaurant district in London's King's Cross, opened its doors to the public at 12pm on Friday 26 October 2018. The first wave of stores and restaurants, which represent a majority of those confirmed to launch, also opened on this date, alongside Lower Stable Street and a number of special pop-ups.
Coal Drops Yard is a vibrant new shopping district at the centre of King's Cross, home to over 50 stores, restaurants and cafés, bringing together a community of like-minded brands in a reimagined set of historic buildings and arches directly adjacent to Granary Square and Regent's Canal. Coal Drops Yard was originally established in 1850 to handle the eight million tonnes of coal delivered to the capital each year, and was latterly the location of nightclubs Bagley's and The Cross. The area is now reopening, reinvented by the acclaimed Heatherwick Studio, which has interwoven a contemporary design with the surviving structures, streets and rich ironwork of the original Victorian coal drops.
Also opened on 26 October is Lower Stable Street, a new street for pop-ups, live events and experiential stores from a creative collective of established and up-and-coming brands. Curated by independent magazine, KIOSK N1C, Lower Stable Street is a sunken street between Stable Street and the main Coal Drops Yard, the home of 11 smaller spaces set to host brand workshops, one-off events and immersive shopping experiences that celebrate fashion, beauty, music, culture and the arts. Stores and restaurants on the market-style street will be on a mix of long and flexible leases; encouraging brands to experiment with innovative in-store activations and allow the street to reinvent itself multiple times each year. Brands will also be encouraged to collaborate together, as well as with stores in Coal Drops Yard and with King's Cross institutions such as Central Saint Martins.
Pop-ups confirmed at Coal Drops Yard include a specially-curated space by Stockholm-based independent design brand Hem, a concept store from Christopher Raeburn featuring collaborations with Timberland, Finisterre and Palladium, as well as a workshop space from STORE Store, which will present a unique chance for young people to see their ideas go from imagination to reality; from initial conception through to design, prototype, manufacture and finally retail. On weekends STORE's workshops will spill out into the open space of the yard itself, offering an opportunity for interaction between students, passers-by and tenants.
No space at Coal Drops Yard is the same. Stores and restaurants are located in canal-side arches fronting on to cobbled courtyards, within the original 'coal drops' themselves and across a series of raised iron viaducts. Larger statement stores sit at each street corner, with one dual-aspect space crowning the street, located directly beneath Heatherwick Studio's striking 'kissing' rooftops. Lower Stable Street, a sunken street between Coal Drops Yard and Stable Street, will also open this October, offering spaces for a range of smaller pop-up and experimental stores, complementing and offering a different aspect to the Coal Drops Yard experience.
Alongside a series of independent stores, Coal Drops Yard also house a range of cafés and bars, top restaurants and new public spaces, making it an oasis-like space for visitors to dwell, discover and to explore. Special in-store events, workshops, pop-ups and talks will all feature as part of an ongoing programme of activities and events.
The stores themselves will be showcases for some of the world's most forward-thinking brands, each an experience and all one-off concepts created using the unique heritage spaces they sit within as a muse and an inspiration.
With its innovative shopping experience, canal-side location in the heart of King's Cross and state-ofthe-art architecture, Coal Drops Yard is set to become a magnet for shoppers and visitors from across London, the UK and further afield.
Anna Strongman, Coal Drops Yard Development Manager and Partner at Argent, said: "Coal Drops Yard is an amazing achievement, a bold vision delivered by a dedicated team with a diverse set of skills. This diversity will be mirrored in those who visit – Coal Drops Yard has something for everyone, and will always offer a reason to return. It is an extremely complex project, one that successfully unites the area's heritage with Heatherwick Studio's progressive architecture, creating stimulating spaces for both the brands and the people that will bring these buildings back to life. Coal Drops Yard will be a vital part of the King's Cross experience, and we thoroughly look forward to welcoming the public to discover it."