Dream Cruises Unveils New Entertainment Acts and Themed Cruises for 2019
Dream Cruises has announced an array of fresh entertainment acts to be released on board Genting Dream and World Dream with Sõnio – A Tale of Two Dreams headlining the extravaganza of new releases following the success of award-winning production 'Voyage of A Lover's Dream'.
Sõnio – A Tale of Two Dreams showcases the finesse of "Keeping Balance" and jaw-dropping acrobatic moves by Ukrainian dance artists. A curation of the finest of acrobatics, music, dance, and visual technology, this magical experience will transport audiences to a never-seen-before wonderland.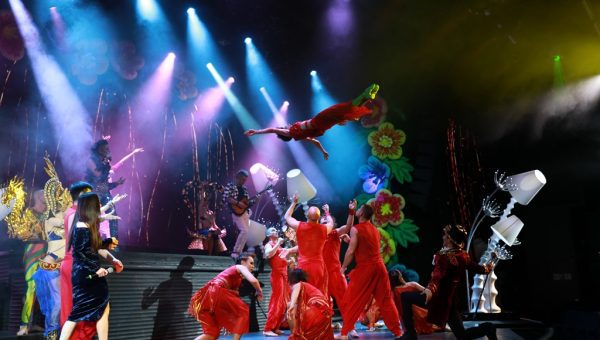 Into the Spider-Verse with Dream Cruises
This Christmas, Genting Dream and World Dream will be paying homage to the iconic Marvel character, Spider-Man in conjunction with the upcoming Spider-Man: Into the Spider Verse movie. From 16 November 2018 to 4 January 2019, guests on board can look forward to the following Spider-Man themed activities:
• Spider-Man themed scavenger hunt with attractive prizes
• Meet & Greet and photo session with superheroes from the Spider-Verse
• Spider-Man Rock Climbing Challenge, Rope Course Challenge and Spider-Man Maze
• Swinging Spider-Man acts performed by professional talents
• Afternoon Spider-Man themed high tea
Sheila Majid 'Live' in Concert
Dubbed as Malaysia's queen of jazz, the critically acclaimed Malaysian female pop singer, Sheila Majid will be performing live on-board Genting Dream for an exclusive 5-Night Penang-Phuket-Langkawi-Kuala Lumpur travel package from 27 January to 1 February 2019.
The songstress who debuted in 1994 is the first Malaysian artist to have held a solo performance on London's West End at the Royalty Theatre in 1996.
The package includes:
• 60-minute concert with Sheila Majid
• Cooking demo workshops by award-winning chefs
• Live fireworks display
Entertainment Acts Onboard Genting Dream
Guests can look forward to new entertainment onboard Genting Dream such as, Some Like it Hot – With delightful vocals and the house band smooth playing of saxophones and trumpets, audiences will have a ball of a time with award-winning ballroom dancers classing up the dancefloor with the waltz and foxtrot reminiscing the 50's and 60's era. Be ready to be spellbound with acts at the 45-minute theatrical production China's Got Talent such as Dramatic face-changing performance by Wei Jingqi, Gravity-defying spacewalk and handstand performances by 'Twin Brothers', Xi Yejie & Xi Yejun and Flabbergasting and thrilling 'Flying Knife' act. To enhance participation levels from spectators, guests will be able to take part in a live voting session during the show and witness the exciting moment of their favourite act being crowned.
Entertainment Acts Onboard World Dream
World Dream welcomes a new addition to the list of signature shows proudly conceived by the in-house creative production team, brand-new show Faith illustrates the tale of achieving one's dreams, serving as a tribute to the company's 25th anniversary. Fusing different aspects of theatrical performances such as ballet, tap dance and Chinese acrobats, this witty and entertaining social-comedy act will bring out the inner dreamer in guests.
Witness the love story between a Cabaret star and a strikingly handsome Cuban singer set against the sun-drenched city of Havana via the show Dulce Habana. For fans of salsa dance and Cuban music, this vivacious act is not to be missed. Experience the passion of throbbing Latin music coupled with agile salsa moves that will get participants swinging away.
For more details about all of the cruise and on board offers and activities for the Silver Anniversary, please visit www.dreamcruiseline.com.