Experience Authentic Christmas Wonderland At Hong Kong Disneyland Resort's "A Disney Christmas"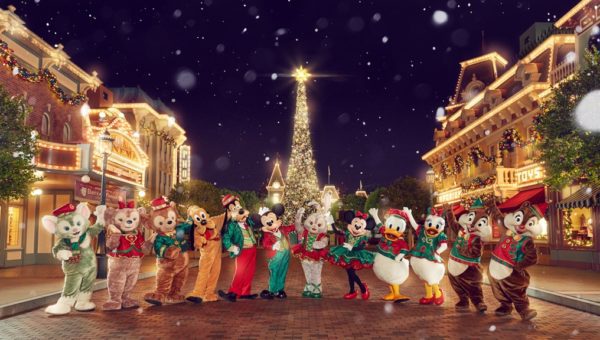 CONTENT: Yiew Kai Jie
IMAGES: Hong Kong Disneyland Resort
Experience a Christmas experience like no other with festive Disney magic and Christmas themed rides and shows from dawn till dusk!
The closest Disney paradise to Singapore for the little ones or for adults who want to feel like a kid again- Hong Kong Disneyland Resort (HKDL) will be transformed into a winter wonderland this Christmas during "A Disney Christmas" from November 16, 2017 to January 1, 2018! Singaporean guests will experience the ultimate heart-warming Christmas celebration and can enjoy special offers on their hotel stay and park admission, which will definitely make anyone's Christmas wishes come true!
Grand Debut of Christmastime Ball with Mickey and Friends
Christmas is not just any other holiday at the Hong Kong Disneyland! Mickey and his friends will don their new holiday costumes and come together for the "Mickey and Friends Christmastime Ball."
Premiering this year exclusively for the Christmas season, this fun-filled yuletide musical extravaganza will be performed 2-3 times per day at the forecourt of Sleeping Beauty's castle. The ball kicks off with songs from a quartet of singers, followed by Mickey, Minnie and other Disney friends who will take the stage to celebrate the festive occasion with music and dancing, while Donald is his usual self being grumpy because his Christmas wishes have not come true yet.
The 20-minute spectacular performance will end with a delightful snowfall moment, traditional sing-along Christmas carols and glittering decorations with the Sleeping Beauty Castle before it sets forth on its magical transformation right after the festive season.
"Guests can experience countless Christmas traditions at 'A Disney Christmas,' creating cherished holiday memories with loved ones. The 'Mickey and Friends Christmastime Ball' premiering this year is an exciting new offering. Disney pals and dancers will share magic and joy with all guests as they make Christmas wishes come true in an energetic song-and-dance show." said Randy Wojcik, creative director of entertainment and costuming, Hong Kong Disneyland Resort.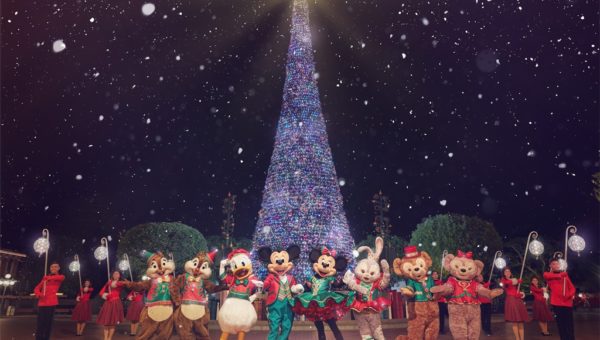 Evening Christmas Magic
Everyone knows that when the sun starts to go down, the jovial spirit of Christmas comes to life with Christmas lights and decorations illuminating houses and streets for miles as far as the eye can see! Just as with any Christmas festival around the world, special festive activities and incredible moments on Main Street, U.S.A. will highlight the enchanting Christmas atmosphere. In the evening, Disney friends and townsfolk will come together to wish for snow at "A Magical Twilight Snowfall" and transform the Main Street into a snowfield wonderland.
In the "A Holiday Wish-Come-True" Tree Lighting Ceremony, a live quartet will share their renditions of some holiday classics as Mickey, Minnie, Donald and other Disney friends as they make a special wish to let it snow on Main Street! Giant projections will then magically change Main Street, U.S.A. into a breath-taking winter wonderland. Like magic, the prominent Christmas tree and Town Square will be illuminated with sparkling lights, bringing the town to life and get your cameras ready for that must-have instagram shot with your friends or family!
Exciting Attractions and Entertainment for Everyone at Disneyland
Other than the Christmas theme and decorations to celebrate the yuletide spirit with, there are over 100 attractions and other entertainment offerings in the 7 themed lands in Hong Kong Disneyland. The most popular attraction being the Iron Man Experience (1st ever attraction-of-its-kind in the world) that recently opened in January this year. You would be able to experience how Iron Man flies around and fights his foes in a thrilling 4D aerial tour of the Hong Kong skyline and undergo the trials of what a superhero has to go through! After you've touched down from your tour of the Hong Kong skyline,head towards the Iron Man Tech Showcase where you will be able to see the armor and technology that Iron Man incorporates into his suit and maybe even meet the hero yourself! Remember to keep your camera at the ready!
For the brazen souls, the thrilling rollercoaster rides Hyperspace Mountain (Tomorrowland) and Big Grizzly Mountain Runaway Mine Cars (Toy Story Land) stand ready to test your resolve and stomach of steel!
Should a little mystery and intrigue be what you seek, head over to Mystic Manor (Mystic Point) for a ride filled with hidden secrets and ambiguities that features the "Mystic Magnetic-Electric Carriage" to navigate through the manor to uncover it's secrets. The Garden of Wonders (Mystic Point) exhibit opened by Pandora, is a garden maze that will take you through famous fairy tales such as Tangled or Beauty and the Beast and tells their story through miniature castle remakes and their respective signature songs.
For the musically inclined, head on over to witness the unique 3D show Mickey's Philharmagic (Fantasyland), where you can relive your favourite Disney moments and songs as Donald Duck takes you through the Disney universe with a hilarious premise! Mickey and the Wondrous Book (Fantasyland) is another must-watch show that opened 2 years ago for Hong Kong Disneyland's 10 year anniversary. The show features Mickey, Goofy and Olaf as they take a trip through the Disney universe over the past decade and combines old and new characters to make the show relevant for both the young and older audiences to understand and enjoy!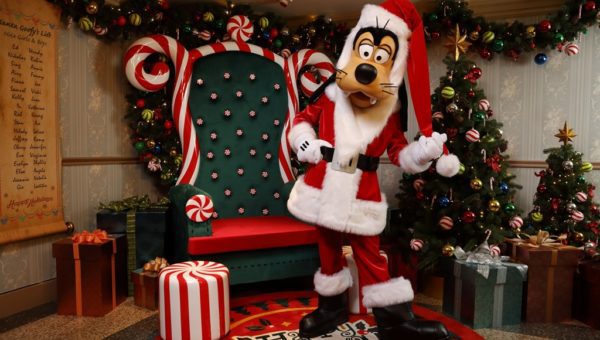 Creating A Lasting Christmas Memories with Disney Friends
Apart from the performers and rides, having your photo taken with Disney characters is a traditional rite in Disneyland. To that end, Mickey and his friends have put on festive new costumes for lots of memorable photo moments with you. The all too popular and loveable snowman Olaf from the acclaimed movie Frozen returns to the park for Christmas to give warm hugs to all during Olaf's Frozen Adventure Character Greeting.
Duffy's newest friend StellaLou, the lavender-coloured bunny with adorable ears and cutesy eyes will be take part in the Christmas celebration for the first time this year. She will join Duffy, Shellie May and Gelatoni, all decked out in their own respective holiday outfits for special holiday photos at Main Street Cinema: My Journeys with Duffy. They're all set to wish guests a heartfelt Merry Christmas and create everlasting memories with you!
Once again, the lovable Santa Goofy will be at the Christmas Post Office to greet guests. He has prepared new postcards along with an one-of-a-kind Santa Goofy Commemorative Stamp so everyone can write heart-warming holiday messages to their loved ones. Send postcards to family and friends around the world by simply dropping them off in Santa Goofy Holiday Mailbox!
Food, Sweets and Everything Nice
Are you tired of that boring fried chicken or typical burger set meal at Disneyland's cafes? Fret not, as a colossal range of over 70 different variations of special Christmas food and beverage creations has been prepared within the park and hotels to excite your taste buds!
For the young ones and other guests who have a sweet tooth (There is no shame in wanting to eat a ridiculous amount of ice-cream even as an adult), the "Christmas Dessert Party at Train Station", introduced for the first time, offers exquisite Disney sweet treats, accompanied by splendid view of the "Disney in the Stars" Fireworks from the Main Street Station.
Go on a gastronomic adventure on Main Street, U.S.A. starting with the special Coca-Cola® Christmas Menu at the Main Street Corner Cafe hosted by Coca-Cola®, followed by the Christmas-themed delights at Market House Bakery that includes Christmas Donald and Daisy donuts, Creamy Snowman, Christmas Tree Cookies and Croissants as well as the special Christmas Popcorn Bucket available at the outdoor vending carts will give everyone that sugar kick they need to fully enjoy the seasonal festivities!
The restaurants at the three resort hotels have also prepared sumptuous Christmas menus to give guests fulfilling Christmas celebrations. One of them being the "Chef Mickey Family in Christmas" Dinner Buffet and Kids Activity. Guests can enjoy the Christmas buffet at Chef Mickey at Disney's Hollywood Hotel and young guests will be invited to join the Christmas DIY cookie activity for free! What's more, always have your camera on standby as Chef Mickey will show up to greet dinner guests and snap a picture with you!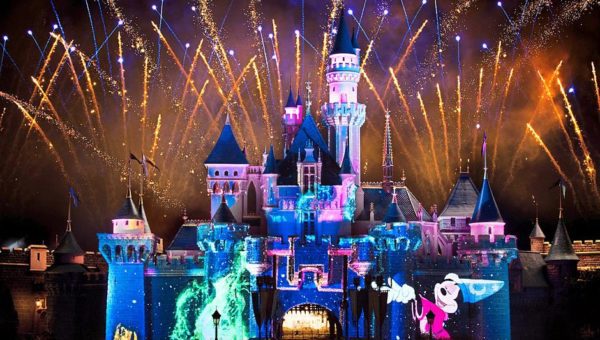 The Grand Firework Finale
There has to be a rule in Disneyland stating, "One must not leave Disneyland without seeing the mind-blowing firework finale." Once you are done with all the rides and had that delicious Mickey-shaped waffle, await to cherish the spectacular "Disney in the Stars" Fireworks hand-in-hand with loved ones in front of Hong Kong Disneyland's Sleeping Beauty Castle.
It's a fantastic way to recall all the happy moments shared with friends and loved ones at the castle over the past 12 years since the resort's inception. The nightly fireworks extravaganza will stage its grand finale on January 1, 2018. Sleeping Beauty Castle will then start its magical transformation in early January as part of the park's multi-year expansion plan. The castle will return after a glamorous makeover with a completely new daytime show and nighttime spectacular featuring brand-new entertainment experiences that reach new heights.
To celebrate the magical finale of "Disney in the Stars," a new range of memorabilia will be presented from November 17, 2017 onwards. The collection includes personalized items with names or messages, providing guests the best way to preserve all those happy memories from the fireworks show. From November 18, 2017 to January 1, 2018, guests can also collect the "Disney in the Stars" commemorative stickers from the various shops and gift stores on Main Street.
Following the park's firework display, Christmas carolers will bid you good night at Town Square close to the exit with Santa Goofy in A Holiday Kiss Goodnight to round off the perfect day spent in Christmas Disneyland!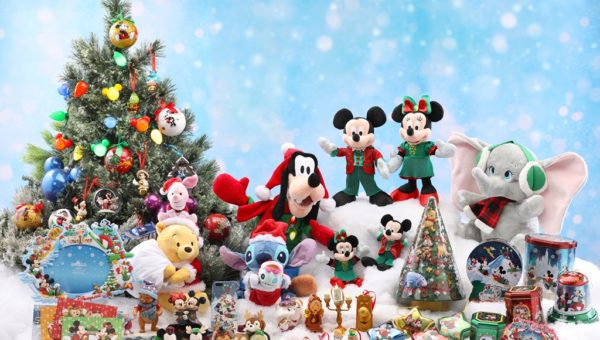 Unparalleled Christmas Buys
There is nothing shameful about wanting to buy a human-sized Mickey Mouse Plushie and bringing it home. I allowed myself to get a giant plushie or a toy everytime without fail every time I visit Disneyland.
More than 100 seasonal merchandise items are filling up the stores for Christmas gift shopping, with over 70 items exclusive to Hong Kong Disneyland Resort. Some of them include the Duffy Family – Let It Glow Collection, the Mickey and Friends Christmas Collection and the Christmas Tsum Tsum Collection.
Be sure to snap up best-sellers such as the Tiny Tsum Tsum Advent Calendar and various enchanting Christmas ornaments. Guests can also commemorate their visits with amazing Disney PhotoPass photos in festive frames and order from a series of newly launched personalized imaging items such as postcards, door signs, folders and photo albums. To mark the premiere of the short film "Olaf's Frozen Adventure" and the new movie "Coco" this December, a range of Frozen and Coco-themed merchandise will also be available.
"Hong Kong Disneyland Resort is very pleased to be bringing a full range of Christmas entertainment from day to night and fill the park with festive Magic. Christmas just isn't the same without that authentic holiday atmosphere, and i'm so glad we're able to bring that to Hong Kong Disneyland." said Randy Wojcik, creative director of Entertainment and Costuming at Hong Kong Disneyland. "Families will be able to enjoy a truly memorable Christmas celebration, with the resort being completely transformed by holiday magic. There's no better place to spend this time of year with your loved ones, at a Disney resort in the cosmopolitan city of Hong Kong."
Exclusive Deals for Singaporean Guests
Singaporean Guests can book their hotel rooms with the Advanced Purchase Room Offer to save up to 40% on a guest room at either the Disney Explorers Lodge, the Hong Kong Disneyland hotel or Disney's Hollywood Hotel.
Hong Kong Disneyland has worked with Cathay Pacific Airways to provide guests from Singapore with the special "Magic in the Air" package from now until December 31, 2017, which includes an air ticket and two-night stay at Disney themed hotels, 2-Day park ticket, dining and more privileges. Guests who book the resort's hotel for two nights or more through selected travel agents can enjoy a round trip of the refreshing "Star Ferry Water Tour" at HK$2 (original price at HK$180 and HK$160 for adult and child respectively).
Additionally, special privileges including the discounted 2-Day Ticket and 1-Day Ticket with a merchandise voucher and a popcorn coupon are available from now to December 31, 2017 at designated travel agents for guests to celebrate Christmas with their loved ones in this holiday season.
I've always loved Disneyland as a child, even if i'm seven or 37 years old, Hong Kong Disneyland will always hold a special place in my heart as the place where my childhood truly existed. Not seeing this wonderland for nine years has left me longing to visit Hong Kong just for the sole purpose of going to Disneyland. Even though many things have changed since I last came here, the spirit of the childlike wonder and fun that anyone will experience here hasn't changed one bit.
Should you want to celebrate a wonderful Christmas with your family or friends this year in style, why not head over to Hong Kong Disneyland Resort- the premier resort destination for all ages to have fun and to bring in the new year! "The place where all dreams come true!"
For more details, please visit: www.hongkongdisneyland.com/disney-christmas-intl