Finnair flies Santa to Singapore this December!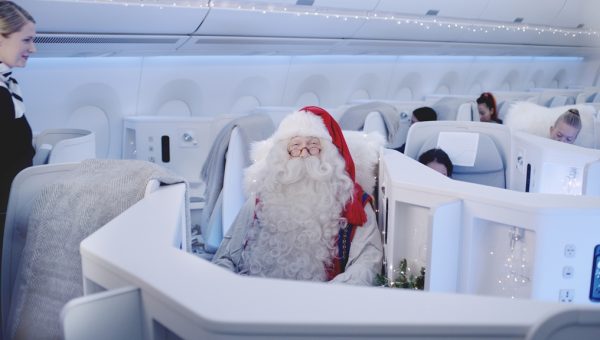 Finnair – the Official Airline of Santa Claus since the 80 ́s – will be flying Father Christmas to Singapore and organising a four-day festive campaign, where the original Santa will be spreading joy, goodwill and Christmas cheer across Singapore from 5 to 8 December 2018.
On Wednesday, 5 December, Santa will be flying to Singapore from Helsinki on board the Airbus A350-900 aircraft.
Upon touch down at Changi Airport, Santa will arrive at Terminal 1 in the early evening for a meet-and-greet with the public, where he will make his rounds across the arrival hall. As a special treat for lucky Finnair customers, Santa will make a special appearance at the Finnair check-in area later in the evening to mingle with passengers taking the night flight out to Helsinki, handing out piparkakut (traditional Finnish gingerbread cookies) for a cherished taste of Finland.
On the afternoon of Friday and Saturday, 7 and 8 December, Santa will pay special visits to the inaugural Nordic-Asia Christmas Festival, where Christmas will come early for the shoppers at Millenia Walk. An immersive shopping experience taking place from 3 to 9 December at the main atrium of the mall, the Festival will showcase artisanal and bespoke products flown in exclusively from Finland, Norway, Denmark, Sweden, Iceland and Estonia, with an exclusive VR showcase of "Virtual Helsinki".
Here, Finnair will have its own Finnair Christmas Challenge video booth, where shoppers are encouraged to answer the question "What Would You Give Away to Get Away?" and stand to win a pair of tickets to the Nordics. A special lightwall and bench by the booth will also serve as the perfect backdrop for photo opportunities with Santa, while a line-up of kid-friendly activities planned throughout the festival will keep the young ones entertained.
Other highlights in Finnair's four-day tour of Singapore with Santa Claus include joining the Embassy of Finland for a celebration of Finnish Independence Day, participating in the Finnair Football Fiesta community event, spending time with the school kids at GEMS World Academy Kindergarten and the Overseas Family School, and making the holidays extra special for the sick children at KK Women's and Children's Hospital.
Sebastian Grossmann, Regional Manager for Singapore, Malaysia and Indonesia at Finnair, says, "We are very excited to fly Santa to Singapore and to showcase a part of our Finnish and Nordic heritage. We have planned what we believe will be a fruitful and meaningful four days for Santa to spread the Nordic Christmas cheer all around, and having the official Santa Claus all the way from his hometown Rovaniemi will surely be exciting for all of us. Finnair offers daily connections from Singapore not only to magical Rovaniemi but also to over 100 destinations in Europe".