Fly, Cruise and Cycle with Dream Cruises
Embark on an exciting 8D/7N Cycling Cruise Experience with Dream Cruises World Dream fleet which will take you to Hong Kong and Okinawa, Japan.
CONTENT: Andrew Kho
IMAGE: Luxe Multimedia
Upon the invitation of Genting Cruise Lines, i packed my luggage with excitement as this is the first time i heard about a cycling cruise, i have been on a cruise ship numerous times but this is my first time to be sailing with Dream Cruiseline and my first ever Cycling Cruise experience. I do cycle on a leisure basis but i am not a professional cyclist.
Hong Kong
We arrived in Hong Kong International Airport approximately 10:40am and we went straight to our hotel to Check-In and went for a quick lunch before our 2pm scheduled bike fitting and cycling proficiency assessment – a pre-requirement to participating in Hong Kong Cyclothon 2018.
Hong Kong Cyclothon 2018
Now on its fourth edition, we participated in the 2018 Sun Hung Kai Properties Hong Kong Cyclothon 50km ride which kicked off on the waterfront of Tsim Sha Tsui at around 5:10am and cycled through three tunnels and across three bridges including the popular Tsing Ma Bridge and the Eagle's Nest Tunnel.
It was not an easy ride for a first time cyclist like me but, it is indeed a good experience to be cycling on major thoroughfare in Hong Kong. I am also glad that i didn't suffer any injuries in this ride as i have seen a lot of accidents while cycling my way to the finish line.
The Race ended around 9am and we gathered back at our hotel and went straight to Kai Tak Cruise Terminal to check in to World Dream Cruise Ship for our next destination: Naha and Miyakojima in Okinawa, Japan.
Naha, Okinawa
After a day and a half of rest and recharge on-board World Dream, we finally arrived at Naha Port Cruise Terminal at around 4pm.
Guided by a professional team of Japanese cyclists, we are all set for our 37.9km cycling route: Naha Cruise Terminal- American Village – Naha Kokusai Street – Back to Naha Cruise Terminal.
Our first stop is the American Village which is a popular tourist attraction in Okinawa and recognizable by the large ferris wheel. The place has numerous restaurants to choose from as well as various shopping places.
We continued on with our cycle and around 8:30pm we arrived at the buzzling stretch of Naha Kokusai Dori Street where you will be overwhelmed by the stretch of beautiful lights, foods and shopping places. This is also the most famous shopping street in Okinawa and a must visit destination.
Since we need to be back at the ship by 10:00pm, we only got an hour for a quick dinner and we cycled back to Naha Port Cruise Terminal which is around 5km from Kokusai Dori Street. How we wished that we could had longer time spent on this street.
My overall thoughts about cycling in Naha was that i was very nervous all throughout this entire duration as we have to cycle with cars beside us, there's also a massive traffic wherein we need to squeeze into the pavement, and the road along the path is a bit dark.. but thankfully, i safely made it back to the ship.
Miyakojima, Okinawa
Miyako Island (Miyakojima) is located 300 kilometers south of Okinawa Main Island and 100 kilometers north of the Yaeyama Islands, is known for some of Japan's best beaches and as a great destination for snorkeling and diving in the coral reefs. Miyako is the fourth largest island in Okinawa Prefecture. The sub tropical climate provides mild weather year around.
We arrived at this beautiful island at around 11am, this will be the last cycling activity for us during this cruise and also the longest cycling ride for us as we are going to cycle a total of 63.4km within 8 hours.
Rain started pouring even before we started cycling but this doesn't stop us from our mission- to cycle. From Miyako Island Hirara Port, the group cycled towards the first stop at Sunayama Beach. This is one of the many islands in Okinawa and i should say that this island is breathtaking. We were given 15 minutes break and despite rain, we made our way via the pathway of white sand, trees with some slopes along the way, until we were captivated by the clear blue sky and ocean. a perfect place to swim and take photos.
Since the rain is getting heavier, our guide decided to bring us for lunch at a traditional restaurant called Modern Times, the lunch today is included in the package. after lunch, off we cycle to our next stop – Higashi-Hennazaki.
The cape of Higashi-Hennazaki is a nationally designated Place of Scenic Beauty located at the southeastern most point of Miyako Island, Okinawa Prefecture, Japan. here you will see a beautiful picturesque white lighthouse which gives 3200 panorama view of the ocean. We spent almost 30-45mins taking beautiful photos for memories.
Our last stop is at the Ingya Marine Garden, a seaside park built by making the most use of a nature formation in the southern part of Miyako Island. The well-coordinated location with pond-like inland sea, bridges, and walking paths in lush green is somewhat reminiscent of Japanese garden, which gives an impressively unique sense of world. Here, visitors can either swim or enjoy snorkeling.
Along the way back to the port, we managed to pass by the German Culture Village, but due to time constraints, we just stopped briefly to snap some photos and cycled our way back to the ship.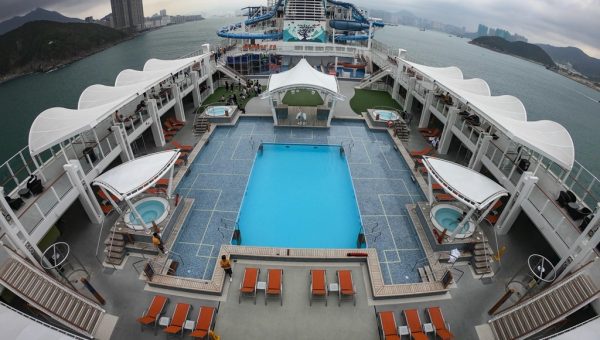 Dream Cruises: World Dream
World Dream is one of the two ships under Genting Cruise Lines and is currently docked in Hong Kong which is also her current homeport.
World Dream has a gross tonnage of 150,695 tons, 335m long, 40m wide and 18 decks tall with a wide range of staterooms available to suit each guests preferences. Starting from the basic Interior Stateroom, Balcony Stateroom up to the most luxurious Palace Suites. Palace Penthouse and Palace Villa, all comes with a 24-hour dedicated Butler Concierge Service.
When it comes to dining, the ship offers Asian and international flavours in both exciting indoor and outdoor venues on World Dream. Guests are entitled to partake in the sumptuous dishes served at the three restaurants ( Dream Upper Dining, Dream Lower Dining and The Lido) on-board the ship for five times a day. These restaurants are included in the standard package paid for by each passenger. Should you wish to explore more food options, there are other chargeable restaurants which is worth a try such as, The Silk Road Chinese restaurant, Uma Uma Japanese Specialty restaurant, coffee and cakes at Lobby Cafe.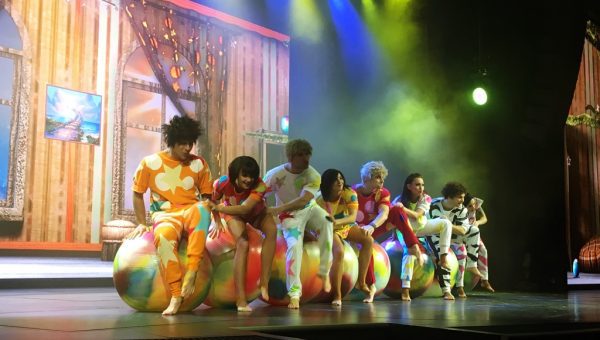 Families, Couples and Friends will be entertained all throughout this trip with a line up of live production shows, events and the first-ever 'China's Got Talent -The Dream Experience' at sea. In the evening, enjoy a drink at Zouk Beach Club – an outdoor beach club with cabana seating, giant LED screen which hosts movie nights under the stars during weekends. and one must not miss to visit the ESC Experience Lab which guests will experience the thrill of Virtual Reality experience from creating your own ride of a lifetime roller coaster, XD Dark Ride interactive motion theatre, Vesaro racing simulators, Icaros flying simulators, Virtuix Omni multi-directional motion simulators and more. ( ESC Experience Lab is only available onboard World Dream).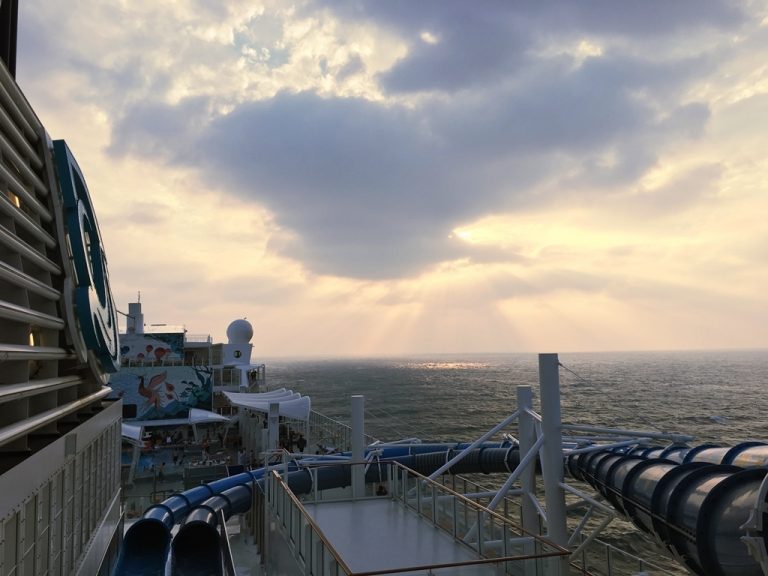 Sports & Recreation amenities are also available onboard such as, Rock Climbing, Water Slides, Ropes Course, Mini-Golf, Sportsplex Arcade.
I would highly recommend this Cycling Cruise experience to anyone who loves to cycle, you don't need to be a professional cyclist to join this trip although a basic knowledge and training is recommended due to the up, down slopes and sharp curves that you will encounter along the way, not to mention squeezing your way through the traffic jam. This trip includes a pre-cruise and after-cruise stay in Hong Kong for those who wish to relax before and after the cruise before heading back to their home country.
Thanks to RoamingManSg for keeping us connected throughout this trip.
For more details on Dream Cruises Cycling Cruise Experience , please visit: www.dreamcruiseline.com