Genting Hong Kong Celebrates Keel Laying For Dream Cruises' First "Global Class' Ship, Announces Newest Dream Cruise Fleet " Explorer Dream"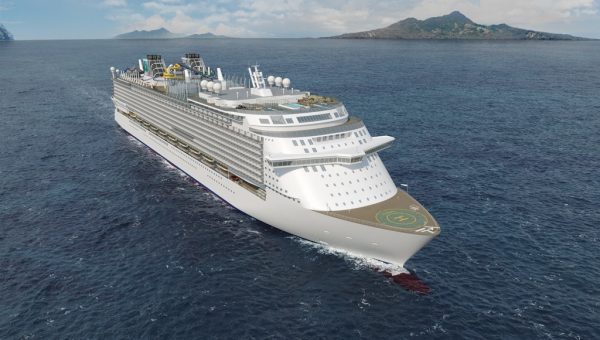 The keel laying ceremony for Dream Cruises' Global Class flagship took place at Genting Hong Kong's MV WERFTEN shipyard in Rostock last 11 September 2018. The "laying" of the first section measuring 22 meters long, 26 meters wide and weighing 410 tons, about half of the full keel, marks the start of construction of the largest cruise ship ever built in Germany.
Production of this 204,000 gross ton ship, which will measure 342 meters long and over 46 meters wide, will take place in parallel in Wismar and Rostock. The 220-meter-long midship will be manufactured in Rostock and will move to Wismar in 2019, where the bow and stern, as well as the superstructures, will be mounted. The 2,500 passenger cabins produced by MV WERFTEN Fertigmodule in Wismar will also be installed in Wismar. A total of around 600 companies will be involved in the construction process.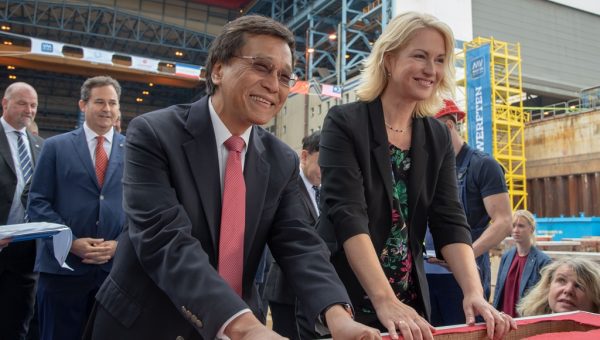 Approximately one thousand shipyard employees, partners, and guests from the worlds of business and politics accepted the invitation to the event. Prime Minister Manuela Schwesig, Minister of Economic Affairs, Harry Glawe, Genting Hong Kong's Executive Chairman Tan Sri Lim Kok Thay, Group President Colin Au, Dream Cruises President Thatcher Brown and MV WERFTEN's CEO Peter Fetten placed the traditional lucky coins in the keel before the 95- meter high gantry crane lowered the section into place.
Genting Hong Kong also livestreamed the ceremony via the Dream Cruises Facebook Page and Weibo in China, inviting viewers from around the world to celebrate alongside the VIP guests in attendance. Additionally, over 1,000 business partners, travel agents, media and special guests also witnessed the live ceremony at special events across the company's key markets including in Hong Kong, Beijing, Shanghai, Guangzhou, Singapore, Taipei, Tokyo and Sydney.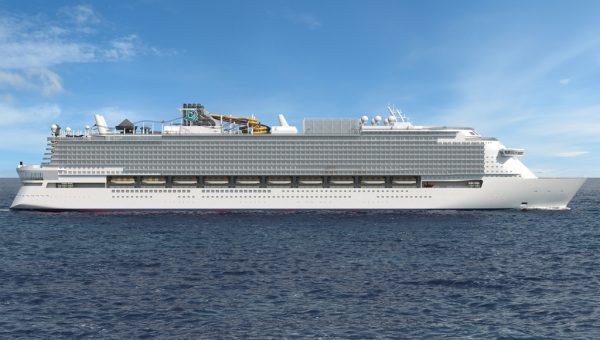 The Global Class ships are designed for the rapidly growing Asian cruise market and will join the Dream Cruises award-winning fleet, allowing Dream Cruises to offer cruises all over the world to become "Asia's Global Cruise Line". Amenities will include a theme park featuring a roller coaster with virtual reality, a Cineplex, Asian spa in addition to a Western spa, ample shopping facilities as well as authentic Asian and international dining experiences and fast food restaurants. Her 2,500 cabins will be able to accommodate up to 5,000 passengers on a twin share basis and can cater for up to 9,500 passengers during peak holiday periods. As safety is of primary concern at Dream Cruises, sufficient life-saving facilities and ample width of fire stairs will ensure the well-being of all guests on board the new Global Class vessel.
"This is a very proud moment for Dream Cruises. Building on the successful debuts of Genting Dream in 2016 and World Dream in 2017, the addition of two Global Class ships to the fleet will allow Dream Cruises to offer our partners and guests more itineraries worldwide," said Mr. Thatcher Brown, President of Dream Cruise. "Expanding the Dream Cruises brand globally goes hand-in-hand with an aggressive new-build program that will more than double our capacity in by 2021 and help us realize our aspiration to be "Asia's Global Cruise Line."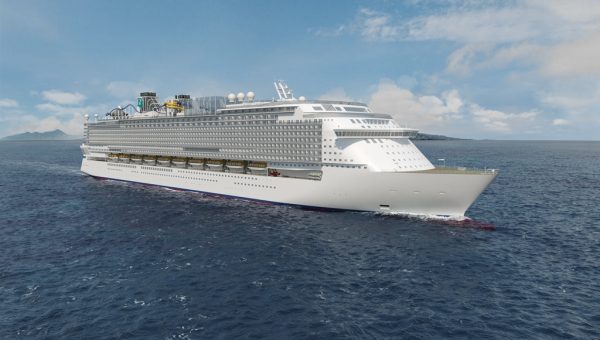 Dream Cruises' Explorer Dream
Genting Cruise Lines announced the latest addition to the Dream Cruises family with "Explorer Dream", a 75,338 gross ton, 1,870 passenger cruise ship that will join the fleet in spring 2019 in the role of pathfinder for the brand's global aspirations.
Formerly the "SuperStar Virgo" of sister brand Star Cruises, "Explorer Dream" will undergo a US 30 million dollar transformation in March 2019 that will incorporate exquisite new facilities including The Palace, Dream Cruises' signature, luxury private enclave featuring 50 suites and butler service. An integral part of the brand, Dream Cruises was the first cruise line to offer this concept to discerning, high-end travellers in Asia. Additionally, guests will be able to enjoy all new food and beverage options combining the best of "East meets West" and a new Crystal Life Spa for the ultimate in pampering and relaxation.
Explorer Dream will strengthen the Dream Cruises' brand in North China with homeports in Shanghai and Tianjin during Spring/Summer 2019 with a selection of voyages of various durations from Shanghai or Tianjin to Japan, Russia, Hong Kong and the Philippines.
Taking the first step to evolve Dream Cruises into "Asia's Global Cruise Line" by sailing outside Asian waters, in Autumn/Winter of 2019, Explorer Dream will homeport in Sydney and Auckland where she will embark on 21 seven-night weekly itineraries.
"Dream Cruises will be extending its brand recognition to 300 million Chinese in Shanghai and Tianjin/Beijing next summer as well as offering cruises in Australia and New Zealand to its Asian-sourced passengers during winter 2019 – the first time Dream Cruises will be sailing outside Asia," said Tan Sri Lim Kok Thay, Executive Chairman of Genting Hong Kong. "Explorer Dream will offer another option for our Asia based guests to expand their travel horizons with new rail/cruise and fly/cruise opportunities to see the world."
For more information about Dream Cruises, please visit www.dreamcruiseline.com