LUX* Resorts and Hotels Announces New Openings in Maldives, Mauritius and theTurkish Riviera
Renowned for their fun and spontaneous five-star holidays, LUX* Resorts and Hotels have lined up exciting openings across the world in 2018 and are happy to share that the brand new LUX* North Male Atoll Maldives have begun welcoming guests while LUX* Grande Gaube has relaunched after 6 months of remodelling in Mauritius. In Turkey, LUX* Bodrum comes to life again as the hotel reopened on 1st May 2018 for the season.
LUX* Grand Gaube — new this season on Mauritius's north coast.
Contemporary yet timeless, simple yet exciting — Indian Ocean living has been reimagined thanks to the fresh, forward-thinking design of this reinvented resort. Incredible comfort and inspired tropical touches are assured thanks to the magic worked by UK-based award-winning designer Kelly Hoppen and leading Mauritian architect Jean- Francois Adam. Every room, suite and private villa at LUX* Grand Gaube opens to heart-stirring sea views, with outdoor baths on many of the verandas and sundecks edging the resort's private cove. Spindrift-white bedrooms are enhanced with home-from-home touches, such as succulents in ceramic pots and carefully chosen handwoven African baskets. The top-level accommodation is the signature two-bedroom LUX* Villa, which sleeps a family of four.
Highlights:
Six restaurants and seven bars; many of the cuisines and concepts are totally unique to Mauritius, such as INTI and its extraordinary Argentinian-Peruvian flavours and Aegean-inspired bar and open-air restaurant Bodrum Blue, which is a dream for Levantine mezzes and highest-quality grilled meats.
World-leading wellness and fitness: 12 treatment rooms, three pools, steam room, sauna, barbershop, nail bar, hair salon, dedicated wellness concierge, high-performance specialist skincare treatments from Carita Haute Beauté in Paris, unique Mind Body Method and NLP practitioner therapies, Artis Technogym facilities, Tennis Academy, Padel Tennis.
Golf driving range, dedicated golf coach, privileged access to Mont Choisy Le Golf.
LUX* Grand Gaube is located at: Coastal Road, Grand Gaube 30617, Mauritius
LUX* Bodrum — re-opens 1 May 2018 and beckons until the end of October 2018
Turkey's Aegean Riviera come to life again this spring when this design-focussed hotel's 91 guest rooms and private residences reopen for the season. Floor-to-ceiling windows ensure unrivalled high-definition views, while the clean lines of the forward-looking design and architecture blend harmoniously with the setting. Throughout spring and summer, this picturesque pine-forested peninsula shows the Aegean at its bluest and invites you to explore extraordinary natural beauty, vibrant culture and ancient history and experience the world's warmest hospitality. The LUX* Bodrum Grand Villa is in a category of its own – spacious, modern, tranquil, private, spacious, calm, fresh air from the Aegean Sea. Enjoyment, laughter and farniente are the vernacular of this soul-uplifting retreat, which has a buzzing beach club and best-in-class wining and dining.
Highlights:
LUX* Bodrum Fish Market at Beach Rouge promises the freshest seafood and the finest Mediterranean flavours for dinner overlooking LUX* Bodrum private beach cove and the Aegean Sea.
Spa and health retreats and services exclusive to Bodrum Peninsula and an inspired calendar of expert-led workshops.
Long-weekend packages and culinary experiences allow guests to have the most exciting escapes imaginable
Amazing summer experience with the newly introduced All-Inclusive option even when they only have time for the shortest breaks.
LUX* Bodrum is located at: Kuyucak Mevkii,, 48670 Adabükü, Bodrum Muğla , Turkey/Muğla, Turkey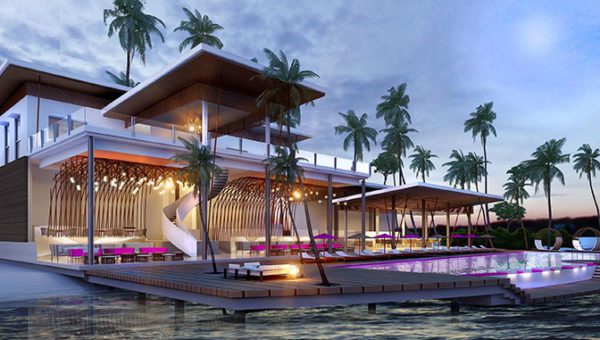 LUX* North Male Atoll — opens January 2019 in the Maldives
Welcome to a new level of stand-out luxury; LUX* North Male Atoll offers a fresh perspective on the world's flattest and arguably most postcard-perfect nation. Innovative penthouse villas and spectacularly designed spaces to play, relax and retreat are an exciting evolution from thatched-roofed Maldivian clichés, blending superyacht panache with a vibrant South Beach pulse. A short transfer from Male by luxury speedboat takes you to this intimate resort of 67 double-storey residences with private pools. Each residence is crowned with a private Sky-Lounge, enabling inspired indoor-outdoor living and a fresh Maldivian experience.
Highlights:
Maldives Reimagined with a sky-deck above the luxury, architect-designed penthouse
Super-Panache Yatch Style Penthouse Paradise, where every villa has a pool with a view
Some of the most spacious villas in the Maldives starting from 350 sqm
World-renowned scuba diving, snorkelling and high-adrenaline watersports.
Private yacht voyages on the LUX* Superpanache Yacht.
The Barium private dining room feels as though you're dining under the sea thanks to its wall-to-wall aquarium while INTI lets your tastebuds, too, care of the finest flavours of Peru and Japan .
LUX* North Male Atoll is located at: Olhuhali North Male Atoll, Maldives
For more details or reservations on LUX* Bodrum , LUX* North Male Atoll and LUX* Grand Gaube please visit: www.luxresorts.com