Meet Drac and Monster Friends from Hotel Transylvania 3 on Genting Dream and World Dream
Dream Cruises is collaborating with Sony Pictures Animation to host thematic sailings of Hotel Transylvania 3: A Monster Vacation, the latest installment of the animated movie franchise, aboard Genting Dream and World Dream this summer. From 25 May to 31 August 2018, guests will enjoy immersive fun experiences and amenities aboard Asia's mega cruise ships as they cruise to summer idyllic destinations in Japan, Vietnam, Indonesia, Cambodia, Malaysia and Thailand – their journeys at sea will be complemented by the company of their favourite legendary monsters through meet-and-greet, bedtime storytelling, costume parties and their ultimate monster fantasy.
Mr. Thatcher Brown, President of Dream Cruises says, "We are pleased to enrich the summer sailings of Dream Cruises with the cast of Hotel Transylvania 3: A Monster Vacation aboard our new ships Genting Dream and World Dream. Our onboard teams are excited to deliver Dream Cruise vacations where these lovable monsters – as seen in the movie – will come to life. Fun and great entertainment are a big part of what Dream Cruises offers our guests in innovative ways. Our guests will enjoy the privilege to interact with their favourite characters throughout their summer voyage."
"As our monster family takes a family cruise adventure in the film, worldwide audiences will be inspired to go on cruises of their own which makes Dream Cruises an ideal partner for Hotel Transylvania 3." Jeffrey Godsick – Executive Vice-President, Brand Strategy and Global Partnerships, Sony Pictures Entertainment.
This summer, join Drac's pack for a monstrous vacation: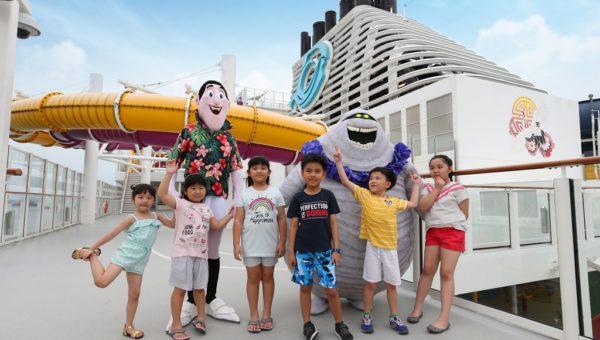 Hotel Transylvania 3: A Monster Vacation Theme Programs *
•Meet & Greet with Hotel Transylvania 3 Characters
Rub shoulders and get up, close & personal with your favourite legendary monsters
•Hotel Transylvania 1 & 2 Movie Marathon
Unravel the exhilarating happenings at Hotel Transylvania where monsters take a break
•Bedtime Stories with Drac
Be captivated by whimsical tales with almighty Count Dracula
•Dracula Zipline
Experience the thrill of flying across the ocean with our 35-metre zipline
•DJ Zouk Pool Party
Take on the monsters in an epic dance-off to prove who the true terror at the pool party is
•Best-Dressed Monster-themed Costume Party
Come dressed in your best Halloween Horror costume and join in the fun
•Blobby Milkshake Drinking Contest
Emerge as a winner in the milkshake drinking challenge
•Mummy Look-alike Dress Up Competition
Transform into an ancient mummy in this fancy dress competition
•Monster Treasure Hunt
Turn on your killer instincts and seek out the hidden treasures onboard
•Monster Art Attack & Face Painting
Discover the artist in you in this quirky art & crafts workshop
* Above onboard programmes are subject to change without prior notice.
Dream Cruises x Hotel Transylvania 3: A Monster Vacation
Genting Dream
Singapore Departures: 25 May – 31 Aug 2018
• 5-Night Pulau Redang – Ko Samui – Bangkok Cruise (Sun)
• 5-Night Pulau Redang – Sihanoukville – Bangkok Cruise (Sun)
• 5-Night Surabaya – North Bali Cruise (Sun)
• 3-Night Phuket Cruise (Sun)
• 2-Night Kuala Lumpur Cruise (Wed)
• 2-Night Weekend Cruise (Fri)
World Dream
Hong Kong & China Nansha Guangzhou Departures: 29 June – 31 Aug 2018
• 5-Night Naha – Miyakojima Cruise (Sun)
• 5-Night Da Nang – Ha Long Bay Cruise (Sun)
• 2-Night High Seas Cruise (Fri)
For more information about Dream Cruises, please visit dreamcruiseline.com