REVIEW: Bask In the View of the City Skyline with One Farrer Hotel's Skyline Staycation Package!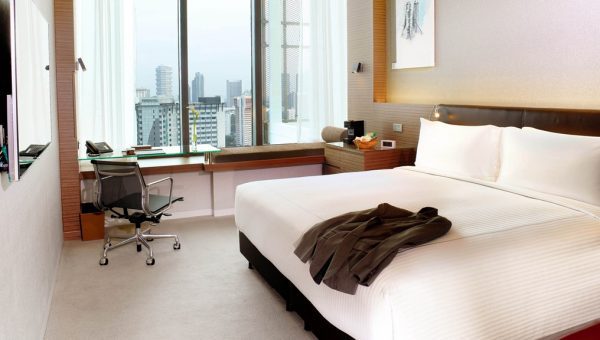 As COVID-19 continues to put a damper on the aviation and tourism industry, many hotels in Singapore have refocused their efforts by launching enticing staycation packages. Every Friday, we feature hotels in Singapore we deem worthy for you you to take a short break from your home and fulfill your urge to travel by booking a room for a short staycation.

CONTENT: Yiew Kai Jie

Situated in the centre of the Farrer Park area, One Farrer Hotel is known for its unique "hotel within a hotel" experience as they have different levels of rooms that appeal to their guest's needs- from the everyday traveller, to the high end wanderluster who prefers a taste of luxury. Despite its rather mundane exterior appearance, the interior of the hotel has been well-furnished and it is home to state-of-the-art facilities that includes a massive fully-equipped gym that is thrice the size of conventional gyms compared to other hotels. The hotel's in-house Adeva Spa has a myriad of spa treatments as well as an outdoor jacuzzi area and meditation garden for guests looking to spend some quiet time in silent contemplation without being bothered by external stimuli.

As part of One Farrer Hotel's new Wallow in the Skyline Package (S$250 Nett), the package includes a complimentary upgrade to their Skyline Studio Rooms, which entails a well-decorated and spacious room that features artwork painted by local artistes and is decked out with all the modern amenities that one needs for some quality R&R time and to get away from the stress from work! The room also comes with a huge bathtub that's big enough for two with a marble backdrop to take a soothing bubble bath in- for guests who really want to lie down and relax to wash their worries and stress away.


Guests who booked a Skyline room will be privy to a few special privileges such as the usage of a private lift, exclusive access to the private swimming pool on the 18th floor from 7am-10pm, late check out at 3pm, as well as exclusive access to the Skyline Lounge for two residents per room! (Additional guests will have to pay an additional supplemental fee except for children below the age of twelve.) The Skyline Lounge offer five daily complimentary light meals that includes every meal of the day from breakfast to dinner to guests who are staying at the Skyline rooms from 7am-10pm, for those who want to simply enjoy the ambience and comforts of the hotel without taking a step outside the grounds of the hotel, this is a perfect package. 

Additionally, guests will also have complimentary access to the main swimming pool and warm Jacuzzi areas at the Adeva Spa on the 6th floor, however reservations are required due to strict COVID-19 measures. Guests will also be given a $48 voucher to enjoy a back, foot massage OR express facial for 30 minutes at Adeva Spa- which can be extended to an hour at $88 nett.
We highly recommend guests to stay at this hotel mainly due to the comforts that the Skyline Rooms have to offer and considering how all the meals are covered at the Skyline Lounge meals during the stay along with access to the private swimming pool and the spa, the Wallow In The Skyline staycation package is so far the best package in terms of room comfortability, package price and benefits! Additionally, if you really feel like eating out or going out to meet with your families or friends, the train station is right below the hotel and City Square Mall is just a five minute walk away for all your shopping and dining needs!
One Farrer Hotel Skyline Staycation Package is available for bookings till 31 October 2020 for stays till 28 February 2021. Blackout dates apply
One Farrer Hotel
1 Farrer Park Station Road, Singapore 217562
Website