2016 Top 5 Must Try Mooncakes for this Mid-Autumn Festival
This is the third year we are rounding up the Top 5 best mooncakes in Singapore.We received an overwhelming response; we had personally tried each and every mooncakes that were submitted to us for review, from traditional baked mooncakes to unique snowskin creations and we really had a hard time deciding, this year the scores were all very close.
So let us get the mooncake craze going and we will let you know where to get your tasty mooncakes this year.
Grand Hyatt Singapore (New Entry) – "Luxe Society Editor's Choice"
We were blown away with the uniquely handcrafted snowskin mooncakes by Grand Hyatt Singapore. The flavours were unqiue and simply bursting with goodness capping off with chocolate filled flavoured truffles in the centre, the flavours includes: Black Sesame Buddha's Hand Truffle, Lychee Martini Truffle, Mao Tai Dark Chocolate Truffle, Strawberry, Lime Tequila Truffle and Matcha Azuki Bean Sake Truffle. Simply Irresistible
What we liked most:
To be honest we love each and every flavours of their snowskin creations, not to mention it is only $69.00 nett for 8 piece snowskin mooncakes packed in a grande collector's mooncake box.
Order online at singapore.grand.hyatt.com or call the retail hotline +65 6887 5492 (between 11:00am to 10:30pm) for reservations or for more details.
1. Summer Palace, Regent Singapore
Ranked No 3 last year, they are up two notches taking the No. 1 rank this year. Regent Singapore's theme this year is "Mid-Autumn Nostalgia" (追忆中秋) and is showcased in a unique classy modern mooncake box design that features an elegant textured red box, enveloped in soft felt fabric. A fun feature for guests is how the felt carrier has also been creatively designed to collapse as a Chinese chess board; with all mooncake boxes boasting a Chinese chess set for one's gaming pleasure.
* Chess Pieces are included in the mooncake boxes
What we liked most:
Created by Dimsum Chef Leong Kwok Sing, these two new snowskin mooncake flavours transported us back to our childhood. The Chendol with White Chocolate delivers a melt in your mouth taste and felt like we are tasting a modern Chendol version while the Momordica Fruit with Longan or simply called Cheng Tng gives a mixed sweet and herbal taste for those who prefer a healthier alternative
For enquiries please call +65 6725 3239 or email foodbeverage.rsn@fourseasons.com or you may order via online at www.regenthotels.com/regent-singapore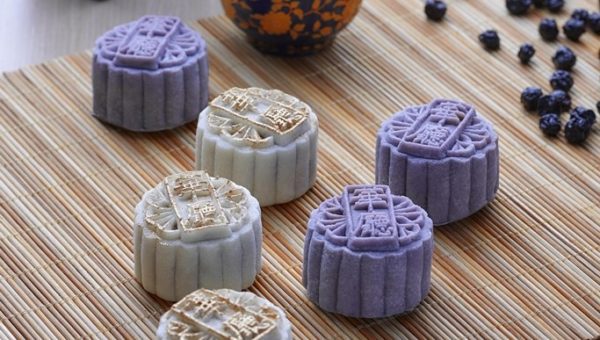 2. Hua Ting, Orchard Hotel
Celebrated Masterchef Lap Fai presents two novel snowskin creations this year that complements the top-selling traditional baked and signature snowskin selections. This year, Hua Ting's highly-coveted mooncakes are cossetted in leatherette gift boxes decked out in alluring vermillion and rose gold, and elegantly adorned with intricate Oriental motifs to present as impressive gift sets for business associates and loved ones.
What we liked most:
The refreshing new two mini snowskin creations: Blueberry with Vintage Hua Diao Wine is something worth trying out, for the reason we haven't seen any snowskins with blueberry filling. Cocooned within a lovely luscious purple, the taste combines sweet and tartness of blueberries, infused with the heady perfume of vintage Hua Diao, and for those watching their weight, no fret as this is made with low sugar which makes it guilt-free. The Salted Caramel with Hazelnut Crunch is a perfect blend of sweet and savoury goodness, which combines the caramel custard paste with crispy hazelnut feuilletine to bring that crunch in every bite.
Millennium Mooncakes by Hua Ting is available at Orchard Hotel Lobby Kiosk. For online purchases, please visit www.orchardhotel.com.sg/#offers.
3. Man Fu Yuan Restaurant, InterContinental Singapore
Down 2 notches from last year, Man Fu Yuan, no doubt is known for being one of Singapore's finest Chinese restaurants and one of the most sought after when it comes to their mooncakes and their packaging. This year, their packaging is encased in a beautiful latticed treasure chest reflecting the old-world charm and contemporary elegance of the newly refurbished lobby lounge.
What we liked most:
Making their debut this year is two of their four refreshing new snowskin flavours Yuzu Citrus with White Chocolate Truffle and White Lotus Paste, combining a fusion of traditional taste with a modern twist, blends a citrusy sweet flavour. The Sea Salt Caramel with Chocolate Pearls, Chocolate Truffle and White Lotus Paste is one of the flavours that combines a fusion of past and present, while we might have tasted a lot of Sea Salt flavoured mooncakes this year, this Sea Salt doesn't disappoint as the taste is just right, not too sweet and not too salty.
Man Fu Yuan's luxurious mooncakes are available at the Tea Hut, entrance of InterContinental, Singapore from Bugis Junction, and at retail booths located in shopping malls island-wide. For online purchases, please visit singapore.intercontinental.com/festive
4. Shang Palace, Shangri-La Hotel, Singapore
Shang Palace maintains their no 4 ranking from last year with their uniquely honey shaped gift box to represent their Honey Chocolate collection which is incorporated with raw and unprocessed leatherwood honey which originates from the pristine rainforests of the Tarkline region in Tasmania and handcrafted with outmost perfection.
What we liked most:
Making their debut this year is the Honey Chocolate collection with four exquisite flavours, but what stand out are the Roasted Sicilian Pistachio and the White Chocolate Passion Fruit with Mango. Bite into these 2 flavours and instantly be refreshed. It's what we call a modern mooncake. If you are tired of the traditional usual flavours these two flavours are worth a try.
Shang Palace's mooncakes are available at the lobby of Shangri-La Hotel, Singapore and at retail booths located in shopping malls island-wide. For purchases please email dining.sls@shangri-la.com or call +65 6213 4511 / 4398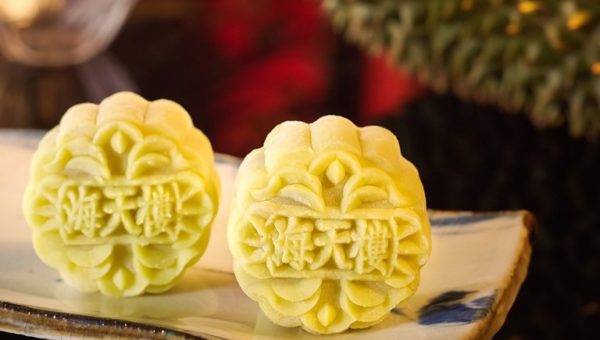 5. Hai Tien Lo, Pan Pacific Singapore
We missed them last year, but this year they are back to round off this year's list, making it to the no 5 rank. Executive Chef Lai Tong Ping presents a selection of seven delicately handcrafted mooncakes with a combination of Green tea paste with Single Yolk, Black Sesame with Single Yolk along with the traditional mooncakes.
What we liked most:
Durian lovers rejoice just like how we all scrambled over the returning Mao Shan Wang Durian Snowskin. No description could describe how good it tastes in every bite. Who cares about the smell? Just dig in and enjoy while it lasts.
Hai Tien Lo's mooncakes are available at Pan Pacific Singapore. For orders please call +65 6826 8240, email celebrate.sin@panpacific.com. For online purchases please visit www.pacificmarketplace.sg