22nd World Gourmet Summit 2018 Concludes with almost 16,000 attendees and over 50 signature WGS events.
The 22nd edition of World Gourmet Summit (WGS) came to an end after a month of taking diners on an exciting journey through its theme of The Discovery WGS. Diners were treated to exquisite gourmet affairs and masterclasses, and introduced to some of the world's exciting, lesser-known cuisines presented by a stellar line up of culinary stars – young, up and coming, and established – representing countries from Asia, Eastern and Central Europe, and America.
Reaffirming Singapore as a dynamic international culinary destination, Asia's premier food and wine festival saw almost 16,000 people attend no less than 50 signature WGS events over four weeks, with 16 countries represented, more than 20 visiting international masterchefs and special guest personalities featured, alongside the partnership of 40 top dining establishments in Singapore.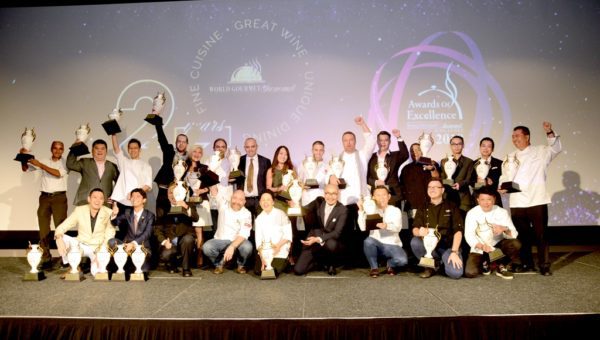 On 3 April 2018, the World Gourmet Summit Awards of Excellence (AOE) 2018 honoured outstanding professionals and establishments from the F&B and hospitality industries. After an overwhelming response to the number of public nominations, the AOE revealed its 31 winners, with key highlight awards being the LUZERNE Everyday Best Table Award presented to Jenny Loh (Wan Hao Chinese Restaurant, Singapore Marriott Tang Plaza Hotel), Mohammad Ummer (One Farrer Hotel & Spa) and Nouri; and two Lifetime Achievement Awards presented to Violet Oon and Edmund Toh.
"22 years and we have done it again! The past month has been an exciting food adventure and we gave diners unique opportunities to discover and savour cuisines that are considered exotic here in Singapore but are starting to trend globally" said Peter A. Knipp, CEO of PKH Pte Ltd, who manages and curates the World Gourmet Summit event. "We are looking forward to many more years of enriching our diners with memorable gastronomic experiences through Singapore's excellent array of dining establishments."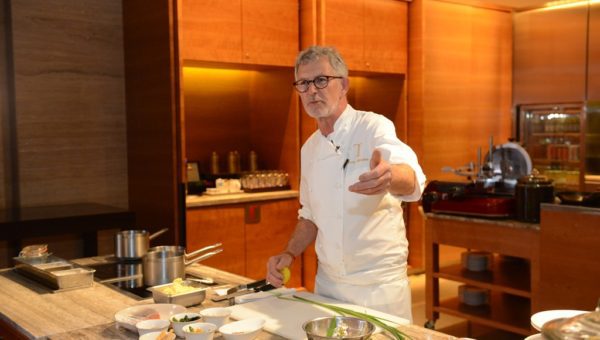 Masterchefs and Personalities
WGS 2018 featured an illustrious group of masterchefs and experts in the field who played a part in enriching Singapore's burgeoning food and beverage landscape. In addition to starring in the festival's line-up of sumptuous events, they were also hosted in some of the city's most notable dining establishments. Guests got to sample their distinctive culinary offerings during the Masterchef Dining Delights Promotion from 16 to 21 April.
Among the masterchefs to grace this year's event were Raymond Blanc, a legend in the French gastronomy world; Kevin Thornton, Ireland's first to receive two Michelin-stars; Patrizia di Benedetto, the first and only current female Sicilian chef to be awarded the coveted Michelin-star; Ross Lusted, Australia's two-hatted star chef; and Korean-American sensation Akira Back, who has excited the culinary world with his bold interpretations of Asian fare with American influence.
Alongside sensational gastronomic experiences, diners also gained insights into some of the world's biggest trending cuisines from Hispanic and Mexican food expert Juan Pablo and foremost authority on Hungarian food and wine, Csaba Harmath.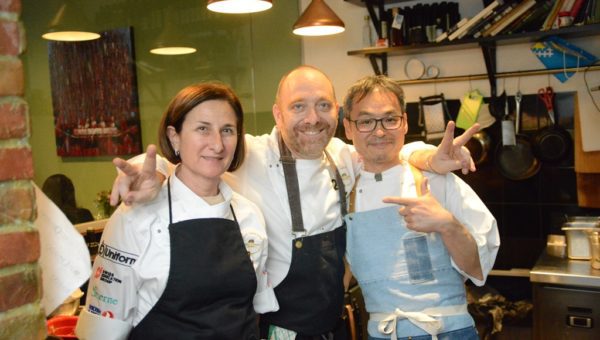 Gourmet Event Highlights
Some of the city's most notable and award-winning establishments hosted luxurious events and specially crafted dinners, and showcased exclusively created WGS menus.
Proving as popular as ever, all WGS masterclasses were sold out and the most popular of the WGS signature events included: WGS The Discovery Brunch at Tamarind Hill , Hommage à Paul Bocuse with Julien Royer at Odette, UNGA Event at CHIJMES, Hungry for Hungary at La Brasserie, The Fullerton Bay Hotel , Peck @ Geese with Artur Moroz at Wooloomooloo Steakhouse, Culinary Masterclass & Luncheon feat. Kevin Thornton at Miele , Mexico Fiesta at El Mero Mero , A Taste of Ukraine at Grissini and See-Food Italian with Patrizia di Benedetto at Gattopardo Ristorante di Mare .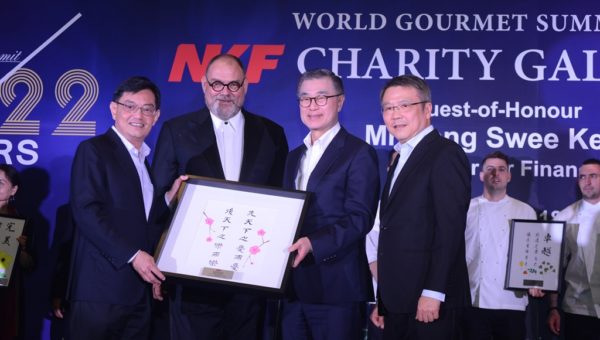 WGS NKF Charity Gala Dinner
Continuing its steadfast support for the National Kidney Foundation (NKF), the highly anticipated NKF Charity Gala Dinner took place at Swissôtel The Stamford on 19 April 2018. With 380 guests and Guest of Honour, Minister for Finance Mr. Heng Swee Keat in attendance, the event raised an impressive S$929,326 towards NKF's on-going commitment to providing care for kidney patients and raising public awareness of kidney disease prevention. With Singapore having one of the highest kidney failure cases, this support is integral to bringing life and hope to needy patients.
Guests were treated to a sumptuous dinner crafted by Swissôtel The Stamford's Executive Chef Robert Stirrup, who was joined by a stellar line up of award-winning chefs including Paul Hallett (Equinox Restaurant), Michelin & Asia's Best 50 Chef – Kirk Westaway (JAAN), Shanghainese Masterchef Qi Zhi Hai (Grand Copthorne Waterfront Hotel), Bocuse D'Or Singapore Winner Noel Ng (Fairmont Hotel) and Swissôtel The Stamford's Executive Pastry Masterchef Yong Ming Choong.