31 Outstanding F&B and Hospitality Proffessionals Honoured at World Gourmet Summit Awards of Excellence 2018
World Gourmet Summit Awards of Excellence (AOE) 2018 honoured 31 outstanding professionals and establishments from the F&B and hospitality industries last 3 April 2018. Widely regarded as one of the most respected accolades in Singapore and around the region, the AOE ceremony was held at One Farrer Hotel & Spa, with Guest of Honour, His Excellency Dr. István Szerdahelyi, Hungary's Ambassador to the Republic of Singapore, in attendance.
This year saw an overwhelming response to the number of public nominations, giving a clear indication of the appreciation for and acknowledgement of the pivotal role that the industry professionals play in the evolution of the F&B and hospitality scene in Asia. This year's AOE was presented under the voting categories of Chef Awards, Hospitality Awards, Service Professionals and Establishment Awards and Wine and Spirits Awards, Special Category and Highest Honors.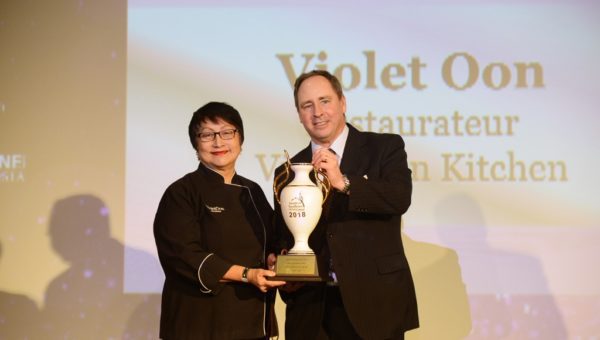 Lifetime Achievement were awarded to Violet Oon and Edmund Toh, President of Singapore Chefs Association for their invaluable contribution to the F&B Industry and uplifting the culinary standards in their country.
"This year's AOE recipients show us why the F&B and hospitality industries continue to thrive. As we celebrate our home-grown talents, Singapore is showcasing itself not just as a global platform for industry trends and progress but an important centre for learning and discovery," Said Mr Peter Knipp, CEO of PKH Pte Ltd, which manages and curates the Awards of Excellence and the World Gourmet Summit.
In collaboration with the Singapore Tourism Board, award-recipients are given the opportunity to participate in cross-exchange programs through the Overseas Development Program (ODP) with some of the world's foremost dining establishments to expand on their skills and experience, pushing them towards greater excellence.
Distinguished winners who walked off with the top honours include:
MKN Chef of the Year
Angus Chow, Boruto
HALTON Executive Chef of the Year
Louis Tay, Swissotel Merchant Court
WELBILT Rising Chef of the Year
Andrea De Paola, Osteria Art
FABRISTEEL Asian Cuisine Chef of the Year
Joseph Sergentakis, CÉ LA VI
KüHLBARRA Asian Cuisine Chef of the Year (Regional)
Ragil Imam Wibowo, Nusa Gastronomy, Indonesia
BRAND NEW MEDIA Baker of the Year
Leonard Yue, Swissôtel The Stamford
CACAO BARRY Pastry Chef of the Year
Winnie Goh, Mandarin Orchard Singapore
EPICURE Pastry Chef of the Year (Regional)
Florian Guillemenot, Le Cordon Bleu College of Culinary Arts, Kuala Lumpur, Malaysia
U.S. DAIRY EXPORT COUNCIL Chef's Choice Award
Kirk Westaway, JAAN
U.S. DAIRY EXPORT COUNCIL Gourmet Retailer of the Year
The Cellar Door
WINTERHALTER Caterer of the Year
Luxe Catering
MARRONE Hospitality Institution of the Year
Allspice Institute
ELECTROLUX Hospitality Institution of the Year (Regional)
Sunway Le Cordon Bleu, Malaysia
U.S. DAIRY EXPORT COUNCIL Gourmet Distributor of the Year
Culina Pte Ltd
HUBER'S BUTCHERY Restaurant of the Year
Gattopardo Ristorante di Mare
LUZERNE Restaurant of the Year (Regional)
Mozaic, Indonesia
CHOPE Asian Cuisine Restaurant of the Year
Punjab Grill
TUNGLOK Asian Cuisine Restaurant of the Year (Regional)
Tamarind Springs by Samadhi, Malaysia
BONCRU / ENOMATIC Bar of the Year
La Terre
HOBART New Restaurant of the Year
Bakalaki Greek Taverna
MEIKO Restaurant Manager of the Year
Ramesh G.Somani, Punjab Grill
LUZERNE Food & Beverage Manager of the Year
Amos Ting, Raffles Hotel Singapore
KüHLBARRA MICE & Banquet Manager of the Year
Bernard Chua, The Ritz-Carlton Millenia Singapore
TEASPEC Restaurateur of the Year
Ricky Ng, Blue Lotus
BONCRU / ENOMATIC Bar Manager of the Year
Daisuke Kawai, La Terre
BONCRU / ENOMATIC Sommelier of the Year
Alvin Gho, Wine RVLT
CULINA Old World Wine List of the Year
La Terre
CULINA New World Wine List of the Year
The White Rabbit
LUZERNE Everyday Best Table Award
Jenny Loh, Wan Hao Chinese Restaurant, Singapore Marriott Tang Plaza Hotel
Mohammad Ummer, One Farrer Hotel & Spa
Nour
LUZERNE Special Recognition Award
Damian D'Silva, Folklore
SWISS EDUCATION GROUP Lifetime Achievement Award (Singapore)
Edmund Toh
SWISS EDUCATION GROUP Lifetime Achievement Award (Singapore)
Violet Oon
CHIJMES Hospitality Star
Robert Stirrup
Hall of Fame
Salt Grill & Sky Bar, Awarded the 'New World Wine List of the Year' at the 2013, 2015 and 2017 World Gourmet Summit Awards of Excellence