34 Singapore restaurants and street food outlets distinguished by a Michelin Bib Gourmand!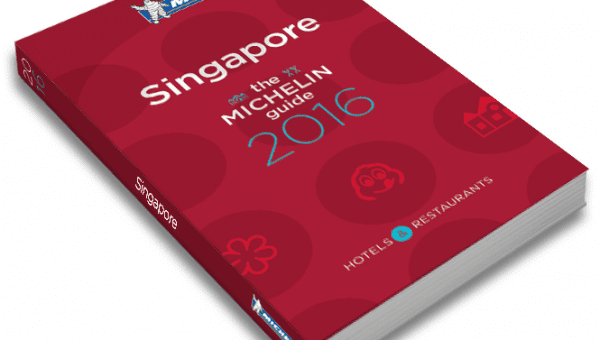 Singapore's most iconic local dishes such as laksa, Hainanese chicken rice, bak kut teh and even the humble curry puff took the spotlight among the list Michelin unveiled in the list of 34 restaurants and street food outlets distinguished with a Bib Gourmand by the MICHELIN inspectors.
This distinction rewards establishments offering a high quality menu at a reasonable price per meal S$45 and below.
"With some firm favourites selected by our inspectors for their good value for money, we are particularly pleased to present a preview of the Bib Gourmand establishments included in the 2016 MICHELIN Guide Singapore," says Michael Ellis, MICHELIN Guides' International Director.
On the ground the MICHELIN Guide inspectors unearthed all kinds of delights: from street food to more traditional restaurants and stalls in the popular hawker centres – halls dedicated to the fast authentic food popular with Singaporeans where diners share their tables – they all offer local and delicious Asian cuisine.
"A true crossroads, a mix of cultures with Chinese, Malaysian and Indonesian influences, Singapore's history is reflected in its cuisine – the variety, simplicity and authenticity completely won over our inspectors," continues Michael ELLIS. So with 19 styles represented, including Indian, Cantonese, and even Vietnamese, the first Bib Gourmand selection is testimony to the richness and diversity of the city's culinary landscape.
Please see full list below: credits to Michelin Guide Singapore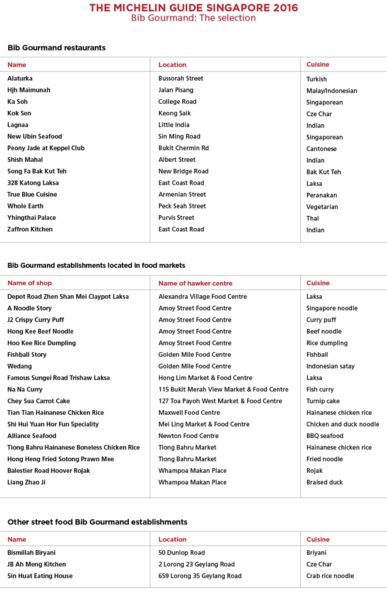 *Note: Wedang has since moved to Aljunied and Fishball Story to Timbre+ in One-North. Addresses were accurate at the time of assessment.
Accessible on the site https://guide.michelin.sg, find the complete MICHELIN Guide selection from 21 July.