A Bountiful Spread of Seafoods awaits with Summerlong's new dinner menu
CONTENT: Andrew Kho
Summerlong recently introduced their new dinner menu featuring mezze, seafood and more sharing portions. Helming the kitchen for this new menu is Singaporean Chef Kyle Henderson who is with the restaurant for only two and a half months. Having lived in Australia for quite sometime, most of the dishes Kyle created in this new menu is Australian inspired while maintaining the Mediterranean flavours Summerlong is known for.
Small Plates to Share
The night's dinner started with the mezze, we started off with The Scallop Carpaccio – the only item not from Australia. The scallop is drizzled with lemon and olive oil that locks in the flavour and not to mention it is so soft that it melts in your mouth. The Market Ceviche contains thick sliced chunks of fish marinated in lemon, lime, harissa vinaigrette and served with sesame lavrosh crackers, the fish used in this dish would usually be barramundi but it is subject to change depending on the availability. Lastly even though i rarely eat clams, i found myself asking for more of The Chilled Ponzu Clams which is sauteed in green chilli, garlic and coriander, this dish is so delicious that i highly recommend as a must have when you make a visit to this place. For Summerlong's regular guests, The Hummus Flight – a tasting of four different varieties of Hummus is still available in the menu, this is Summerlongs signature mezze and a must try for first-time diners.
The Best Barbecued Seafood's
Part of Summerlong's newly launched dinner menu is the Barbecued Seafood section. Diners can choose from a wide selection of either Whole Squid, Bararamundi Fillet, Ocean Trout Fillet, Whole Sea Bass, King Prawns and Alaskan King Crab. All Barbecued dishes come with a generous serving of a homemade sauce. Diners have the option to choose from the four sauces – Harissa, Black Pepper & Garlic Sauce, Sumac Yoghurt or Seaweed Butter.
I would not hesitate to say that i enjoyed their entire barbecue selection firstly because i enjoyed the fact that diners are able to choose their preferred sauces, secondly, each of the four sauces has their own unique taste and flavour, thirdly, the seafood's used are all fresh and there is not a hint of a fishy aftertaste, lastly, after being barbecued, the meats or seafood's would usually tend to be dry and tough, but here, they are able to maintain the them soft and flavourful without being too dry. I would say they have a precise barbecue method for this.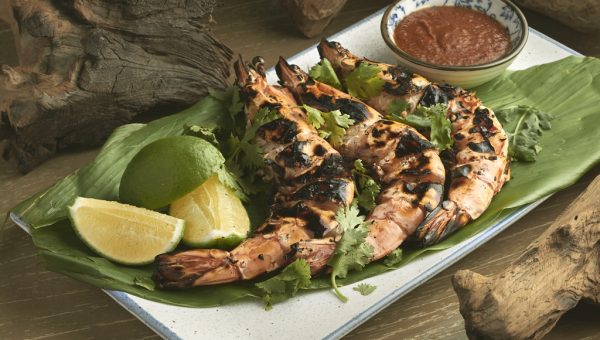 Head Chef Kyle Henderson explains, "Food should not be too complicated. I believe in respecting the ingredients I work with and allowing them to shine. By incorporating techniques like grilling, I am able to hero the ingredient – enhancing its natural flavours while keeping it simple and fresh".
We can summarize this new dinner menu as simple, flavourful and each dishes designed with sharing in mind.
Summerlong is located at 60 Robertson Quay #01-04, Singapore 238252
Summerlong is open daily on Monday to Friday from 5:00pm to Midnight and Saturday to Sunday from 10:30am to Midnight.