A Crablicious Affair has Arrived at Blue Lotus's Tanjong Pajar Outlet!
CONTENT: Yiew Kai Jie
Having earned themselves the reputation as having one of the island's best Chili Pomelo crab dishes, Blue Lotus has brought over their crowned Chili Pomelo Crab to the Tanjong Pagar outlet when it was only exclusively available at their flagship outlet. As part of an effort to revamp their menu, the award-winning restaurant will be featuring their best dishes for office workers and food connoisseurs to enjoy!
Conceptualised under the guidance of Owner and Culinary Director, Ricky Ng, the menu feature elegant dishes that stays true to its oriental roots but with a modern twist. Customers can look forward to enjoying refreshed renditions of their seafood dishes paired perfectly with their signature Chili Pomelo crab sauce.
The Chilli Pomelo crab sauce is incorporated in classic mainstays like Signature Chilli Pomelo Crab ($9/100g), Signature Chilli Pomelo Crispy Soft-Shell Crabs ($22) and Chilli Pomelo Mussels ($30). Putting the seafood aside, for the first time diners can also indulge in the debut of the Chili Pomelo Crab Tart in Singapore, a new Blue Lotus signature dish which was originally conceptualised in July 2017 by Ricky himself.
The tarts are only cooked to ordered which could take around 20 mins for the bundles of joy to arrive on the table, but this ensures that the tarts keep their high standards- imagine a delicate crust packed with rich crab flavours when one of them is bitten into that is almost akin to an asian-crab version of a shepherd's pie! Additionally, Blue Lotus has plans to bring their signature Chili Pomelo crab sauce to every household by packaging it in jars ready for purchase.
On the ala carte side, diners can take their your pick from sharing platters that are plated with finesse, entertaining both the eyes and palette such as the Lemongrass Prawn Sticks with Citrus Spicy Dressing ($18), Hickory Smoked Honey-glazed Kurobuta Pork Ribs ($24), and Crispy Fried Salmon Skin with Salted Egg Yolk & Lime Zest ($16). For diners who prefer a more traditional touch to their appetizers, Blue Lotus has also debuted their D.I.Y Crispy Pork Lard Popiah which is sure to set the dining table abuzz with activity as it involves diners in the construction of their own popiah wrap. With a wide variety of ingredients and an unlimited flow of pork lard, diners will be hard-pressed to resist the temptation to order this dish!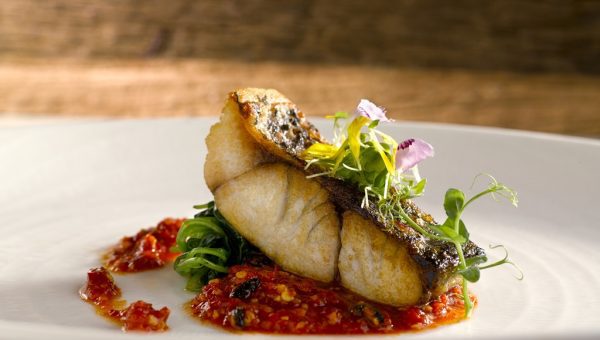 For diners who crave for a charred smoky fragrance and robust flavours, they can revel in the Claypot Assam Curry 240g Kuhlbarra Barramundi Fillet ($32), Five Spices Australian Baby Lamb Racks ($42), Hot Stone Black and White Peppercorn Angus Beef Tenderloin ($38) and Hot Stone Pork Lard Truffle Flavoured Fried Rice ($18).
The Blue Lotus outlet at Tanjong Pagar will also be introducing a new three-course set lunch menu that starts from $18++ onwards. Available only on weekdays (11.30am to 3pm), customers can choose from seven palate-tantalizing main course creations such as Pork Lard Truffle Flavoured Shiitake Mushrooms & Beansprouts Noodles, Hot Stone Pork Lard Truffle Flavoured Egg Fried Rice, King Prawns & Green Lip Mussels Laksa, Claypot "Ma Po Tofu" Onsen Egg Rice, Szechuan "Ma La" Beef Shank Noodles Soup, Claypot Drunken Prawns with Chinese Herbs & Hua Tiao Mee Sua, and Hot Stone Peppercorn Australian beef Tenderloin, Egg Fried Rice. Each set lunch menu is begins with a Chef's Special Soup of the Day and ends with a choice of dessert.
Blue Lotus @ Tanjong Pagar is located at 5 Wallich St, #01-13, Tanjong Pagar Centre, Singapore 078883.
Blue Lotus @ Tanjong Pagar is open on Monday to Saturday: 11:30am – 3pm (Last Order 2:45pm), 6pm – 10:30pm (Last order 10pm).
For reservations, contact them at +65 6996 0880 or email bltp@bluelotus.com.sg