A Guide To Pairing Traditional Cheese With Local Flavours For A SHIOK Cheeseboard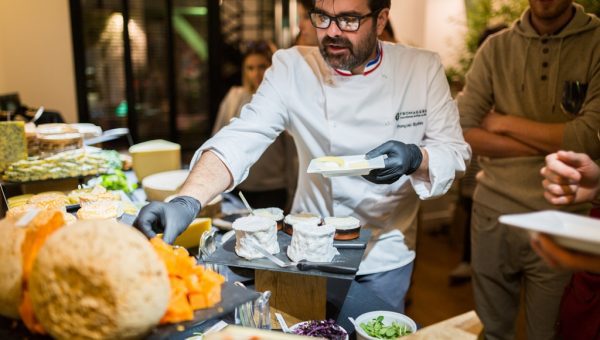 Content: Michelle Ng

Cheese is traditionally eaten with cold meats, crackers, and fruit, together with a glass of wine. The pairing of cheese is almost an art; it takes

We had the pleasure of joining cheese monger Francois Robin in a masterclass with Home Of Cheese Singapore, where he shared some cheeseboard plating secrets as well as flavour pairings all the way from France.

There are various types of cheeses, and each comes with its own flavour profile and texture that allows you to better appreciate the cheese when paired together properly.

In the most interesting flavour pairing is the blue cheese with kaya. Be it the green or brown kaya, the sweet and thick coconut flavours balances the pungent taste of blue cheese, which can be a bit of itself a turn off. Eating blue cheese by itself can be quite an explosion of sourness and milkyness, so pair it with something equally strong in taste for that robust flavours.

Another strong cheese – epoisses – goes well with dried mangoes. The cheese is usually washed in alcohol, giving it that strong aroma. Use a spoon to scrap away the top of the washed rind to reveal creamy, delicate cheese, and dip your dried fruits in it. Go for citrusy and tangy fruits, but be sure to choose the dried versions! Avoid fresh fruit as the juices can affect the texture of the cheese.

For those who prefer a lighter but just as creamy cheese, the triple crème cheese is a good choice. Add a sprinkle of chopped spring onions to freshen up the heaviness with a little savoury bite. While you're on the vegetables, give the coriander a go. The fresh, lime-y coriander gives some depth to the milky flavours of the triple crème cheese or even the camembert.

When it comes to tipples, wine is the first thing that comes to mind. You can also pair cheese with other beverages, like beer or even a gin & tonic. The guide to a delicious pairing is to either match the flavours or contrast them.

But as cheese somellier Francois Robin shares, the best way to enjoy cheese is the way you want!

Follow Home Of Cheese on Instagram at @homeofcheese_sg for cheesy receipes, interesting pairings, fun facts, and giveaways.