Aloha Poké Turns 2 with Expansion Plans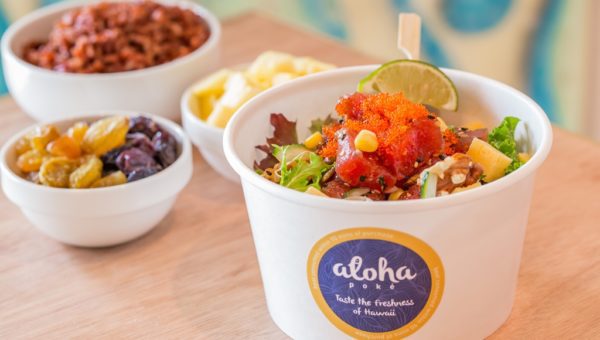 Aloha Poké was established by two Singaporean couples in 2015 who went to Hawaii for a well-earned holiday and it was "love at first taste" when they discovered the traditional Hawaiian poké (pronounced "poh-kay"). With nothing like it available at the time in Singapore, the first poké was created and perfected in John Chen's kitchen. The rest, as they say, is history.
Aloha Poké is now one of the most popular lunch go-tos around town. For the four founders – John Chen, Lee Yue Xian, Paladin Hsu and Selene Ong, it has become a whirlwind Singapore dream success story but not without its trials and errors.
In under 24 months, five Aloha Poké outlets are collectively serving up at least three tons of fish per month to customers in the CBD and city centre, alongside one Deliveroo Editions kitchen operating in the East.
As committed purveyors of freshness, Aloha Poké sources its salmon tuna from Norway, Tasmania, Indonesia and the Philippines, receiving daily deliveries and preparing all the poke offerings from scratch every day. nothing from the menu is kept overnight. And, due to the concise menu across all outlets ( with salmon and tuna being thew primary offering) it has now become the largest consumer of tuna in Singapore. With these economies of scale, the company finds itself in the favourable position of negotiating food prices from suppliers and ensuring the freshest catch available in Singapore, keeping the poke proposition consistent and full of flavour.
As the brand turns a year older, the home of traditional Hawaiian poke now plans to open up to 12 more outlets in Singapore, in line with its commitment to bringing the joys of poke bowl closer to customers island wide. Looking ahead, Hong Kong is expected to say 'aloha' to the poke phenomenon within this year's Q3 as the founders concurrently consider options in Australia, China, Bangkok, as well as the other South-East Asian markets including Jakarta, Manila and Kuala Lumpur.
"Just like sushi, we believe the poke bowl is here to stay" said John Chen, co-founder of Aloha Poké. "While there are new poke brands popping up across Singapore, sales in our existing outlets continue to increase steadily over time as more people become aware of the poke bowl concept. We are confident that this will be the preferred choice of healthy diners in Singapore".
Aloha Poké is located at the following locations: Flagship store at Amoy Street, Marina Bay Link Mall, Change Alley @ Chevron House, Bugis Junction and CityLink Mall.
For more information please visit: www.alohapoke.com.sg