Art At Curate: The Eleventh Edition with Parisian Michelin-Starred Chef Stéphanie Le Quellec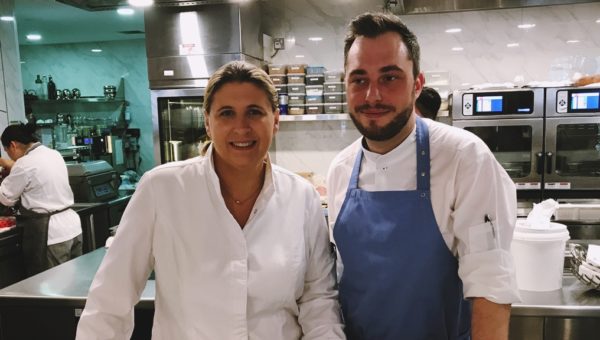 CONTENT: Yiew Kai Jie
IMAGES: Luxe Multimedia
Awarded Singapore Tourism Award for Best Dining Experience in May earlier this year, CURATE at Resorts World Sentosa (RWS) dished up another special experiences this August. The restaurant hosted young rising female chef Stéphanie Le Quellec from the Michelin-starred La Scene in Paris for the eleventh installment of the Art At Curate dining series.
Having worked in Southern France for eight years, Chef Le Quellec's culinary scene is influenced by the flavoursome simplicity of Southern French cuisine that seeks to evoke surprise and emotion through the elegant combination of flavours from exceptional ingredients. She composes her dishes with precision and sophisticated simplicity and refined her skills over the past 18 years until she obtained her first Michelin Star at the young age of 32.
"I am a classical French chef who enjoys infusing a touch of modernity into my creations. I want to demystify luxury gastronomy, make it friendly, welcoming and less intimidating without reducing any of the magic, charm or elegance. The best seasonal produce forms the heart of my cuisine and i strive to cook them perfectly with a modern twist. I will be cooking fresh seasonal seafood which i personally love, for Art At Curate this August." said Chef Le Quellec.
Gourmands savoured Chef Le Quellec's haute French seasonal creations accentuated by her mastery in concocting delicious sauces at Art At Curate such as the Salmon with Celeriac, Buckwheat and Vanilla, a visually stunning dish that stays true to Chef Le Quellec's motto of incorporating the best produce in her dishes. The dish itself contains many different flavours and textures such as crunchy, sour, sweet and a slight tinge of bitterness that blends together in harmony to help elevate the protein and showcases the precision and skill that Chef Le Quellec has in order to create this dish.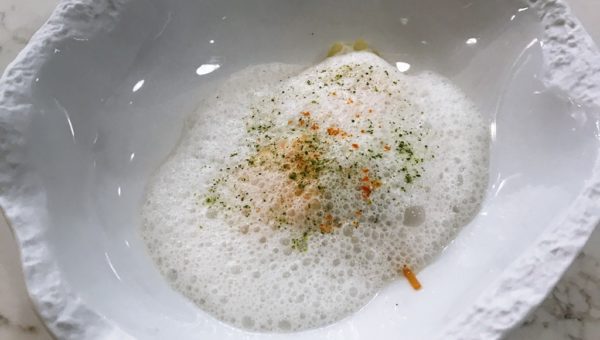 Her Lobster Ravioli with Lime and Coconut is an Asian interpretation of the typical ravioli dish that one might typically see in many italian restaurants. Instead of covering the ravioli with copious amounts of sauce, the ravioli is insteaded lightly hidden in a thin layer of foam that does not overpower the main star- the lobster. However, as this dish is designed to be light on the palate, the taste of the lobster could have been stronger and more robust to stand out as the main focus of the dish.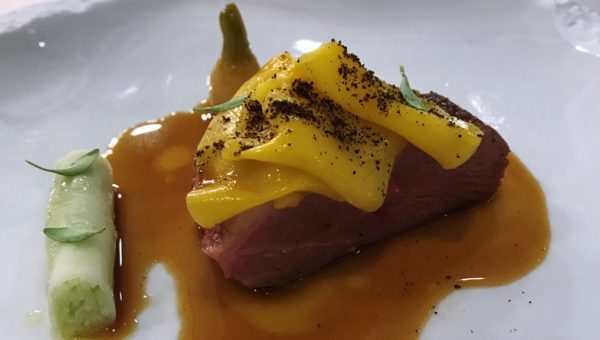 The Farmer's Duck with Timut Pepper and Mango is another dish created by Chef Le Quellec that looks like a deconstructed version of a traditional Peking Duck wrap. The protein is extremely tender and does not taste dry, a hard feat to master for a protein who is notoriously known for being easily overcooked and dry. The citrusy taste of the mango goes well with the duck while the vegetables help to temper the flavour and texture of the meat.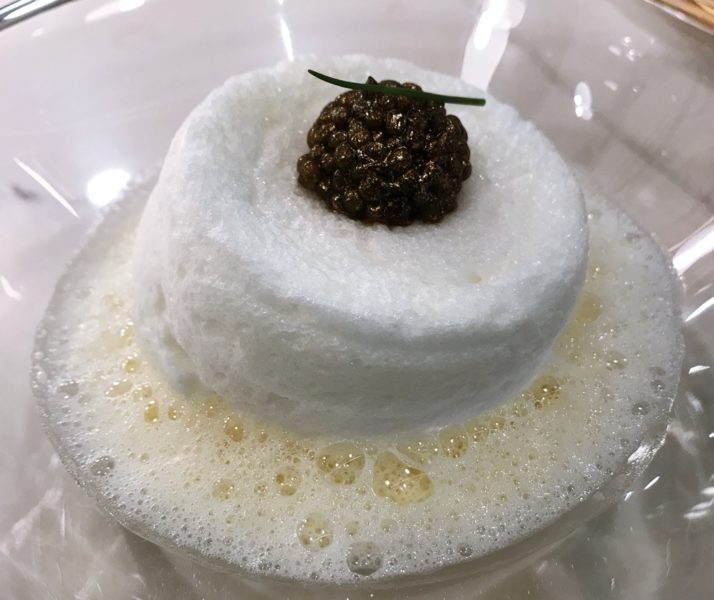 Apart from Chef's Le Quellec's dishes, Resident Chef Benjamin Halat also incorporated his signature Soufflated Farm Egg with Oscietra Caviar and Champagne Foam and his own rendition on the popular classic childhood dessert- the Banana Split with Chocolate and Pecan Nuts into the menu as well.
"As Chef Le Quellec food reflects today's modern haute French cuisine, I am passionate about having the opportunity to collaborate with her. I will be creating modern German dishes with luxurious touches to pair with her cooking for our 'four hands' menus."
Apart from the scrumptious food. The 'four hands' menus were paired with equally exquisite wines selected by renowned wine critic Robert Parker. Each of the handpicked wines are highly rated at 90 points and above.
Art at Curate 11 is held at CURATE located at Resorts World Sentosa (The Forum, Level 1).
For reservations or enquiries, please call +65 6577 7288 or email curate@rwsentosa.com.