Baristart Coffee: Come for the Coffee, stay for the Latte Art!
CONTENT: Yiew Kai Jie
IMAGE: Luxe Multimedia
A popular off the beaten path cafe that was originally based in Hokkaido, Baristart Coffee has opened its first ever overseas outlet in Singapore! From its humble origins of being a small quaint cafe in Odori Park in downtown Sapporo, Baristart Coffee's rise to fame is due to being the first and only cafe to focus on the usage of creamy delicious Hokkaido BIEI Jersey Milk that comes from rare brown jersey cows which make up barely 1% of the cow population in Hokkaido, enhances the flavour in all of its coffee offerings.
Paying homage to its Japanese roots, the decorations and interior design of the cafe is meant to reflect the minimalistic culture while seeking to create one of the best instagrammable spots for coffee in Singapore. The cafe's furniture and accessories are made from light grained woods, that are reminiscent of interiors seen in modern and traditional Japanese homes alike. A hint of Zen blends with their leafy greens that not only add a sense of natural tranquility, but provides the cafe with a lively splash of colour. There is a 'photo table' at the back of the cafe, where windows on the ceilings let in the natural light indoors that not only gives the café its sense of calm and cosiness- but doubles as a perfect spot for customers to take pictures for that perfect instashot!
Most coffee connoisseurs often focus on the type of coffee beans and forget how important good milk is to a good coffee, but not the Global Chief Barista and resident coffee connoisseur, Yuki Takeuchi. Growing up surrounded by hundreds of cattle and armed with an extensive knowledge of dairy, milk is a huge part of his childhood. Under his leadership, he aims to show people around the world the Hokkaido lifestyle through a cup of silky smooth coffee and create bespoke latte art on the spot for each customer that walks through the front door.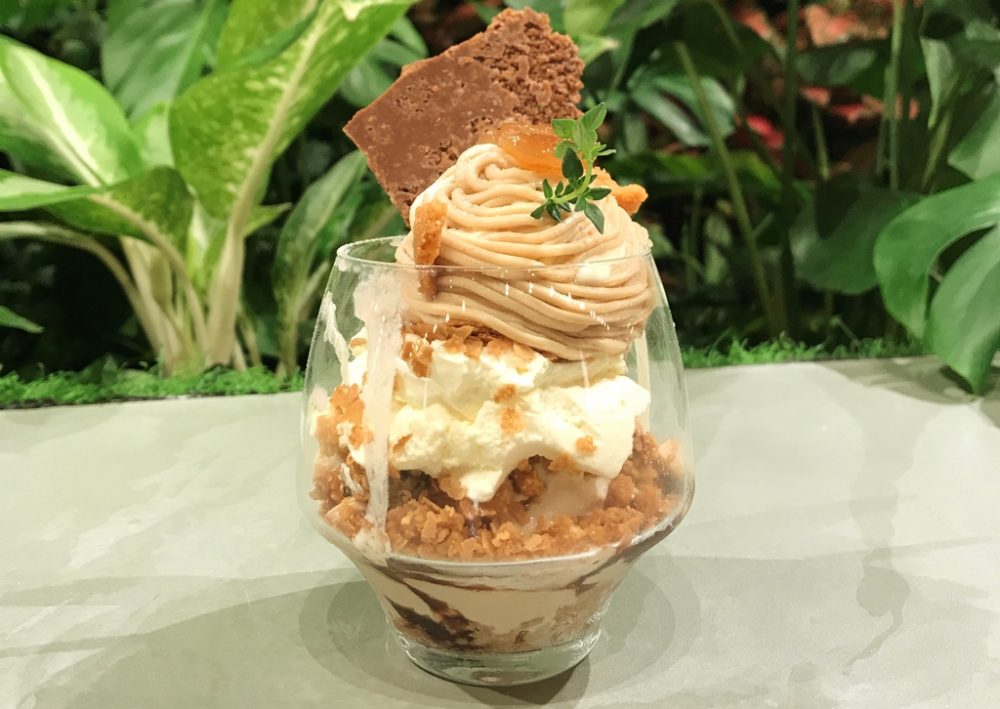 With three different types of coffee beans to choose from, customers will be spoilt for choice as they have to decide which type of coffee to order from their baristas. They can go along with staple choices such as a Flat White, Latte or Cappuccino (S$6.70). If customers want to get away from the searing heat of the day, they can opt for an icy cold glass of Ice Latte (S$7.50). However, nothing will beat their signature coffee- a cup of BIEI Jersey Milk Coffee (S$7.50), being served in a old fashioned milk glass bottle!
Apart from their coffee, the cafe also offers up delicious treats to go along with their decadent coffees! Highlights from their menu includes their Spaghetti Seafood Shiso Pesto (S$17.80), imbued with authentic Japanese influences! A type of Japanese mint herb shiso- is evenly mixed with the pesto to give the dish its uniquely refreshing flavours. Paired harmoniously with juicy prawns and squid, this is a perfect meal for authentic Japanese pasta lovers due to its waxy pesto-coated noodles blending well with the rich seafood flavours.
The Hokkaido Carbonara (S$17.80) is another favourite of ours, due to the pasta being drenched with a creamy sauce made from the same Hokkaido rich milk used in their coffee. A generous portion of Hokkaido kurobuta bacon are tossed into the noodles, and the hearty dish is topped off with a perfectly poached egg seasoned with black pepper and parmigiano. Once the egg is mashed in to add an additional layer of cream and flavour to the pasta, mix the pasta around well to ensure that every strand of pasta is well coated with the crunch of the bacon and flavour of the sauce.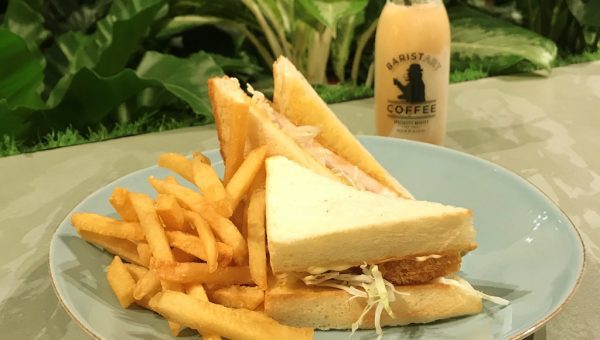 Their Tonkatsu Sando (S$16.80) is a Japanese take on the Western classic – the meat is fully coated with panko (Japanese-style bread crumbs) and fried before being tucked into the soft, fluffy and slightly toasted crust-less white bread. For a deep-tasting Hokkaido style Tonkatsu Sando, the slightly sweet and savoury combination of tonkatsu sauce and mustard butter is evenly drizzled over the pork. Served with freshly cooked hot fries and gherkins, this dish is makes for a nice pick-me-up dish to go along with a cup of coffee in the middle of the day.
Aside from their mainstays, the cafe also provides a full range of sweet treat to go along with their coffees. Exquisitely created by a team of stellar chefs headed by Pastry Chef Emi Sasaki, all their bites are made from scratch in-house and serve to bring out the best flavours of their Hokkaido BIEI Jersey Milk!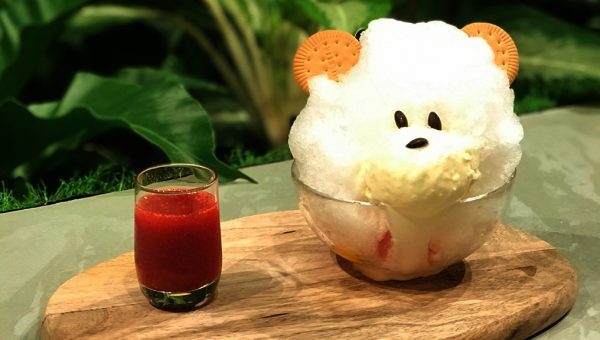 Their well known Shaved Ice Shiro Kuma ($$9.80) dessert almost seems too kawaii to eat! Shaped like a bear's face, this adorable shaved ice dessert is a must order to share with a dining partner! Drizzle Hokkaido BIEI Jersey Milk and flavourful syrup all over the bowl and spoon it together with the vanilla ice cream for maximum satisfaction. Lying underneath the ice is a colourful platter of fruits, including oranges, mangoes, white peaches and strawberries. With the homemade syrups served on the side, customers may also choose to have coffee, strawberry, mango or green tea syrup flavours.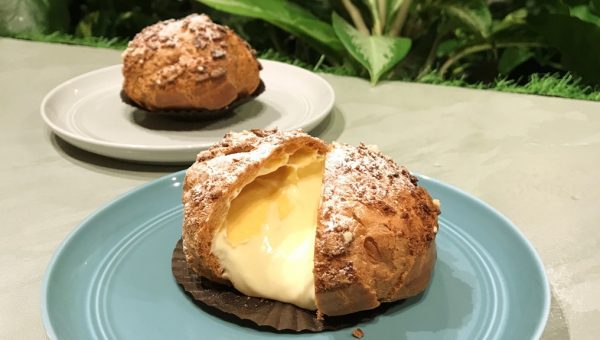 The relatively normal looking Cream Puffs (S$4.50/per piece, S$12/three pieces) are not to be trifled with. Despite their relatively innocent look, the puffs are fully loaded with extremely sweet Hokkaido BIEI Jersey Milk custard cream that will explode in the mouth the moment the puff is bitten into- making the luscious cream puff a crowd favourite and makes for a perfect all time snack.
Indulge in layers and layers of decadence with the sugary Chestnut & Mont Blanc (S$8.80) parfait treat, created with houji tea pudding, served with a scoop of vanilla ice cream and finished with a generous topping of chestnut cream and mont blanc cream. Adding onto the delicate chestnut patisserie cream, kuromitsu syrup-drenched chestnut bits layered with crispy addictive feuillantine and crowned with crunchy buttery cookies on delicious swirls of homemade monc blanc cream. Experience different crunchy textures and sweet flavours as the dessert is dug into.
Baristart Coffee is located at: 65 Tras Street Singapore 079004. Open daily from 10am – 10pm.
For more information please visit: https://www.baristartcoffee.com