Beauty in The Pot offers New Hearty Shrimp Broth at The Star Vista outlet
CONTENT: Yiew Kai Jie
Hotpot lovers have another reason to stay up late and rejoice as the popular hotpot restaurant Beauty in The Pot has finally opened a 212-seat outlet at The Star Vista mall.
In conjunction with the opening, the brand has collaborated with sister company Le Shrimp Ramen to offer a hearty shrimp broth at the new outlet for a limited time only- apart from its six signature broths already available on the menu.
The broth is a signature offering of Le Shrimp Ramen– big fresh prawns are baked at 180°C for 45 minutes, hand-grinded to a fine texture, then simmered for more than eight hours with premium conpoy to produce the ultimate umami taste. A blend of spices such as star anise, cinnamon, clove and white peppercorn are also added to the luscious stock to give the broth an added boost of spice and heat to the final concoction. With the addition of fresh clams, the rich and flavourful broth is further amplified with the natural sweetness of the sea.
Available from now till the end of July, the hearty shrimp broth (S$28 for single pot; S$15 for twin pot; S$9 for quart pot) is the rich and asian version of a classic lobster bisque that will ensure a refreshing experience that will leave long-time diners spooning the pot for the last drop of broth!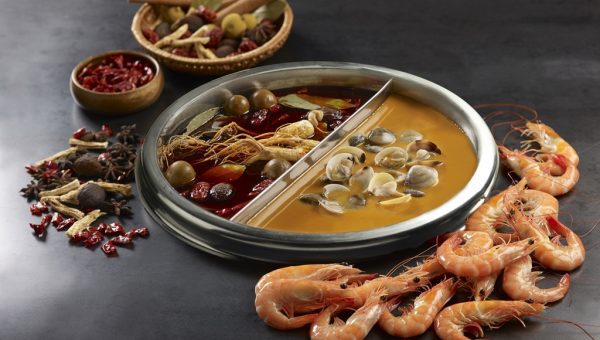 Superbly crafted with exquisite details, and decorated in alluring art deco style, Beauty In The Pot Star Vista successfully combines luxury with an enticing sense of romanticism while celebrating the concept of 'Good Food Good Living'. The shopfront, designed to represent an old quartier in Singapore during its colonisation days features a dynamic fusion of 'East meets West', while the specially commissioned Beauty Female portrait honours the vigour, valour and beauty of all women. There is also a children's playground, so that diners can enjoy their food while the children enjoy their playtime.
Private rooms for large group of families are available with sharing pots! Each VIP room has 12 seats, and can be combined to form an even larger space if the situation demands it. All the pots in the restaurant have been specially imported and fitted with an exhaust system surrounding each pot, so diners can enjoy the hotpot session in a well-ventilated environment.
Diners enjoy 20% off on food after 10pm!
Beauty In The Pot The Star Vista outlet is open daily: 11:30am-3:00pm during weekdays and 11:30am-3:00am during weekends.
For reservations, please call: +65 6262 1692 or visit https://www.paradisegp.com.