Blackwattle: A Fusion Of Two Different Worlds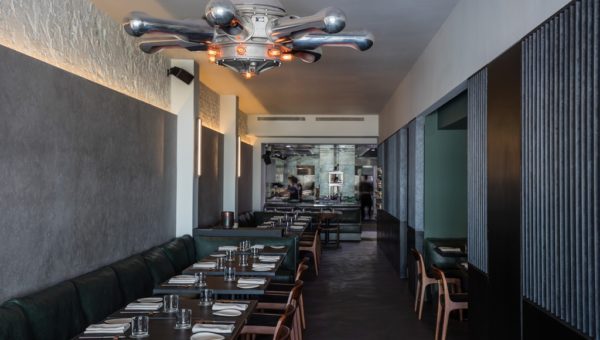 CONTENT: Yiew Kai Jie
Award-winning Australian chef, Clayton Wells has debuted his first restaurant outside Australia in Singapore. The 60-seat restaurant and bar will be open for lunch and dinner, serving contemporary both Australian and Asian influenced three and five-course menus along with à la carte options.
The dishes reflect Clayton's global travel experiences, which showcases interesting, high-quality ingredients and bold flavours in a modern and easy way. Blackwattle is helmed by head chef Joeri Timmermans, who has most recently been in the role of sous chef at Automata in Sydney. Joeri has worked in several Michelin-starred restaurants including Restaurant Parkheuvel, Beluga and Restaurant de Leuf. Joeri first met Clayton in 2013, when he began working as a junior sous-chef at Momofuku Seiōbo in Sydney and where Clayton was the head sous-chef at the time.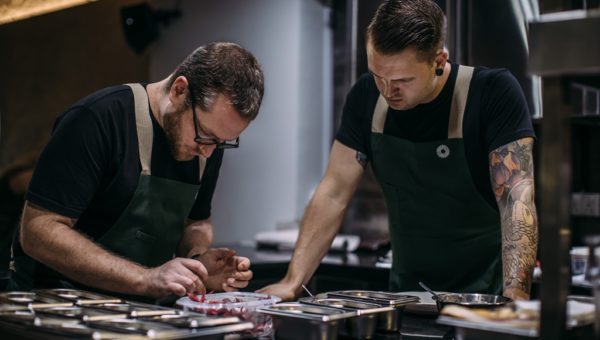 "I'm really excited to bring our style of cooking and restaurant to Singapore. We will continue to showcase the best produce in a fine dining presentation yet in a casual, unpretentious setting. Our aim is to make our guests feel comfortable; whether they're dining with company or a quick post-work snack at the bar, we aim for it to be a regular destination in the Singapore dining scene." Clayton Wells said.
The Design
Blackwattle's interior boasts a cozy atmosphere, with comfortable seats and a quirky decoration concept, the restaurant's aim is to let the customer feel right at home in a familiar environment with their friends or colleagues. The restaurant's theme is influenced by a raw industrial aesthetic, while respecting the building's original interiors. A nature theme is also prevalent in the restaurant as miniature plants with a subtle earthy scent wafting around the restaurant.
Even the logo of Blackwattle was inspired by a tree in Australia! Chef Clayton worked hand in hand with the designer to bring alive his vision of 'elevated comfort dining'. Highlights include an eye-catching aircraft chandelier from The Rag & Bone Man in London and soft bottle-green leather banquettes. The furniture pieces were unique custom designs, which were developed for Blackwattle.
Should guests feel they are in the mood for some strong drinks and simple snacks for a relaxing night ahead, Blackwattle will also feature a fun, casual upstairs bar where guests can enjoy the full Blackwattle menu uninhibited or simply sip uniquely crafted cocktails or enjoy a glass of wine paired with carefully paired bar snacks. Some of their bar highlights includes fried Jerusalem artichokes, sunflower seed miso; torched bonito, katsuobushi emulsion and pickled shiso.
The Menu
With a nod to Automata's bold style of cooking that surpasses geographical boundaries, here are some specialties the menu will include:
Stormshell Clam with Rosemary Dashi and Aerated Cream: The fresh juicy clams helms from the New Zealand region of Cloudy Bay. Generous in size and portion, the clam has a very rich and salty taste of the ocean that does not have a very strong and pungent smell. The clams are freshly shucked when the order comes into the kitchen and the ingredients are then gently placed on the clam. Don't be afraid to mix the cream with the broth in the clam, it'll make it sweeter and all the more enjoyable when you chow down on the fresh clam. Slurp the broth once you are done to savour the fresh ocean and delicious taste of the broth, waste not, want not!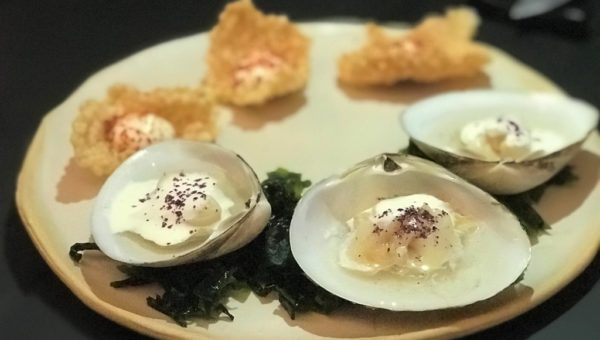 Grilled Fremantle Octopus with Fennel, Ink Marigold, XO and Red Vinegar: The octopus were finely sliced into thick slices yet cooked to a tender perfection. The octopus heralded a really fresh taste and it was easy to chew, unlike many octopus dishes that leads diners to having to munch through the flesh as if it was an overcooked steak. The sauce when combined with the octopus, reminds you of a soft Peking duck in soya sauce, However, try not to dip too much of the sauce into the octopus as the sauce can be a little gritty and overpowering for some diners. Overall it's a very impressive dish, but the dish was a little too salty.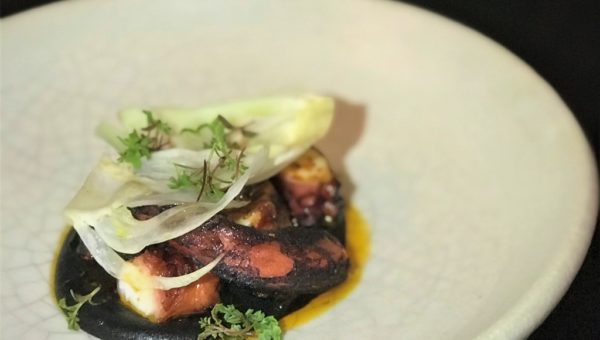 Should you find yourself in need of a palate cleanser, rebound and recover with their special in house made bread and butter cream that is good enough to eat on their own without each other, or together. Honestly, i would have brought a bottle on the spot if they allowed it, the buttercream was so creamy and light that it was good enough to be used as a substitute for your mundane butter spread on your morning bread/toast!
Steamed Green Bone with Roasted Lettuce, Green Sauce, Lardo and Herbs: The fish was so tender that it broke apart with the slightest touch of your knife, yet it stays together long enough for it to be placed on a fork and fed into your mouth. Remember to layer the fish with the green sauce (anchovies with capers, pesto and mustard) provided that makes the dish taste like a classic fillet o fish burger! The roasted lettuce is very crunchy and provides structure to the overall dish amidst the brittle fish and herbs, the lettuce can be used to wrap the fish and eat it like an asian peking duck dish!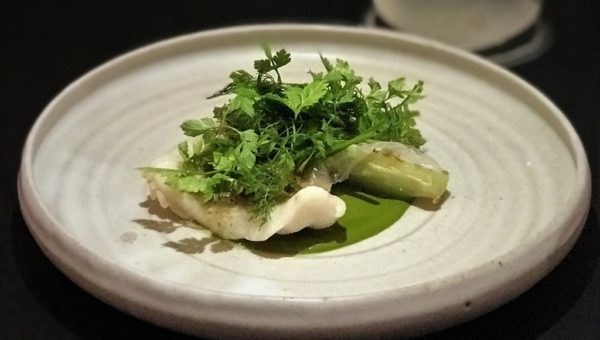 Pumpkin Seed Sorbet with Bitters Meringue and Dried Mandarin: A dish that appeals to the health fanatic or low calorie consumer, the dish is not overwhelmingly creamy or heavy despite it's ice-creamy looking appearance. The dried mandarin provides the crunch and grit in the dessert and packs a rather dry but pleasant sweet aftertaste! The dessert is completely dairy free, The pumpkin seeds are first frozen and then sprinkled over the sorbet as the seeds becomes creamy after they are chilled and they release their scent and oil when they are incorporated into the dessert!
Chef Clayton will oversee both restaurants, dividing his time between Sydney and Singapore. I had the pleasure of meeting Chef Clayton in person and see him in action commanding his kitchen staff and personally overseeing the precision of every dish. He had a really friendly demeanor and came to our table several times to explain to us what we were eating and his reasoning behind every ingredient or method of cooking. With such a skilled and charismatic chef at the helm of this restaurant and with exemplary service staff supporting him, Blackwattle will be a fantastic place to bring your friends to have a small gathering to reminiscence about the good old days while chowing down on delicious Aussie-inspired fusion food!
Blackwattle is located at 97 Amoy Street, Singapore 069917
Opening Hours: Lunch, Monday to Friday, 12pm until 3pm ; Dinner, Monday to Saturday, 6pm until 11pm
For more information or reservations please call: +65 622 422 32 or visit: www.blackwattle.com.sg