CÉ LA VI is Set to Open at The Kingsbury Hotel, Colombo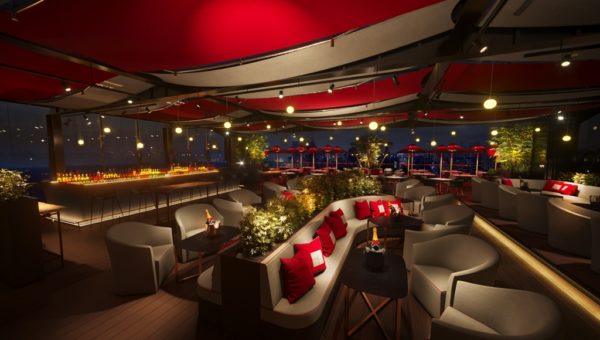 Singapore's award-winning dining and nightlife brand, CÉ LA VI, recently announced its partnership with The Kingsbury, one of the finest five-star luxury hotels in Colombo, to launch its newest restaurant and lounge concept in Colombo on 28 July 2018. With its upcoming location on the rooftop of the Kingsbury Hotel, CÉ LA VI Colombo delivers an internationally recognised lifestyle brand to the Sri Lankan market for the first time.
Ranked #67 in DJ Mag's Top 100 Clubs in the world, CÉ LA VI has a strong presence in some of the greatest nightlife capitals of the world, including Singapore, Hong Kong and St. Tropez. CÉ LA VI is known for its iconic rooftop locations that command breathtaking views, award-winning innovative Modern Asian cuisine and mixology, and world-class music and entertainment helmed by veteran DJs. CÉ LA VI Colombo is poised to delight guests with a dynamic combination of offerings – CÉ LA VI Restaurant will feature Japanese cuisine along with the brand's signature Modern Asian flair, and an indoor/outdoor Lounge that will take Colombo's cuisine, mixology and entertainment to new heights.
"We are thrilled to embark on CÉ LA VI's latest destination in Colombo. With the exciting developments in the city, Colombo has positioned itself to be the next city to look out for among the emerging markets.We are delighted to be one of the first international brands to launch in Colombo," said Chief Operations Officer of CÉ LA VI, David Sarner.
In describing the significance of the partnership, Mr. Dhammika Perera, Chairman and Managing Director of Vallibel One PLC and Co-Chairman of Hayleys PLC said, "Kingsbury is proud to launch CÉ LA VI Colombo as the city's very first international luxury lifestyle, dining and entertainment brand, which will transform Colombo's nightlife landscape and reshape its cocktail culture. The growth of the tourism sector and the rapid expansion of the city's high end infrastructure will see growing numbers of discerning leisure and business travelers to Colombo. CÉ LA VI Colombo is well set to become their number one choice."
Chairman & Chief Executive, Mr. Mohan Pandithage, further added, "Kingsbury has been routinely curating unique experiences for its guests. CÉ LA VI aims to stimulate the senses and fuel the spirit at their iconic rooftop locations around the world, and the stunning vistas from the Kingsbury rooftop will be the perfect location to embark on an experiential culinary and entertainment adventure. CÉ LA VI Colombo will enhance Colombo's nightlife by offering world-class entertainment for the first time in Sri Lanka."