Celebrate the Festive Season at Mitzo with an Exquisite 5-course Menu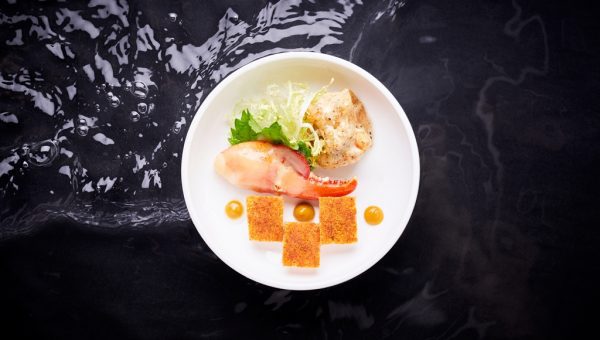 CONTENT: Seraphina Tang
Have an exquisite celebratory meal this Christmas season with a delectable five-course festive menu at Mitzo Restaurant and Bar. Carefully curated by Mitzo's Executive Chef Nicky Ng, this festive set menu (S$88++ per person, minimum of two to dine) is a display of Chef Nicky's signature take on authentic Cantonese cuisine with a creative twist. Besides that, you can also look forward to a fun cocktail created by Head Bartender Azlam Kadir that captures the holiday spirit and warmth in every sip.
Start the meal with the delightful Appetiser Platter, a trio of savoury dishes chosen to whet your appetite. From the rich aroma of the Truffle with Sesame Mayonnaise Prawn, the luxurious yet sweet Creamy Pomelo Lobster Claw, to the addictive savoury crunch of Mitzo's Signature Crispy Roasted Pork Belly, this platter is the perfect starter to the meal.
The Pumpkin & Scallop Soup with Caviar is another dish great as a starter. Brimming with the flavours of the sea and the sweetness of pumpkin, topped with tender scallops and dollops of caviar, the soup is rich and comforting – like a hug in a bowl.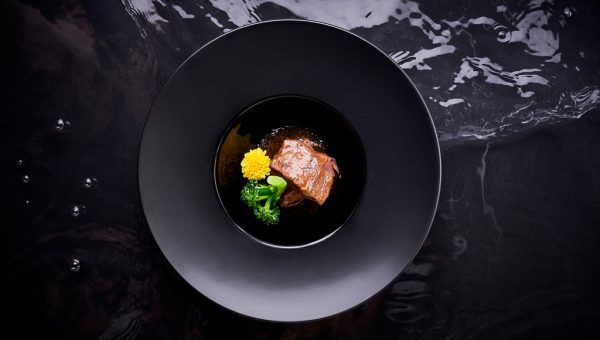 With the warmth of the soup in your stomach, tuck into the next course of Mitzo's Festive Wagyu Beef Cheek, where beef cheek is slow-cooked until melt-in-the-mouth tender, and served with crisp broccolini, and a sauce made from garlic, dried chillies and just a touch of Sichuan peppers.
After that, savour the fragrant wok hei of the Black Pepper Turkey Fried Rice, a dish of East meets West where Chef Nicky puts a festive spin on the beloved Chinese dish with turkey meat and ground black pepper.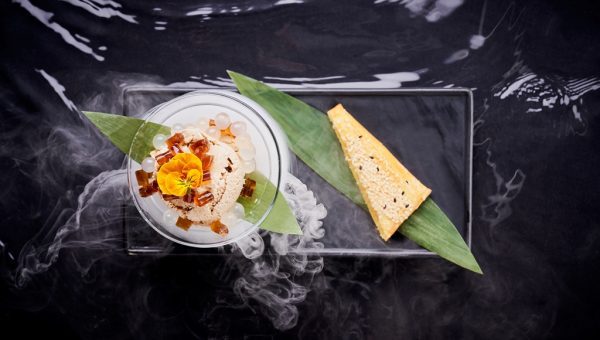 Dessert is the beautiful Coffee & Coconut Granita with Caramel Jelly served with Custard Sesame Pancake, which arrives with smoking dry ice and pandan leaves. Each bite is a mix of flavours and textures: the refreshing bittersweet of the granita, the wobbly sweetness of the jelly, the burst of fruitiness from the boba, and the crunchy yet chewy warmth of the pancake! The perfect sweet ending to a meal.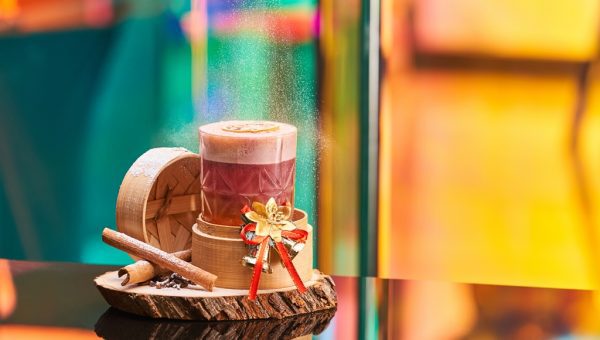 Of course, for those who enjoy their drinks, don't miss the Santa's Roots Festive Cocktail ($18++ per glass) created by Mitzo's Head Bartender Azlam. Ginseng and cinnamon-infused bourbon is mixed with Licor 43 and chocolate bitters for a heady warmth, as well as lemon juice and goji berry syrup for a touch of fusion. Topped with a cap of egg white and pinot noir foam, this tipple reminds us of a ginseng-based mulled wine – festive indeed! This exclusive cocktail will be available from Sunday, 1 December 2019 to Wednesday, 1 January 2020.
Mitzo's 2019 Festive Set Menu and the Santa's Roots Festive Cocktail will be available from Sunday, 1 December 2019 to Wednesday, 1 January 2020.The festive set menu will be available for both lunch and dinner at S$88++, with a minimum of two to dine.
For reservations and enquiries, call +65 6603 8855 or email rsvn@mitzo.sg
Mitzo Restaurant & Bar is located at: Level 4 Grand Park Orchard, 270 Orchard Road Singapore 238857