Celebrate The Festive Season with Newby Teas' Unique Limited Edition Collectibles
This Christmas, Newby Teas – the world's most awarded luxury tea brand of London – presents a beautiful line-up of Limited Edition gift collections that will sure to delight your friends, family and loved ones!
Newby Teas officially launched its gifting collection at Emporium Shokuhin last November. Located at the New Wing of Marina Square Mall (#01-18), it is Singapore's first one-stop integrated Japanese supermarket. For the very first time, fans of the luxury tea brand will be delighted to make their selection from its wide range of tea blends in-store!
House of Newby 2017 Advent Calendar
Specially designed for all tea lovers, the "House of Newby", a collectible advent calendar would be the perfect gift for the tea connoisseur!
The elegantly illustrated three-dimensional calendar depicts the iconic five-storey frontage of the Newby Teas global headquarters – N. Sethia House. Complete with snowflakes cascading across the classic façade and glimpses of festive silhouettes standing in the windows, this Limited Edition advent calendar radiates with the spirit of the winter season. The ground floor offers a peek into the festively decorated Newby Teas boutique.
Two doors open outwards to reveal a chest of 24-day Christmas journey through Newby's luxurious Classic Tea Bag Collection. Tucked in each drawer are four individually wrapped patterned sachets of different blend. No two drawers are the same, with each day promising a premium black tea like Darjeeling, green tea such as its award-winning Oriental Sencha, oolong tea like Ginseng Oolong and its award-winning Milk Oolong or tisane such as Rooibos Orange, the collection of classic and bespoke blends are crafted with great care and expertise by Newby.
As the only tea company in the world that is certified by the European Food Safety Authority (EFSA), Newby Teas ensure that all customers enjoy the taste of high quality tea. Every tea blend from Newby goes through a detailed check and surpassed the strict regulations of EU Maximum Residue Level (MRL), as well as the rules of the Food Safety & Standards Authority India (FSSAI).
The House of Newby 2017 Advent Calendar retails at S$210.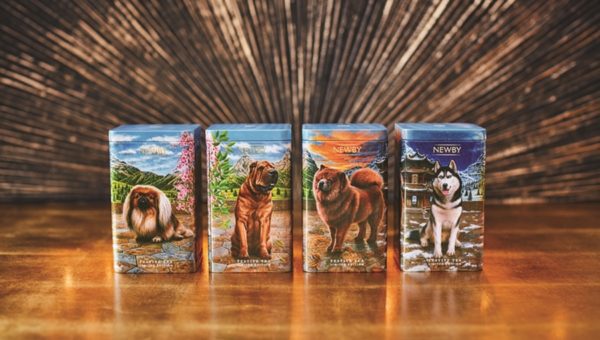 Special Edition 2018 Festive Tea Caddy
Dog lovers will be delighted to receive this Special Edition 2018 Festive Tea Caddy, beautifully designed by Newby Teas in celebration of this joyful festive season and Chinese New Year.
The caddy consists of Newby's signature Black Festive Tea, a limited edition and irresistible blend of Newby's award-winning Assam Tea imbued with the subtle taste of the finest almonds.
Each side of the tea caddy comes with the beautiful illustration of a different breed of dog. Each breed of dog is situated in a different season and captures the auspicious qualities of the Year of the Dog in 2018 – honesty, kindness and prudence – safeguarding the wealth and fortune that 2018 would bring.
Nirmal Sethia, Founder of Newby Teas, said: "According to ancient Chinese zodiac beliefs, the animal ruling one's birth year has a profound influence on personality, and destiny. Those born in the Year of the Dog are independent, sincere, loyal and decisive, they are not afraid of the difficulties that can come with daily life and will do anything for those they hold dear."
He added, "Sharing these zodiac qualities are two esteemed British figures born in the Year of the Dog, Sadiq Khan and Prince William – what great company to be in and a superb omen for the year ahead."
The 2018 limited edition collector's item is dedicated to the earth dog, the 11th position in the 12-year cycle of the Chinese zodiac. In ancient Chinese mythology, dogs hold an exceedingly meaningful place, hailing luck and good fortune in wealth. If a dog happens to enter your home, it symbolises the coming of fortune. The Newby Festive Tea Caddy is for those who wish to mark the Year of the Dog by giving and receiving a gift that symbolises good health and prosperity.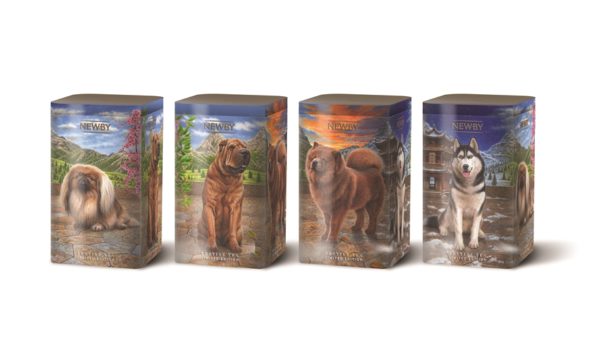 The sides of the Festive Tea Caddy are guarded by four celebrated characters in Chinese culture.
They are:
Pekingese – Spring: Known as the Lion Dog, found in ancient works of art, palaces, temples and legends. The Pekingese represents wealth and dignity, revered as a traditional Chinese symbol of royalty.
Shar-Pei – Summer: A guardian and fighting dog of ancient Chinese emperors, the Shar-Pei is celebrated for its devotion and loyalty to family and friends.
Chow Chow – Autumn: The Chow Chow is said to be the inspiration for Foo Dogs, the stone guardians of China's holy Buddhist temples, and is a symbol of everlasting friendship and security.
Husky – Winter: Intelligent, adventurous and athletic, the Husky serves as a firm friend and protector who safeguards new pursuits, projects and journeys.
The Special Edition 21018 Festive Tea Caddy retails at S$48.
Newby Teas will also be unveiling three sumptuous limited edition gift collections for this festive season. From perfect stocking fillers to gourmet luxury gift boxes, the beautifully packaged presents of precious teas will definitely delight friends and family. Besides, they offer a healthy alternative without compromising on luxurious indulgence. Each set offers a chance to sample a range of Newby's award-winning, high-quality teas.
The Heritage Collection
Perfect for gift exchange during the festive holiday, impress your guests with The Heritage Collection, a beautiful selection of 14 types of premium tea blends of black and green loose leaves, inspired by Newby's mission to reacquaint the world with the culture and history of tea. History lovers can truly savour the transcendent experience of tea the way it once was.
The award-winning design of the gift box draws inspiration from the world's largest privately owned collection of historic tea wares, the Chitra Collection. Each box features an image of a unique object from the collection, which chronicles the history of tea from the 10th Century BC to the present day.
The Heritage Collection consists a range of 14 boxes of exceptional loose tea leaves; 10 signature black teas and four green teas. The Darjeeling retails at $42, while the other tea blends retails at $36.
The Crown Assortment
Present a gift befitting of your boss with The Crown Assortment. It is an inviting extension of Newby's much-loved Classic Tea Bag Collection, and it comes with three different assortments: black teas, green teas and tisanes. Each of the stylish circular assortment boxes draws an inspiration from the hand-crafted vintage pashminas, a symbol of traditional culture and true craftsmanship.
Tucked inside each box are 36 individually wrapped sachets of six bespoke and signature Newby tea blends, it is the perfect gift for this festive season. The range of black tea retails at $55 while tisane retails at $65.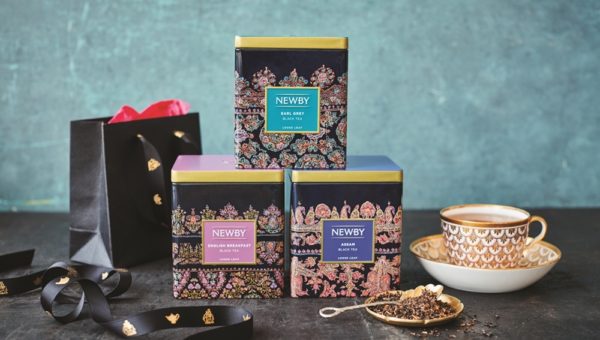 The Classic Caddy Collection
As an ode to timeless friendship, The Classic Caddy Collection is the perfect gift for your BFF. It presents seven of Newby's best-selling black and green loose leaves blends in individually parcelled caddies.
Every blend is created with meticulous attention to detail using the finest and purest ingredients, complemented with beautifully designed caddies that hark back to vintage, handmade Indian textiles and high-quality craftsmanship.
All caddy retails from S$48 except for Darjeeling, which retails at S$55.
All collections are available in-store at Emporium Shokuhin, located at 6 Raffles Boulevard, #01-18, New Wing @ Marina Square Mall, Singapore 039594, and Newby Teas online boutique at www.newbyteas.sg