Chef Wan's Kitchen Introduces The Nasi Lemak Collection
Chef Wan's Kitchen launches two exciting nasi lemak dishes! For the first time ever, the chef has added lobster and lamb shank nasi lemak, a classic dish that Singaporeans know and love, to his menu at affordable price from $23.90!
The Balado Lobster Nasi Lemak is bound to satisfy the palates of nasi lemak lovers. Chef Wan decided to use lobster as many Singaporeans love seafood. A type of spice mixture found in many west Sumatran dishes, balado is made by stir-frying chilli pepper, garlic, shallot, tomato and key lime juice in fragrant oil.  The fleshy lobster is coated with a generous amount of the sauce, together with a generous serving of fragrant nasi lemak, Chef Wan's signture Sambal, belachan kang kong, egg and crispy crackers, it is a luxurious Nasi Lemak treat @ at amazing S$23.90+ (Usual Price: $35+)
Irresistible and delicious, the Lamb Shank Rendang Nasi Lemak will be a hit with many of Chef Wan's celebrity friends. The lamb shank boasts a tender, melt-in-your-mouth texture as it is slow braised until tender. The savoury Rendang gravy is made with a blend of aromatic spices, such as chili, kaffir lime leaves, candle nut, turmeric leaves and many more. Lamb Shank Rendang Nasi Lemak is also being offering at S$23.90+ (Usual Price: $35+)
Chef Wan will also be presenting its special Tahu Telur (S$14.90+) which is crispy on the outside and soft premium tofu inside, it is a little mountain of fried deliciousness topped with fragrant crushed peanuts and spicy, tangy sauce. which is a perfect dish to compliment the delicious nasi lemak.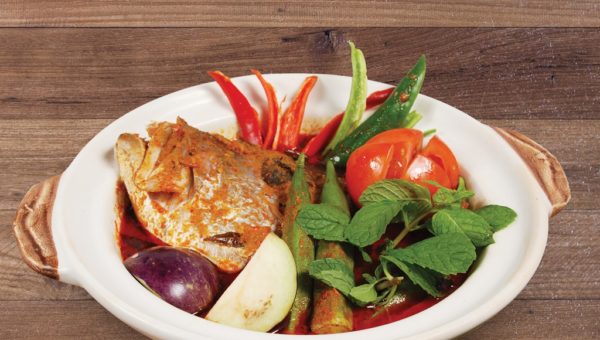 Apart from the two nasi lemak dishes, Chef Wan will be unveiling new menu mainstays. Pair the Balado Lobster Nasi Lemak with Sambal Mussels (S$20.90+) or Lala Masak Kunyit (S$16.90+) for a seafood feast. The Asam Pedas Fish Head (S$23.90+) and Curry Fish Head (S$23.90+) feature the sea bream fish respectively, and will whet appetites with their fragrant spices coating the freshest fish.
Other new vegetable dishes such as Stir-fried Winged Bean with Chilli & Dried Shrimps (Kacang Botol) (S$7.90+), Stir-fried Kang Kong with Chilli & Dried Shrimps (S$7.90+) and Stir-fried French Bean with Chilli & Dried Shrimps (S$7.90+) are available as well. Cap off the wonderful gourmet experience with D24 Durian Custard Pudding (S$7.90+) or Chocolate Custard Pudding (S$7.90+) as dessert.
Festive Promotion for Balado Lobster Nasi Lemak & Lamb Shank Nasi Lemak of $23.90+ is valid until 2nd January 2018. (Usual Price: $35+)
Chef Wan's Kitchen is located at: 8 Raffles Avenue, #02-14 Esplanade Mall, Singapore 039802 and is open from Monday to Sunday: 12.00PM – 2.30PM, 5.30PM – 10.30PM.
For reservations please call: +65 63974911 or email: reservations@chefwanskitchen.com