Chengdu Restaurant Launches first ever Autumn and Winter-themed Dishes!
Chengdu Restaurant has launched its brand-new autumn- and winter-themed dishes. Serving authentic Sichuan cuisine, the restaurant is helmed by Chefs Qing Jun and Jing Xiao, both of whom have experiences working at famous hotels and restaurants, and have served celebrities and esteemed dignitaries throughout their careers.
Start off with an array of dishes that straddles the line between cold and hot. The Ice Ball with Whelk (s$24.80) features a slightly crunchy sea snail fried with fresh green and red chillis, which impart a hint of spiciness. The dish's aesthetic is also stunning, as it is served in an exquisite ice sculpture. Next is the Cold Sliced Pig Trotters with Noodles and Spicy Dip (s$16.80) — the chefs use pork elbow meat for its high gelatinous content. The pork elbow is first deboned, then marinated with a mix of chilli powder, peppercorn powder and Chinese cooking wine.
The meat is first steamed and thinly sliced, then carefully arranged with spirals of noodles and fanned-out slices of cucumber as well as carved tomato. Complementing the meat is the Spicy Dip, made with ginger, garlic, chilli oil, peppercorn oil, soya sauce and salt.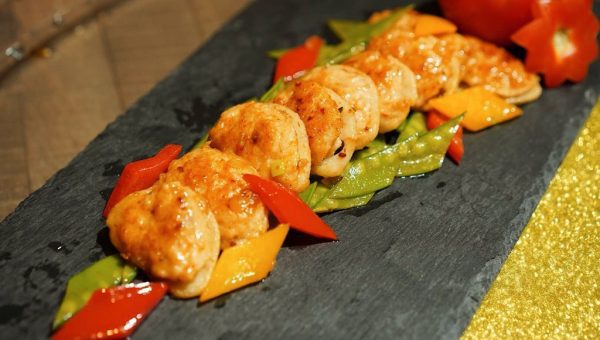 Invigoratingly crunchy, briny and salty, the Homemade Pickled Radish (s$9.80) makes for a simple yet gratifying cold appetiser. Pickled vegetables are an important part of Sichuan cuisine, and they are usually paired with rice. The refreshing radish cuts through the grease. Another popular Sichuan dish, the Stuffed Lotus Root with Prawn (s$26.80) features sliced lotus root, each layered with seasoned prawn paste on one side. Then, it is lightly fried in a spicy sauce with red and yellow bell peppers. Texturally, the sweet lotus root lends a crunch to the flavourful and bouncy prawn paste.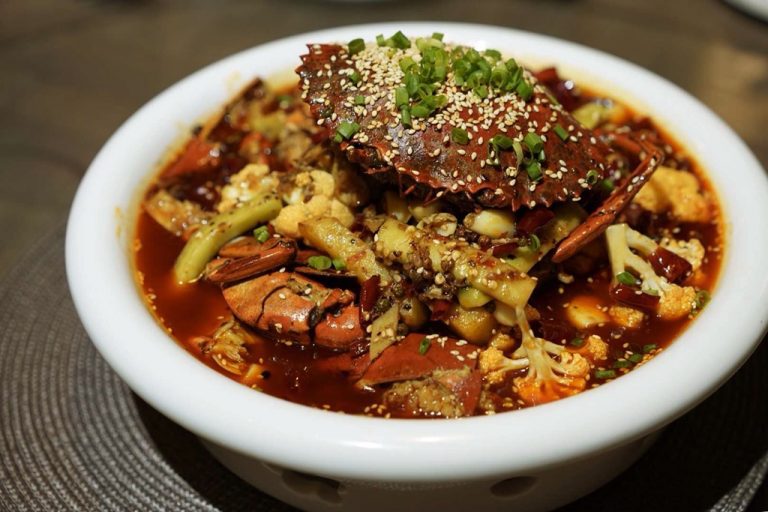 Turn up the heat with the next line-up of dishes. Featuring a generous amount of red dried chillis, the broth of the Spicy Crab (s$46.80) is cooked with cauliflower, potato and cucumber. The spiciness is balanced with the sweetness of the crab. Continue the indulgence with the Spicy Pork Ribs (s$18.80). The ribs are first blanched in water with star anise, coriander, peppercorn, ginger and spring onions. Then, it is tossed with the traditional Lao Gan Ma sauce that lends a spicy and savoury note. Crispy on the outside and fluffy on the inside, the tubers of the Beggar Potato (s$12.80) are first boiled, then coated with a secret-recipe mix of 20 spices before they are deep-fried. Chilli powder and cumin powder are then sprinkled atop the spherical hunks of potato for a fiery and earthy punch.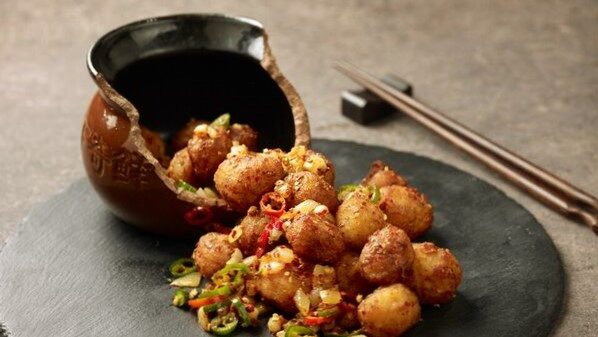 No visit to a Sichuan restaurant is complete without a mala dish, and Chengdu Restaurant's Spicy Mala Pot (s$19.80) is bound to please. The quick-fried dish showcases a variety of spices, dried and fresh chillis, potato, luncheon meat, prawn and lotus root. Temper it with the Yuzu Jelly (s$3.80), a cooling and refreshing dessert imbued with the yuzu's citrusy note. It is also accompanied with sweet watermelon cubes.
Chengdu Restaurant is located at: 74 Amoy Street, Singapore 069893
For reservations or more information please call: +65 6221 9928 or visit their Facebook page at: www.facebook.com/Chengdusg